Dress Rehearsal Program
Designed for students in grades 5–12, the program introduces opera through lessons from music and language arts, to social studies, foreign languages, and more.
By integrating the arts into the curriculum, the Dress Rehearsal Program helps students hone important skills, like critical thinking and creative writing, while sparking interest in an important cultural tradition. Program lessons can even assist in preparing for crucial standardized tests.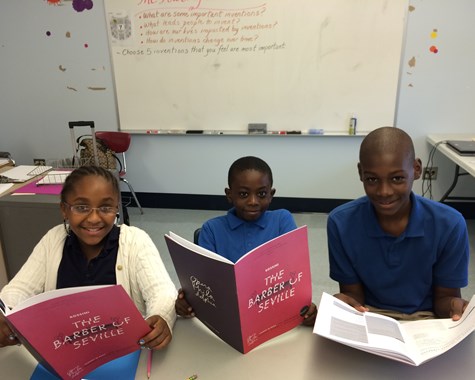 "One of my 8th grade students saw [his first opera] last year, and in preparation for this year, said, 'Opera is my second favorite genre.' In case you were wondering, he said rap was his first favorite!"
–E. McAnally, Woodrow Wilson Middle School,
 School District of Philadelphia
Opera Philadelphia provides you with the tools to help bring opera to life for your students.
As part of the program, participating teachers attend a professional development session several weeks before attending the performance. Opera Philadelphia staff distribute a professionally produced student guide for each student, tailored to each production, and offer teachers strategies and guidance on how to integrate the suggested activities into their learning plans. The program materials show how each opera's themes relate to social and civics topics today. 
In the classroom, students are immersed in the world of opera by acting out a libretto, learning about the life and times of the genre's most influential artists, and viewing informative and entertaining video clips. The unit concludes with a trip to the legendary Academy of Music for a private dress rehearsal–at no cost to you or your students! 
The education program provides lesson plans and student activity books at no cost for each opera. Free transportation is also provided for 5–8 grade Philadelphia city public, parochial, and private schools.