×
Support great opera
Give today to help us unlock $2.5 million with the Artistry Now Matching Fund.
Donate
Joseph Bologne, Chevalier de Saint-Georges
Joseph Bologne, Chevalier de Saint-Georges (1745-1799), was born on the French Caribbean island of Guadeloupe, the son of an enslaved woman of Senegalese origin and a French plantation owner. 
Tickets
Dates are Jan - Feb 2025.
| | |
| --- | --- |
| Fri, Jan 31 | 8:00 p.m. |
| Sun, Feb 2 | 2:00 p.m. |
Approximately 80 minutes with no intermission
From the age of eight, he was educated in France. In 1757, his father was named Gentleman of the King's Chamber, serving as a personal assistant to King Louis XV. At the age of 17, Joseph was made an officer of the king's guard and given the title "Le Chevalier de Saint-Georges." 
He first came to fame as the best fencer in France. He is only known to have lost one match.
Little is known of his training as a violinist or as a composer. He began his professional career as a musician with Les Concerts des Amateurs. He made a sensational debut as a soloist with that orchestra in 1772, playing two violin concerti of his own composition. In 1773, he was named the conductor of the orchestra. Under his leadership, it became regarded as the finest orchestra in Paris and one of the finest in all Europe. In 1781, finances forced the orchestra to disband, and Bologne became director of the newly formed orchestra Le Concert Olympique. Queen Marie Antoinette, an accomplished musician herself, frequently attended its concerts. Under Bologne's baton, the orchestra notably premiered Haydn's six "Paris Symphonies" in 1786 with the queen in attendance. Throughout this decade, he composed string quartets, violin concertos, symphonies concertantes, and other works.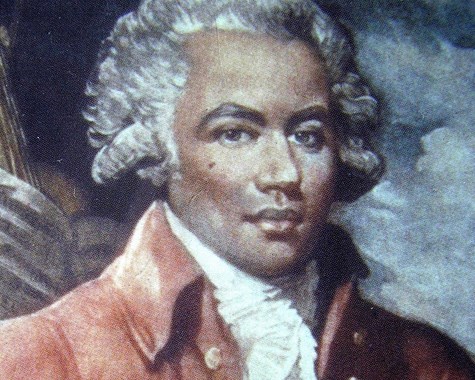 During his tenure with Les Concerts des Amateurs, the music directorship of the Paris Opera became vacant, and Bologne submitted a bid for the position. But after three of the company's leading sopranos wrote to the queen, stating their unwillingness to work for a man of mixed race, Bologne withdrew his application. Despite the setback, he turned his attention to composing operas. His first opera, Ernestine, premiered at the Comédie-Italienne in 1777. Bologne's score was praised, but the libretto by Pierre Choderlos de Laclos, author of Les Liaisons Dangereuses, was not, and the opera was only given one performance. His second opera, La Partie de Chasse (The Hunting Party), premiered in 1778 at the same theater and met with greater success than his first.
His third opera, L'Amant Anonyme (The Anonymous Lover), premiered in 1780 in the private theater of the Marquise de Montesson, wife of the Duke of Orléans, who appointed him music director of her theater and gave him a residence in the ducal palace.  (Bologne also served as the Duke's Lieutenant of the Hunt.) The libretto was adapted from a play by the celebrated writer Madame de Genlis, who was governess and tutor to the duke's children. It is the only one of his operas that survives in complete form.
When the French Revolution broke out in 1789, he joined the National Guard in Lille. In 1791 he was appointed the colonel of the newly created Légion Franche de Cavalerie des Américains (American Free Legion of Cavalry), which was comprised mostly of men of color; it soon became known as the Légion Saint-Georges. Bologne served on the front lines, successfully driving back an attack by Austrian forces. Even though he was a war hero, his close ties to the aristocracy made him the object of suspicion. He was jailed without a trail in 1793, on false charges of misusing public funds, for nearly a year. 
After his release, having unsuccessfully attempted to return to his command, he is believed to have traveled to Saint-Dominingue (present-day Haiti). In 1797, after returning to Paris, he became director of a new orchestra, Le Cercle de l'Harmonie, which performed in the former residence of the Duke of Orléans. He died in 1799, at the age of 53.
Top