Opera Philadelphia Launches Crowdfunding Campaign to Bring We Shall Not Be Moved Home to Philadelphia for Eighth Annual Free "Opera on the Mall" Broadcast
One year after its sold-out world premiere, Opera Philadelphia seeks an encore engagement for We Shall Not Be Moved, "a rare work in the genre to be created by artists of color" (New York Times). When it first played to seven sold-out Wilma Theater audiences during O17, Opera Philadelphia's inaugural annual festival, the opera – a company commission from Daniel Bernard Roumain, Marc Bamuthi Joseph, and Bill T. Jones – was a hit with audiences and critics alike, being hailed as a "deeply moving" (Washington Post), "poignant and genre-bending" (Wall Street Journal), "highly polished piece of theater" (Philadelphia Inquirer). "One minute I was on the verge of tears," said a local high-school student; "next minute I was on the edge of my seat." As Opera News noted, with its "compelling score utilizing classical, jazz, music theater, hip-hop and dance music vocabulary," We Shall Not Be Moved "succeeds on the level of art and not just polemic."
Following its seven sold-out performances in Philadelphia, We Shall Not Be Moved went on to make warmly-welcomed New York and European debuts. The enthusiastic reception it received at Harlem's Apollo Theater and Amsterdam's Opera Forward Festival, where it was presented by Dutch National Opera, proved that this timely, Philadelphia-based work could also find relevance with the wider international community.
Now Opera Philadelphia hopes to bring We Shall Not Be Moved back home, to invite the entire Philadelphia community to a free outdoor screening of the opera at Festival O18. To this end, the company launched today a crowdfunding campaign to subsidize a free HD broadcast of the opera for its eighth annual "Opera on the Mall" event on Saturday, September 29. To date, the series has attracted nearly 30,000 opera fans and newcomers to Philadelphia's Independence National Historical Park, in the shadow of the Liberty Bell and Independence Hall. The setting, in the birthplace of our nation, will magnify one of the central questions posed by We Shall Not Be Moved, which asks: "For whom America the beautiful?"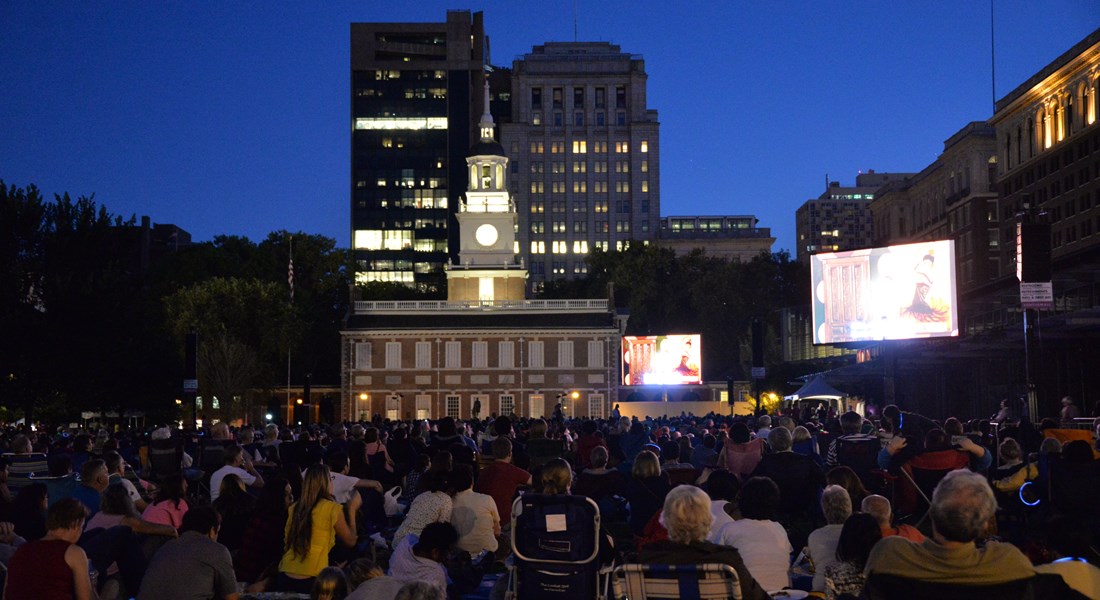 "The world premiere of We Shall Not Be Moved in Festival O17 was an example of how opera can tell our stories and create a dialogue on important issues like racism, gun violence, police brutality, and poverty," said David B. Devan, General Director & President of Opera Philadelphia. "By bringing We Shall Not Be Moved to Independence Mall in a free HD broadcast, we can share this important and powerful work with thousands of people who either could not afford to see it last year or could not get a ticket once it sold out."
Excluding recording and production expenses, the free "Opera on the Mall" broadcast costs a minimum of $160,000. While Opera Philadelphia has succeeded in engaging a number of corporate and private donors to raise $135,000, Devan said the company still needs an additional $25,000 to reach its fundraising target. Launching June 19 at 9:00 a.m., the company's Kickstarter campaign encourages donations of $10 or more from fans of the annual event: kck.st/OperaPhila
About We Shall Not Be Moved
The poetic interdisciplinary chamber opera draws on the collective talents of Haitian-American composer Daniel Bernard Roumain, Haitian-American spoken word artist Marc Bamuthi Joseph, and peerless director, choreographer, and dramaturge Bill T. Jones. In a production that combines spoken word, contemporary dance, video projection, and classical, R&B and jazz singing with a brooding, often joyful score, they tell the story of five North Philadelphia teens on the run: a 15-year-old African-American girl and her self-selected "family" of four brothers – a black-identified white boy and three African-Americans, one of whom is transgender. Their confrontation with local police officer Glenda – herself a woman of color – rises from the enduring ashes of the Philadelphia police's 1985 bombing of the MOVE compound in West Philadelphia, and raises timely questions about national identity, race, gender, the failure for some of the public education system, and personal responsibility. 
We Shall Not Be Moved stars spoken word artist Lauren Whitehead as 15-year-old Un/Sung, with countertenor John Holiday, bass-baritone Aubrey Allicock, tenor Daniel Shirley, and baritone Adam Richardson as her four self-appointed "brothers," and soprano Kirstin Chávez as police officer Glenda, under the baton of Viswa Subbaraman. 
Glenda's confrontation with the teens rises from the radioactive ashes of one of the darkest hours in the history of the City of Brotherly Love. On May 13, 1985, now more than three decades ago, Philadelphia became "The City That Bombed Itself" when local police concluded a standoff with the radical MOVE group by dropping explosives onto the organization's row-house headquarters, starting a fire that city officials then allowed to burn. The only police aerial bombing on U.S. soil to date, this unconscionable attack killed eleven African-American MOVE members, five of whom were children, and wiped out an entire residential neighborhood, leaving more than 250 people homeless.
"We really are trying to make characters that have specific locations and psyches, and we want to show those characters capable of evolving over time," explained Bill T. Jones before the 2017 world premiere. "Un/Sung and Glenda are both from inner-city neighborhoods, but they've chosen different families. Glenda has gone for the route of law and order. She believes in civilization, that there can be a right way and a wrong way, and she's been able in some ways to transcend what she thinks is her identity as a Latina in a racist society. When we first meet her, she is not nearly as conflicted as she should be about her role in the establishment order."
Top