New Works
With the launch of the American Repertoire Program in 2011, Opera Philadelphia solidified its role as a national leader in the creation of new works by telling authentically American stories. In the time since, Opera Philadelphia has commissioned or co-commissioned eight new operas from composers like Jennifer Higdon, Kevin Puts, and Daniel Bernard Roumain and new productions of renowned contemporary works like Written on Skin.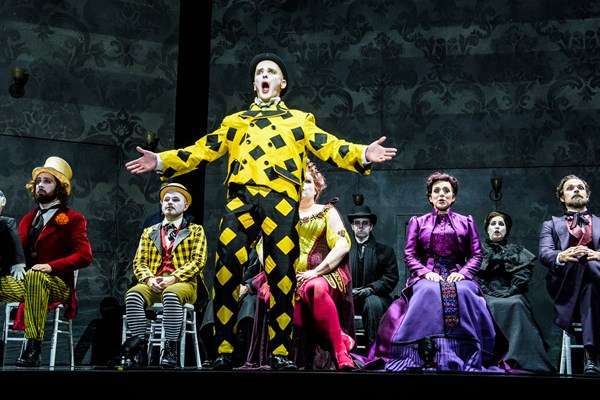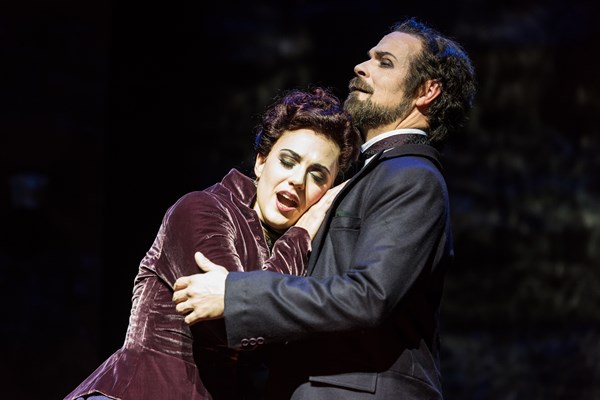 September 2017 | World Premiere
Music by Kevin Puts. Libretto by Mark Campbell.
Pulitzer Prize-winning composer Kevin Puts and librettist Mark Campbell, the team behind the acclaimed Silent Night, return to Opera Philadelphia for the world premiere of a chamber opera based on Peter Ackroyd's "downright exhilarating" (LA Times) novel, The Trial of Elizabeth Cree. Set in London in the 1880s, this highly suspenseful and theatrical opera interweaves several narratives: the trial of the titular heroine for the poisoning of her husband; a series of brutal murders committed by a Jack the Ripper-style killer; the spirited world of an English music hall; and, finally, some "guest appearances" by luminaries from the Victorian Age. Elizabeth Cree is a work that combines the factual with the fictive and the historical with the imaginary. Co-commissioned and co-produced with Hackney Empire. Co-produced with Chicago Opera Theater.
Meet the Cast | Meet the Composer | Meet the Librettist | Synopsis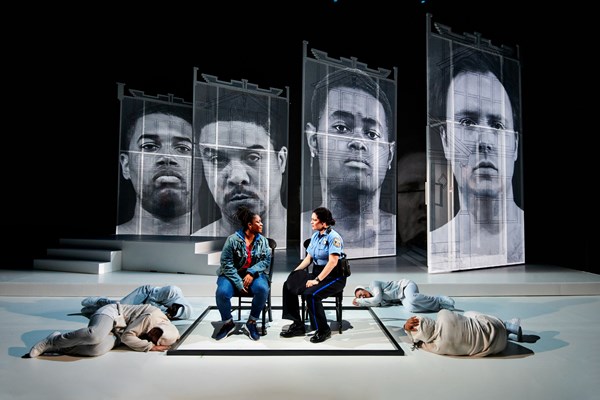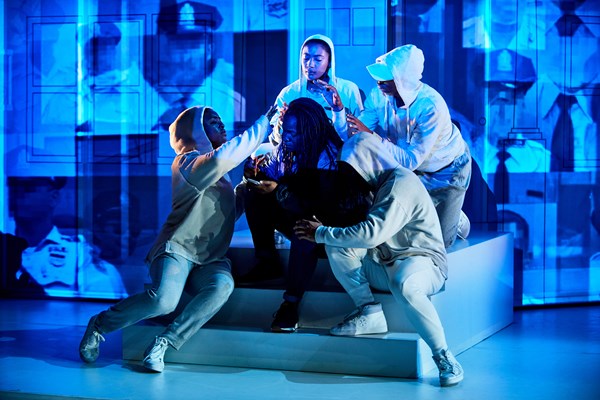 September 2017 | World Premiere
Music by Daniel Bernard Roumain. Libretto by Marc Bamuthi Joseph.
On the run after a series of tragic incidents, five North Philly teens find refuge in an abandoned, condemned house in West Philadelphia at the exact location that served as headquarters of the MOVE organization, where a 1985 standoff with police infamously ended with a neighborhood destroyed and 11 people dead, including five children. This self-defined family is assuaged and even inspired by the ghosts who inhabit this home and begin to see their squatting as a matter of destiny and resistance rather than urgent fear. This World Premiere chamber opera by Daniel Bernard Roumain, an acclaimed composer and performer whose work defies genre, and librettist Marc Bamuthi Joseph, an arts activist known for spoken‐word performance, is "ambitiously interdisciplinary," according to Bill T. Jones, the celebrated director, choreographer, dramaturge, and dancer. Combining spoken word, contemporary movement, video projection, classical, R&B and jazz singing, and a brooding, often joyful score filled with place, purpose, and possibility, We Shall Not Be Moved is a timely exploration of past and present struggles which suggests an alternate future through the eyes of its young protagonists. Co-commissioned and co-produced with The Apollo Theater and Hackney Empire. Developed in partnership with Art Sanctuary.
Meet the Cast | Meet the Composer | Meet the Librettist | Synopsis | Student Guide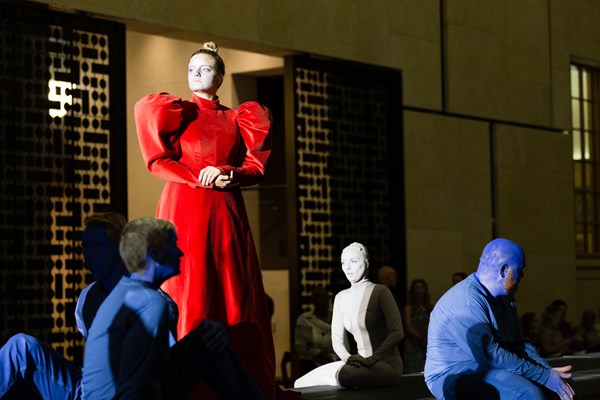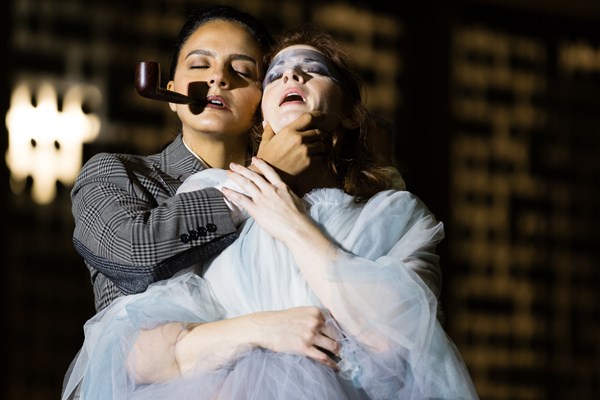 September 2017 | World Premiere
Music and Libretto by David Hertzberg.
Composer in Residence David Hertzberg and director R.B. Schlather take visitors on a fantastic journey through the treasured galleries of The Barnes Foundation. In this world premiere, two of the early 20th century's most prolific and polarizing artistic visionaries collide: physician, collector, and writer Dr. Albert C. Barnes (1872-1951) and Aleister Crowley (1875-1947), the British poet, magician, and occultist once dubbed the "wickedest man in the world." In a one-act opera inspired by Crowley's ecstatic fairy tale The Wake World, visitors will experience Dr. Barnes's collection like never before as they follow a wide-eyed seeker and her guardian angel on a dreamlike voyage. Works of art jump off the gallery walls and into the action as the museum is transformed, with the voices of the Opera Philadelphia Chorus drawing the audience through a mystical world of hallucinatory vividness. As a fully immersive performance, The Wake World challenges understandings of art, opera, and the self—in a way audiences are unlikely to forget. Co-presented by Opera Philadelphia and The Barnes Foundation.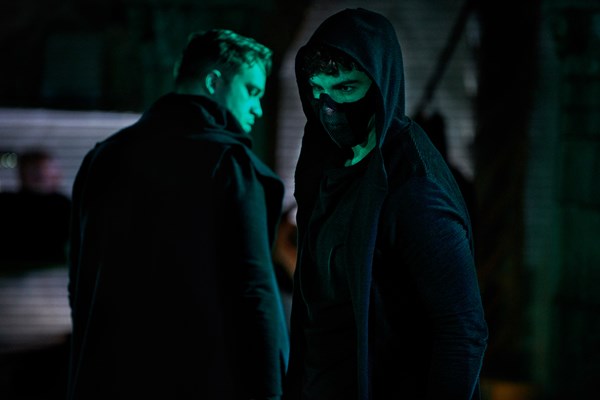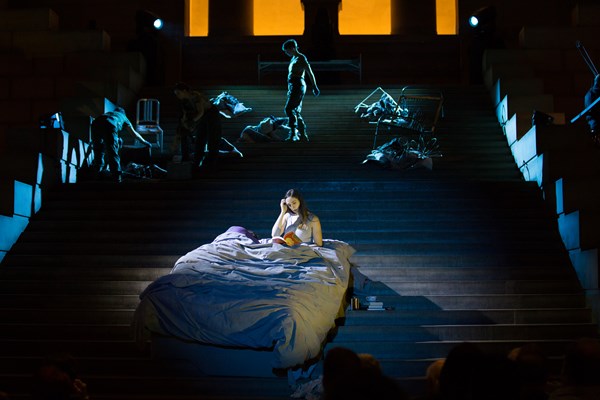 September 2017 | Philadelphia Premiere
Il combattimento di Tancredi e Clorinda: 
Music by Claudio Monteverdi.
I Have No Stories to Tell You:

 
Music by Lembit Beecher. Libretto by Hannah Moscovitch.
One of the city's most iconic civic spaces, the Philadelphia Museum of Art, is the setting for this site-specific double-bill featuring Monteverdi's Il combattimento di Tancredi e Clorinda and I Have No Stories To Tell You, by composer Lembit Beecher and librettist Hannah Moscovitch. Monteverdi's timely 1638 tale of the Christian soldier Tancredi who battles with a Muslim soldier, actually his lover Clorinda in disguise, is staged in the museum's medieval stone cloister, with its carved limestone cornices and 12th century fountain. Beecher and Moscovitch's response to Monteverdi's masterwork, a modern tale of a returned soldier struggling to readjust to her home and haunted by her experiences, follows in the museum's soaring Great Stair Hall. Together, War Stories presents a jarring, complex view of war and its costs. Co-presented by Opera Philadelphia and the Philadelphia Museum of Art.
Meet the Cast | Meet the Composer: Lembit Beecher | Meet the Composer: Monteverdi | Synopsis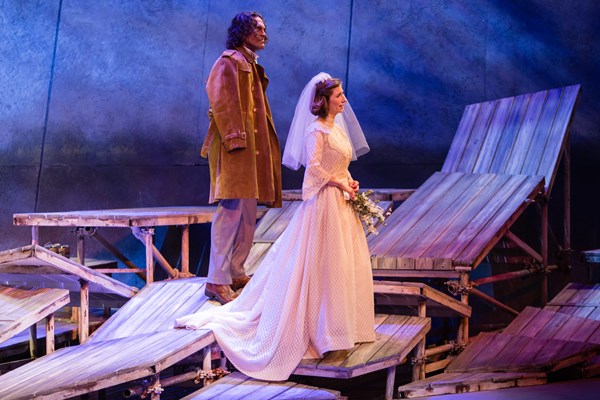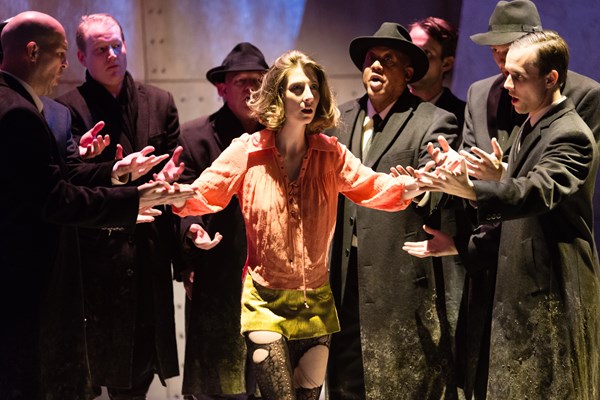 September 2016 | World Premiere
Music by Missy Mazzoli. Libretto by Royce Vavrek.
Winner: 2017 MCANA Award for Best New Opera
Finalist: 2017 International Opera Award for World Premiere
NOW STREAMING: Listen to Breaking the Waves with a free, on-demand audio stream at operaphila.org/waves
This chamber opera by composer Missy Mazzoli and librettist Royce Vavrek is based on the 1996 Academy Award-nominated film by Lars von Trier. Set in the Scottish Highlands in the early 1970s, Breaking the Waves tells the story of Bess McNeill, a religious young woman with a deep love for her husband Jan, a handsome oil rig worker. When Jan becomes paralyzed in an off-shore accident, Bess's marital vows are put to the test as he encourages her to seek other lovers and return to his bedside to tell him of her sexual activities. He insists that the stories will feel like they are making love together and keep him alive. Bess's increasing selflessness leads to a finale of divine grace, but at great cost. A co-commission with Beth Morrison Projects. 
Meet the Cast | Meet the Composer | Meet the Librettist | Synopsis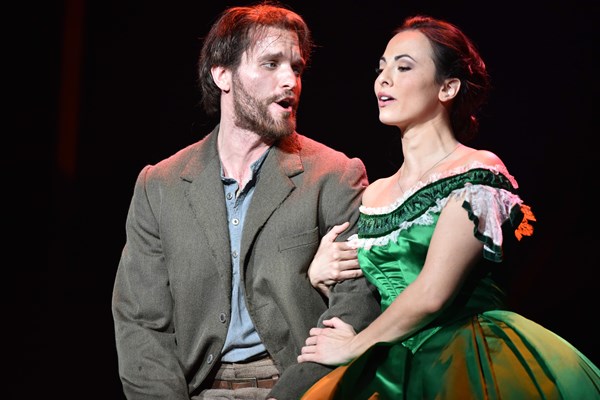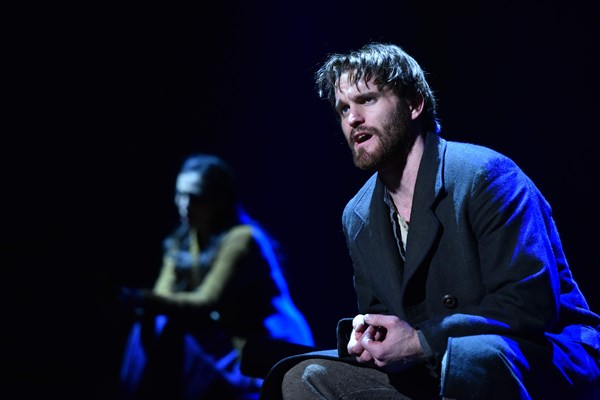 February 2016 | East Coast Premiere
Music by Jennifer Higdon. Libretto by Gene Scheer.
DIVE DEEPER: View our first-ever online learning course about Cold Mountain>>
Fatigued by the horrors of the Civil War, deserter W.P. Inman foots the arduous terrain of North Carolina toward home and the salve of his love, Ada Monroe, herself transformed by his absence. Once a Southern lady of privilege, Ada adapts to years of profound deprivation thanks to a resourceful new friend, Ruby. Inman's odyssey home is plagued by not only the Home Guard's marshals, but a more gruesome possibility: has the war's violence withered his human capacity to love? And further, what truly makes a man a human? Co-commission and co-production by The Santa Fe Opera, Opera Philadelphia, and Minnesota Opera in collaboration with North Carolina Opera.
Meet the Cast | Meet the Composer | Meet the Librettist | Synopsis | Student Guide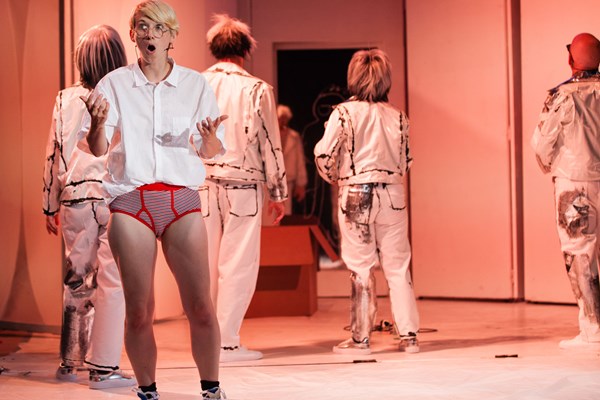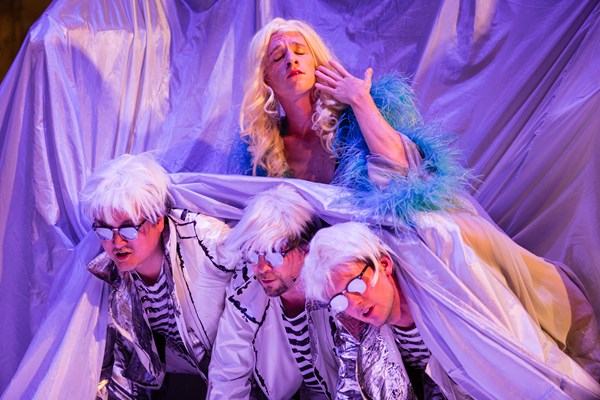 September 2015 | World Premiere
Music by Heath Allen and Dan Visconti. Text by John Jarboe in development with Sean Lally and ensemble.
Winner: 2016 Barrymore Award for Outstanding Supporting Actress in a Musical: Malgorzata Kasprzycka
Winner: 2016 Barrymore Award for Outstanding Leading Actor in a Musical: Scott McPheeters
A musical mélange inspired by the life, fame, and the philosophy of Andy Warhol—ANDY: A Popera is, like its eponymous hero, a fabulous collision of the high and low, the commercial and the artistic, the traditional and the innovative. It is a work that explodes onto the stage–and sparks out into the audience, presenting singing soup cans, Marilyns, and a randy banana on stage with contemporary versions of Warhol Superstars Valerie Solanas, Candy Darling, and Edie Sedgwick. It's an artistic collision of cabaret and opera exploring what Warhol has become today. What happens when a man becomes a brand? Co-production with The Bearded Ladies Cabaret and part of the 2015 Fringe Festival.
Meet the Cast & Composers | Meet the Bearded Ladies | Meet the Librettist | Synopsis
Charlie Parker's YARDBIRD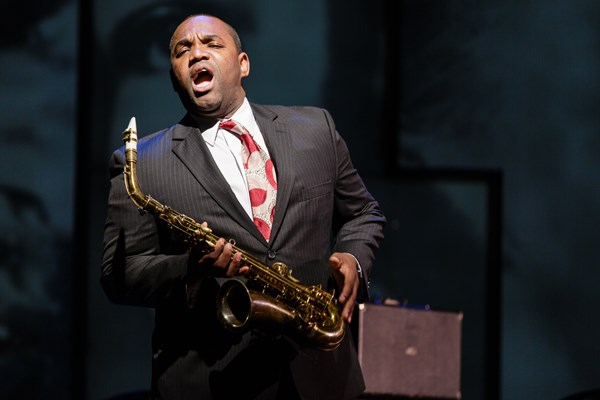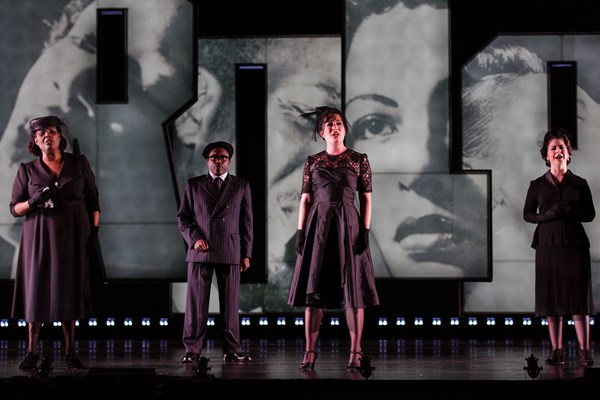 June 2015 | World Premiere
Music by Daniel Schnyder. Libretto by Bridgette A. Wimberly.
In that empty twilight between life and death, tortured jazz soloist Charlie Parker composes his final masterpiece, revisiting the inspirations, demons, and women who fueled his creative genius. Opera Philadelphia presents the World Premiere of this freeform expedition into the mind, heart, and personal purgatory of the bebop great. Lawrence Brownlee stars as the legendary saxophonist—a role crafted around the effortless, improvisational style that makes him one of music's most sought after tenors. Soprano Angela Brown mesmerizes as his mother, Addie Parker, and baritone Will Liverman debuts as jazz icon Dizzy Gillespie. Set in the famed NYC jazz club Birdland, the opera is as uncompromising in its artistic vision as the "Yardbird" himself.
Meet the Cast | Meet the Composer | Meet the Librettist | Synopsis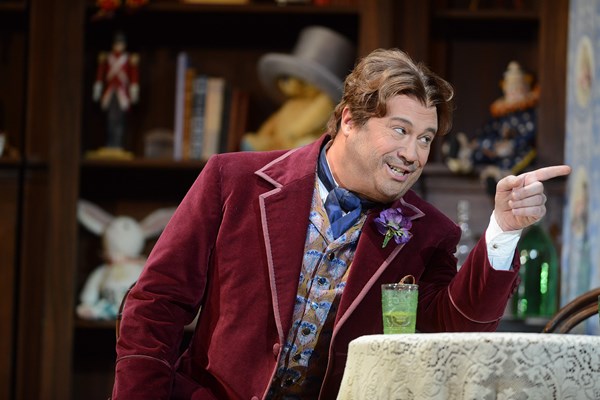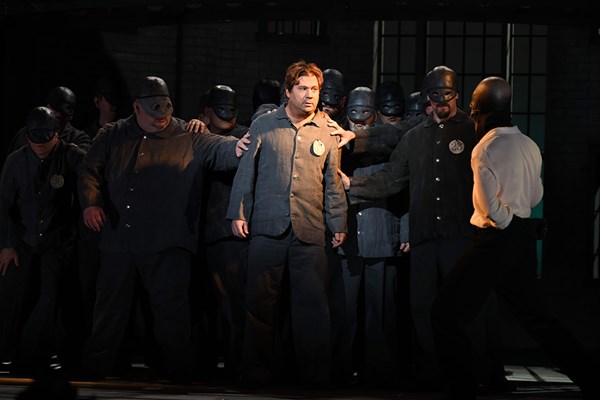 February 2015 | East Coast Premiere
Music by Theodore Morris. Libretto by John Cox and Theodore Morrison.
Legendarily flamboyant Oscar Wilde was the toast of the literary world—until a scandalous love affair with Lord Alfred Douglas ruined his reputation and devastated his private life. For one of history's greatest wits, it was a dark counterpoint to a life earmarked by fearless humor and equally intrepid passion. In this beautifully tragic tale of self-expression and individual freedom, countertenor David Daniels electrifies with what The New York Times called a "Wildean mix of arrogance and vulnerability." Philadelphia favorite William Burden and soprano Heidi Stober, in her company debut, costar as Oscar's loyal friends. Co-commission and co-production with The Santa Fe Opera.
Meet the Cast | Meet the Composer | Meet the Librettist | Synopsis | Student Guide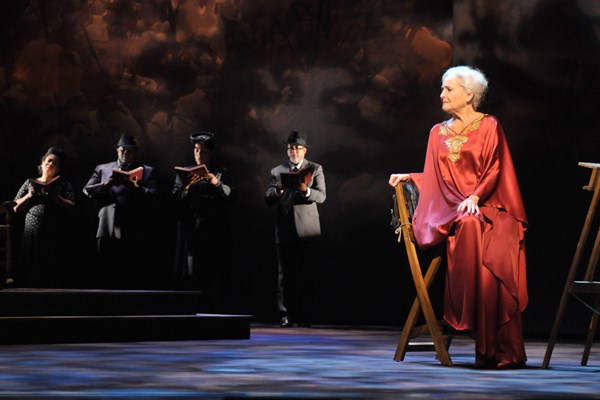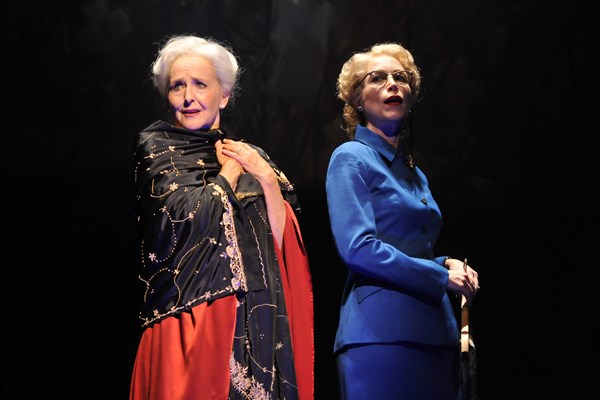 June 2014 | East Coast Premiere
Music by Ricky Ian Gordon. Libretto by Leonard Foglia.
A Coffin in Egypt is a chamber opera in one act, based on the play of the same name by Pulitzer Prize-winning playwright Horton Foote (1916-2009). Co-commissioned and co-produced by Houston Grand Opera, Opera Philadelphia, and The Wallis Annenberg Center for the Performing Arts, it tells the story of 90-year-old grand dame Myrtle Bledsoe (Frederica von Stade), who has outlived her philandering husband, Hunter (actor David Matranga, who ages 40 years during the course of the opera), her daughters, and virtually everyone else in Egypt, Texas. In this tale of adultery, deception, murder, and lost beauty, Myrtle is determined to finally free herself of all the anger, resentment, and hate that has ruled her life.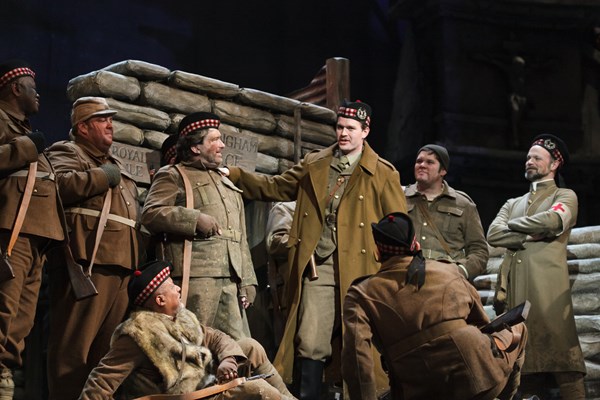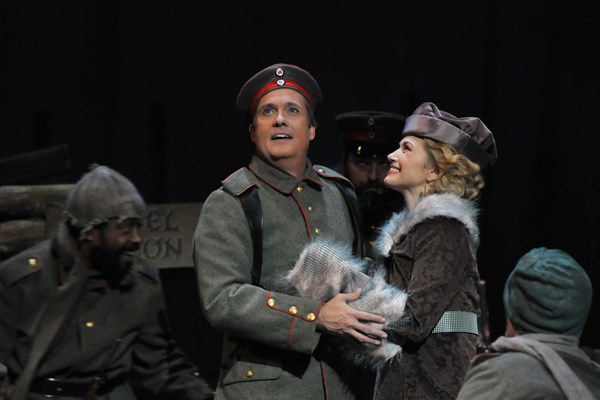 February 2013 | East Coast Premiere
Music by Kevin Puts. Libretto by Mark Campbell. 
Winner: 2012 Pulitzer Prize for Music
Co-produced with Minnesota Opera. Hailed as "a tautly paced and involving work" by The New York Times.  Starring Kelly Kaduce and William Burden.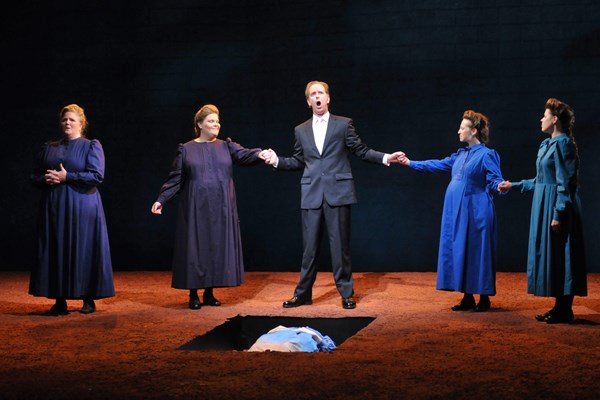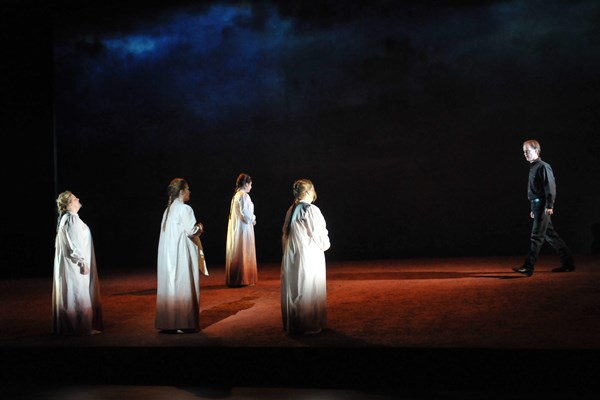 June 2012
Music by Nico Muhly. Libretto by Stephen Karam.
Co-commissioned with New York City's Gotham Chamber Opera and Music-Theatre Group. Performed as part of the Aurora Series at the Perelman Theater. The November 2011 New York premiere was hailed by the Associated Press, which called it, "An intriguing new opera... Muhly and Karam seem to have succeeded where many new operas fail."
Top