×
Support great opera
Give today to help us unlock $2.5 million with the Artistry Now Matching Fund.
Donate
Oscar Synopsis
A historical introduction by librettist John Cox
Walt Whitman met Oscar Wilde during the young Irish poet's lecture tour of the USA in 1882. Walt was at the height of his fame, whereas Oscar was merely a celebrity lecturer explaining the new Aesthetic Movement to the American public. He had at this point written nothing to hint at his enduring genius. By the time Oscar met Lord Alfred Douglas, known as Bosie, Walt was dead while Oscar was very famous. It is from his vantage point of Immortality that Walt presents our opera, revealing to us the catastrophe that Oscar's love for Bosie brought about.
Bosie Douglas was the youngest son of the Marquess of Queensberry, and they despised one another. Oscar soon found himself in the crossfire of their enmity when Queensberry raised public objection to Oscar's relationship with his son, imputing a sexual basis to it. Bosie forced Oscar to sue Queensberry for libel, hoping thereby to disgrace him, but Queensberry won the case, so that the disgrace fell on Oscar. He was rapidly put on trial, convicted and jailed for "gross indecency."
Dates are Feb 2015.
| | |
| --- | --- |
| Fri, Feb 6 | 8:00 p.m. |
| Sun, Feb 8 | 2:30 p.m. |
| Wed, Feb 11 | 7:30 p.m. |
| Fri, Feb 13 | 8:00 p.m. |
| Sun, Feb 15 | 2:30 p.m. |
Approx. 2 hrs 43 min.
Includes a 20 min intermission.
Act I
Oscar is out on bail awaiting the verdict. Queensberry has bribed two detectives to warn hotel managers against giving him a room. Bosie, under pressure from Oscar, leaves the country, but, portrayed by a dancer, he haunts Oscar's imagination throughout the opera.
Oscar eventually finds shelter with Ada Leverson, also a writer and adored by Oscar, who calls her Sphinx. She puts him up in the children's nursery where they are joined by their friend Frank Harris. At first the innocent gaiety of their surroundings brightens the mood. Drinks are served and playful repartee prevails. Then the influential Frank reveals that he has made arrangements for Oscar to abscond bail, flee the country and escape the inevitable guilty verdict. After much agonizing, especially over his two young children, Oscar refuses to run away. The only honorable course is to face his accusers.
In what essentially becomes a show trial the nursery morphs into the courtroom and the toys enact the proceedings as farce. The "guilty" verdict is handed down and Oscar is sentenced to hard labor for two years.
Act II
The prison wardens are sarcastically making their celebrity guest welcome, but a reality check is brutally provided by the sadistic governor, Isaacson, whose personal mission is to punish his charges to the furthest extreme. Oscar will be no exception. He is rapidly broken in body and spirit by the prison regime. In his feverish weakness he suffers a fall during chapel service and injures his head. In the face of rebellious protests by the prisoners, Isaacson grudgingly sends Oscar to the infirmary.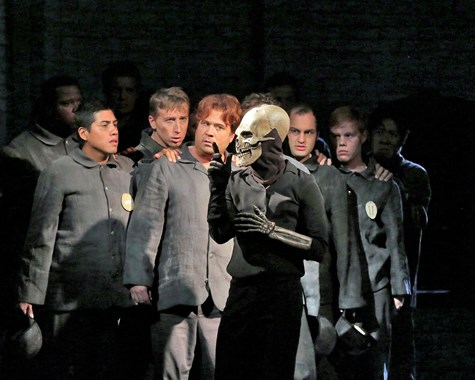 In the infirmary Oscar is able to talk with other sick prisoners, discovering levels of simple humanity that restore his spirits. He realizes that there are greater degrees of suffering in life than he has ever imagined. We discover that there is soon to be an execution. On the eve of the execution, the tension inside the prison reaches a terrifying pitch as all feel the presence of Death in their midst. Oscar senses that this death prefigures his own.
Nearing the end of his sentence, Oscar is visited by Frank Harris. Early release has been beyond Frank's political influence but at least the authorities have decided to replace the tyrannical Isaacson with a more moderate governor who will allow Oscar writing materials, more books and to work in the garden. It is here that he receives his last visitor. Ada Leverson comes to discuss plans for his return to freedom. Alas, his request to join a closed Christian community has been refused. It will be some time before society is prepared to tolerate his return. Indeed, he will have to pass over to the next life before that process can truly begin.
Walt greets Oscar on the threshold of Eternity and conducts him, amidst general acclaim, to his place among the Immortals.
Production underwritten in part by the Wyncote Foundation.
East Coast Premiere | American Repertoire Program
Co-commission and co-production with The Santa Fe Opera
Top