Dress Rehearsal Program
Plan a field trip to the opera or experience performances on-demand with operaphila.tv and expand the possibilities of learning.
This season's Dress Rehearsal Program offers a hybrid model that gives teachers and students the choice to engage with live, in-person, or digital operatic performances. With each offering, your students will be able to dive into new stories that inspire meaningful conversations in your classroom. Designed for students in grades 5-12, this FREE program makes connections across curriculums with lessons and resources for music, language arts, social studies, foreign language, and more.
Opera Philadelphia is committed to the health and safety of your school community and will be continue to monitor developments related to the COVID-19 pandemic and follow city, state, and school district guidelines.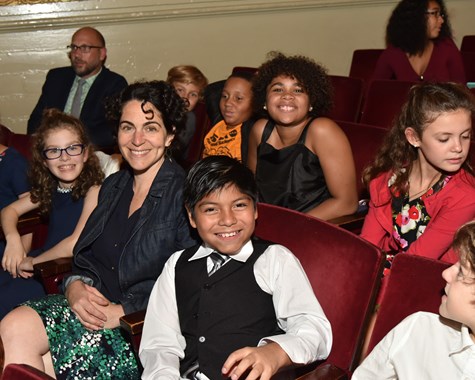 Registration for the 2021-2022 Dress Rehearsal Program is now open!
IN-PERSON:
DIGITAL:
Opera Philadelphia will help you to succeed in a flexible digital or in-person environment.
With a FREE account to the Opera Philadelphia Channel (operaphila.tv), teachers and students will be able to stream digital performances on demand.
Online student guides will be developed to enhance learning around Save the Boys, Oedipus Rex + Lilacs, and Rigoletto.


Curated professional developments will present teachers with a pathway to integrate each performance into their curriculum.

FREE round-trip transportation to in-person performances will be provided to 5th through 8th grade Philadelphia schools.

Opera Philadelphia has partnered with Art-Reach, Inc. and Nicole Sardella to provide Audio Description for productions in the program. Learn more>>