The Wake World
World Premiere
Music and libretto by David Hertzberg
Based on the story The Wake World by Aleister Crowley
American Repertoire Program
Performed in English with English supertitles
Composer in Residence David Hertzberg and director R.B. Schlather take visitors on a fantastic journey through the treasured galleries of The Barnes Foundation. In this world premiere, two of the early 20th century's most prolific and polarizing artistic visionaries collide: physician, collector, and writer Dr. Albert C. Barnes (1872-1951) and Aleister Crowley (1875-1947), the British poet, magician, and occultist once dubbed the "wickedest man in the world." In a one-act opera inspired by Crowley's ecstatic fairy tale The Wake World, visitors will experience Dr. Barnes's collection like never before as they follow a wide-eyed seeker and her guardian angel on a dreamlike voyage. Works of art jump off the gallery walls and into the action as the museum is transformed, with the voices of the Opera Philadelphia Chorus drawing the audience through a mystical world of hallucinatory vividness. As a fully immersive performance, The Wake World challenges understandings of art, opera, and the self—in a way audiences are unlikely to forget.
Seeing The Wake World? Enjoy a prix fixe dinner at The Barnes before your performance. Discover more>>
Approximately one hour and 15 minutes with no intermission
Production underwritten by the Wyncote Foundation at the recommendation of Daniel K. Meyer, M.D.
Support for The Wake World has been provided by the John S. and James L. Knight Foundation.
Additional support provided by the Allen R. and Judith Brick Freedman Venture Fund for New Opera.
The Composer in Residence program is made possible by The Andrew W. Mellon Foundation.
Co-presented by Opera Philadelphia and The Barnes Foundation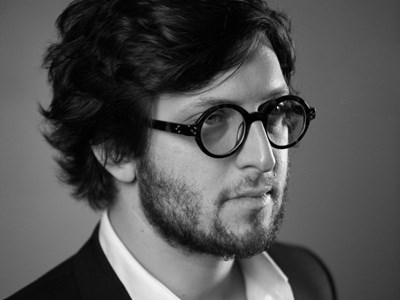 The Composer
David Hertzberg
Hailed as "opulently gifted" by Opera News and "utterly original" by The New York Times, the music of David Hertzberg (b. 1990, Los Angeles) is swiftly garnering recognition. During the 2016-2017 season, David enters his second year in the Composer in Residence program with Opera Philadelphia and Music-Theatre Group. His work has been featured at festivals including Tanglewood, Aspen, and the Santa Fe Chamber Music Festival, and performed at venues including Lincoln Center, the Kennedy Center, and Carnegie Hall. Learn more about David Hertzberg.