×
Support great opera
Give today to help us unlock $2.5 million with the Artistry Now Matching Fund.
Donate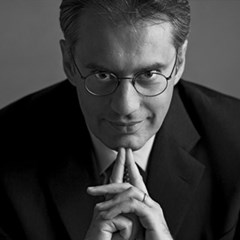 Corrado Rovaris
Jack Mulroney Music Director
215.893.5918
rovaris@operaphila.org
Corrado Rovaris made his Opera Philadelphia debut in 1999 and has transformed the city's cultural landscape over a period of nearly 25 years.
Since becoming the company's first Music Director in 2005 during its 30th anniversary season, Maestro Rovaris has "presided over a striking evolution at Opera Philadelphia" (Opera News), playing a key part in establishing the company as "one of American opera's success stories" (New York Times). Under his auspices, Opera Philadelphia has launched several key artistic initiatives, including the Aurora Series for Chamber Opera, founded in 2008, a robust new works practice beginning in 2011, and Festival O, launched in 2017. A two-week immersion featuring multiple world premieres and other operatic happenings at a variety of venues across the city, O17 was hailed as "one of the most enjoyable additions to the fall calendar in years" (Washington Post).

Maestro Rovaris' artistry has made Opera Philadelphia a preferred destination for some of opera's greatest stars, who frequently say they want to sing in Philadelphia "to work with Corrado." He has also made the city his second home, frequently found cheering his beloved Philadelphia 76ers at NBA basketball games in South Philly.

Born in Bergamo, Italy, Maestro Rovaris graduated from the Conservatory of Milan with degrees in composition, organ, and harpsichord. From 1992 through 1996 he was the Assistant Chorus Master of the Teatro alla Scala and made his debut on the podium with Il filosofo di campagna by Galuppi in a production by Associazione Lirica e Concertistica Italiana. He subsequently had the chance to conduct at the Serate Musicali in Milan, the Maggio Musicale Fiorentino, the Teatro Regio diParma, the Teatro Regio di Torino, the Arena di Verona, the Teatro Comunale diBologna, the Teatro Lauro Rossi in Macerata, the Festival delle Nazioni of Città diCastello, the Festival of Cremona, the Praga Europa Musica, and the Rossini Opera Festival of Pesaro.

In 1999 he made his debut with Opera Philadelphia conducting Mozart's The Marriage of Figaro. In more than two decades, his triumphs from the podium have ranged from repertoire staples like Verdi's La traviata, Don Carlo, Nabucco, and Requiem, Puccini's La boheme, and Bizet's Carmen; company premieres like Prokofiev's The Love for Three Oranges and Rossini's Otello; and world premieres of Charlie Parker's Yardbird by Daniel Schnyder and Bridgette Wimberly, starring Lawrence Brownlee, and Elizabeth Cree by Kevin Puts and Mark Campbell, starring Daniela Mack.

In Opera Philadelphia's Festival O23 (Sept. 21-Oct. 1, 2023), Maestro Rovaris leads Verdi's Simon Boccanegra, the company first performances of the opera in 40 years, and he returns in spring 2024 to conduct a new production of Puccini's Madame Butterfly. He will then conduct Verdi's La traviata at the Santa Fe Opera's summer 2024 festival.