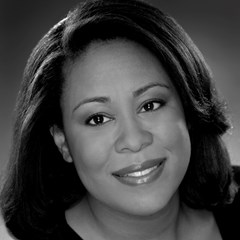 Veronica Chapman-Smith
Vice President of Community Initiatives
215.893.5946
chapman-smith@operaphila.org
Veronica Chapman-Smith is Vice President of Community Initiatives providing leadership for Opera Philadelphia's educational and community-centric initiatives, as well as acting as senior management in equity and inclusion efforts. As Director of Community Initiatives, she was integral in pivoting Opera Philadelphia's educational program to a virtual setting during the 2020-2021 season, helping to create the framework for arts education partnership to continue with several of the School Districts of Philadelphia schools. She previously served Opera Philadelphia as Manager of Out of School Time Initiatives, Community Initiatives Administrator, and Community Program Assistant. 
Prior to working at Opera Philadelphia, she worked as an artist in residence at Temple University, a soloist for 16 years singing roles for various opera companies across the Unites States including Opera Philadelphia, a chorister for Opera Philadelphia (18 years), and a member of the Grammy Award-winning contemporary choral group The Crossing. She is also an Associate Artist with The Bearded Ladies Cabaret and has participated in several productions.
Veronica Chapman-Smith completed a graduate certificate in Diversity Leadership at Temple University where she also earned her bachelor's and master's degrees in vocal performance. She was selected for the Urban League's Philadelphia African American Leadership Development Forum class of 2021.