×
Support great opera
Give today to help us unlock $2.5 million with the Artistry Now Matching Fund.
Donate
Digital Commissions
Four Visionary Composers, Four New Works
Having commissioned or co-commissioned more than 15 new works since 2011, Opera Philadelphia is recognized as "one of North America's premiere generators of valid new operas" (Opera News). With the forthcoming launch of the Opera Philadelphia Channel, a global streaming platform where artists can perform and explore, the company has commissioned four of today's most dynamic composers to create and premiere new works to be streamed on the channel.
Three Ways to Watch: The Series is available on-demand until May 31 with a Season Pass for $99 or the Digital Commissions Bundle for $25. Individual productions are also available with a seven-day rental for $10. (Rentals are available on the day of the premiere.)
Dates are Spring 2021.
The Series is available on-demand until May 31 with a Season Pass for $99 or the Digital Commissions Bundle for $25. Individual productions are also available with a seven-day rental for $10. (Rentals are available on the day of the premiere.)
The Digital Commission Series is underwritten by Mr. Allen D. Black and Mr. R. Randolph Apgar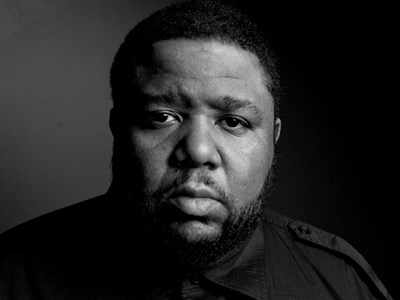 The Composer
Tyshawn Sorey
Newark-born multi-instrumentalist and composer Tyshawn Sorey is celebrated for his incomparable virtuosity, effortless mastery and memorization of highly complex scores, and an extraordinary ability to blend composition and improvisation in his work. He has performed nationally and internationally with his own ensembles, as well as with notable artists. He has composed works for the Los Angeles Philharmonic, the International Contemporary Ensemble, soprano Julia Bullock, PRISM Quartet, and more. His music has been performed in such notable venues as the Walt Disney Concert Hall, the John F. Kennedy Center for the Performing Arts, and the Village Vanguard, and released twelve critically acclaimed recordings. Sorey has received support for his creative projects from The Jerome Foundation, The Shifting Foundation, Van Lier Fellowship, and was named a 2017 MacArthur fellow and a 2018 United States Artists Fellow. Sorey received a B.Music in Jazz Studies and Performance from William Paterson University, an M.A. in Music Composition from Wesleyan University, and a D.M.A. in Music Composition from Columbia University. He is currently Presidential Assistant Professor of Music at the University of Pennsylvania.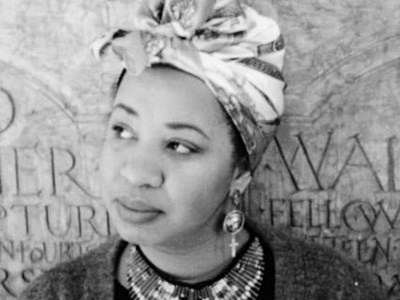 The Composer
Courtney Bryan
Courtney Bryan is "a pianist and composer of panoramic interests" (New York Times). Her music is in conversation with various musical genres, including jazz and other types of experimental music, as well as traditional gospel, spirituals, and hymns. Bryan has academic degrees from Oberlin Conservatory (BM), Rutgers University (MM), and Columbia University (DMA) with advisor George Lewis, and completed postdoctoral studies in the Department of African American Studies at Princeton University. Bryan is currently the Albert and Linda Mintz Professor of Music at Newcomb College in the School of Liberal Arts, Tulane University. She was the 2018 music recipient of the Herb Alpert Award in the Arts, a 2019 Bard College Freehand Fellow, a 2019-20 recipient of the Samuel Barber Rome Prize in Music Composition, and is currently a recipient of a 2020-21 Civitella Ranieri Fellowship, and a 2020 United States Artists Fellow.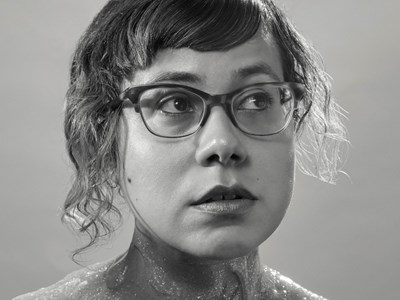 The Composer
Angélica Negrón
Puerto Rican-born composer and multi-instrumentalist Angélica Negrón writes music for accordions, robotic instruments, toys, and electronics as well as for chamber ensembles, orchestras, and choir. Her music has been described as "wistfully idiosyncratic and contemplative" (WQXR/Q2) while The New York Times noted her "capacity to surprise." Negrón has been commissioned by the Bang on a Can All-Stars, Kronos Quartet, loadbang, MATA Festival, Brooklyn Youth Chorus, Sō Percussion, the American Composers Orchestra, and the New York Botanical Garden, among others. Upcoming premieres include works for the LA Philharmonic, Dallas Symphony Orchestra and National Symphony Orchestra, San Francisco Girls Chorus, and NY Philharmonic Project 19 initiative. Negrón continues to perform and compose for film.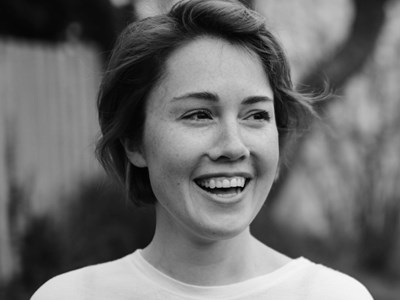 The Composer
Caroline Shaw
The World Premiere of We Need to Talk is Friday, April 16.
Caroline Shaw is a New York-based musician—vocalist, violinist, composer, and producer—who performs in solo and collaborative projects. She was the youngest recipient of the Pulitzer Prize for Music in 2013 for Partita for 8 Voices, written for the Grammy-winning Roomful of Teeth, of which she is a member. Recent commissions include new works for Renée Fleming with Inon Barnatan, Dawn Upshaw with Sō Percussion and Gil Kalish, the Orchestra of St. Luke's with John Lithgow, the Dover Quartet, TENET, The Crossing, the Mendelssohn Club of Philadelphia, and more. Caroline's film scores include Erica Fae's To Keep the Light and Josephine Decker's Madeline's Madeline. She has produced for Kanye West (The Life of Pablo; Ye) and Nas (NASIR), and has contributed to records by The National, and by Arcade Fire's Richard Reed Parry. Once she got to sing in three-part harmony with Sara Bareilles and Ben Folds at the Kennedy Center, and that was pretty much the bees' knees and elbows. Caroline studied at Rice, Yale, and Princeton, currently teaches at NYU, and is a Creative Associate at the Juilliard School. She has held residencies at Dumbarton Oaks, the Banff Centre, Music on Main, and the Vail Dance Festival.