Opera Philadelphia Celebrates 20th Anniversary of Music Director Corrado Rovaris Next Season, at O19 and More
Opera Philadelphia pays tribute to Jack Mulroney Music Director Corrado Rovaris next season. Since making his house debut in 1999, the esteemed Italian conductor has "presided over a striking evolution at Opera Philadelphia" (Opera News), playing a key part in establishing the company as "one of American opera's success stories" (New York Times). Now, to celebrate their 20th anniversary together, the company's 2019-20 season shines a spotlight on all the Music Director has accomplished over the past two decades, showcasing his leadership in three contrasting productions.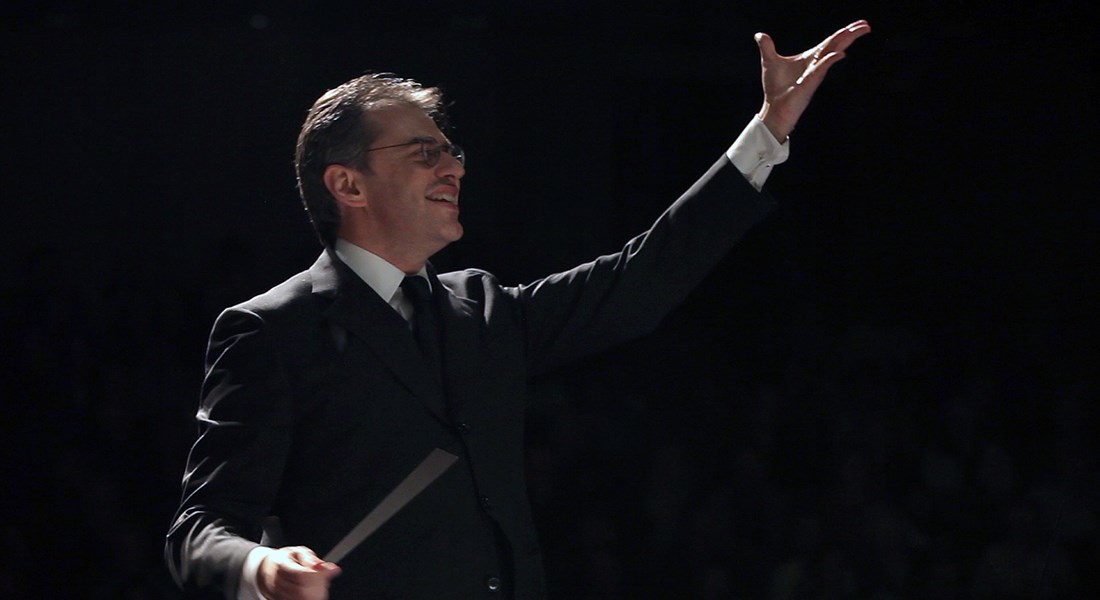 During O19, the third edition of Opera Philadelphia's season-launching festival, he conducts the company premiere of Prokofiev's comedic gem, The Love for Three Oranges (Sep 20–29), and early next year he helms iconic works by two of his most distinguished compatriots, taking the podium for Verdi's Requiem and Puccini's Madame Butterfly. Meanwhile Maestro Rovaris will also be honored at the Festival O19 Celebration, which features a solo recital by Brenda Rae (Sep 21). Single tickets for festival 019 available from May 15, and may be ordered at operaphila.org, or by calling (215) 732-8400.
Rovaris's tenure to date
A native of Bergamo, Italy, Corrado Rovaris previously served as Assistant Chorus Master at Milan's La Scala and has appeared at such esteemed Italian houses and festivals as the Rome Opera, Teatro Regio di Parma, Teatro Regio di Torino, Rome's Accademia Nazionale di Santa Cecilia, Pesaro's Rossini Opera Festival, and Florence's Maggio Musicale. Maestro Rovaris made his Opera Philadelphia debut in 1999 and became its first Music Director in 2005, during the company's 30th anniversary season. Since then he has led the majority of Opera Philadelphia's productions, besides continuing to enjoy international success with guest conducting engagements at the Santa Fe Opera Festival, England's Garsington Opera Festival, Tokyo's Japan Opera Foundation, and many more.
Looking back at the early days of his Philadelphia tenure, Maestro Rovaris recalls:
"I will never forget my first month because of how well people treated me and my family. I had a wonderful experience, and it was so great to work in such a beautiful opera house."
As the Philadelphia Inquirer notes, "the Italian conductor has had considerable influence at the company, choosing repertoire, scouting for singing talent, and building the orchestra and chorus." Star tenor Lawrence Brownlee credits Rovaris with helping to launch his career:
"It was nearly 20 years ago that I met Corrado Rovaris in Milan, Italy. I was granted an audition at La Scala where Corrado and the artistic team were looking for a second-cast tenor for The Barber of Seville that next summer. Immediately after the audition, Corrado greeted me and I was given the contract on the spot. He believed in my talent and that opportunity opened so many other doors for me. That was so important for me and my career, but it was also the beginning of a close, lasting friendship that is strong today. I am forever indebted to Corrado, my dear colleague, and even more, my dear friend."
Rovaris has been equally successful when it comes to forging enduring relationships with artists already at the height of their careers. Preeminent Verdi soprano Sondra Radvanovsky reports:
"When describing Corrado Rovaris as a musician, one must first describe Corrado the person, because his persona is so entwined with his musicianship.  Corrado is such a refined, elegant and kind person, always 100% impeccably prepared musically, always dressed to impress, and always respectful of every artist he is working with. When he enters a room, he has a huge smile on his face, which exudes a musical confidence that relaxes everyone around him in a work environment. From a singer's point of view, he always has a way of making you feel like you are supported from the first note of the opera to the last: a true talent. Corrado is, in my opinion, one of the hardest working people in the classical music business, and it is proven by the quality of the musical productions Opera Philadelphia presents year after year."
It was under Rovaris's auspices that Opera Philadelphia launched a number of key recent initiatives. To complement its mainstage offerings at the historic Academy of Music with more intimate, risk-taking productions in the Kimmel Center's Perelman Theater, in 2011 the company founded the American Repertoire Program. Designed to foster a new generation of homegrown opera composers, this has already yielded the world premieres of such contemporary classics as Charlie Parker's YARDBIRD and Breaking the Waves, securing Opera Philadelphia's status as "one of North America's premiere generators of valid new operas" (Opera News). Maestro Rovaris explains:
"The Academy of Music is a wonderful opera house, but it's too big for introducing new repertoire – the moment you have to sell so many tickets, you have to go to standard repertoire. It was having the Perelman at the Kimmel Center that allowed us to start thinking about new repertoire and building a new audience. The fact that we have been able to devote so much of our time to new American opera, that is the biggest achievement, I think – not just for me, but for this company. I'm so proud of being part of this journey."
Opera Philadelphia's next major innovation followed in fall 2017, with the inaugural edition of Festival O, the company's game-changing new season-opening annual festival. A two-week immersion featuring multiple world premieres and other operatic happenings at a variety of venues across the city, O17 was hailed as "one of the most enjoyable additions to the fall calendar in years" (Washington Post), underscoring the company's reputation as "a hotbed of operatic innovation" (New York Times). The Music Director reflects:
"The festival allows us to play different music in different styles and different locations, over the same period, and to be really in the city, not just waiting for people to come to see us. That's very simple, but it's a very important step. The general thought behind it is that opera's not like a museum, but something breathing, something new and connected to contemporary life. We're trying to build a bridge between the past, the present, and the future. We have to open new doors for people."
Rovaris and the 2019-20 season
At this year's festival, O19 (Sep 18–29), Maestro Rovaris leads the company premiere of The Love for Three Oranges (Sep 20, 22, 27 & 29), a fantastical fairy tale based, like Puccini's Turandot, on a play by Carlo Gozzi. Although Prokofiev's opera received its 1921 world premiere in Chicago, today it is rarely seen in the States, and is best known only for its iconic "March." Yet thanks to its playful satire and a "score [that] bubbles with invention and high spirits" (Gramophone), the opera has been a European staple for almost a century. It makes its long-awaited Philadelphia debut at the Academy of Music in a production by South African director Alessandro Talevi, which "turned out to be the real highlight" (Opera News) of Florence's 2014 Maggio Musicale festival. Featuring an elaborate, trompe l'oeil proscenium arch and oranges designed to look like giant Fabergé eggs, Talevi's staging will star tenor Jonathan Johnson as the melancholy prince, with soprano Wendy Bryn Harmer as Fata Morgana, the witch who curses him; bass Scott Conner as the King of Clubs, the prince's father; tenor Barry Banks as Truffaldino, the court jester; soprano Tiffany Townsend and mezzos Katherine Pracht and Kendra Broom as the three princesses; and the superlative voices of the Opera Philadelphia Chorus. The conductor comments:
"The Love for Three Oranges is the perfect showcase for our orchestra and chorus, and I wanted to reward them. We're going to produce it with a wonderful cast and a wonderful production from Europe; it's really remarkable."
Another highlight of O19 is the Festival O19 Celebration honoring Maestro Rovaris (Sep 21), which pays tribute to the Music Director's fine musicianship and leadership over the past 20 years in a festive evening at the Academy of Music. Crowned by a recital performance bysoprano Brenda Rae, who drew raves in the title role of O18's celebrated new take on Lucia di Lammermoor, the evening includes a seated dinner on the Academy of Music stage, where patrons will be surrounded by the exquisite set of The Love for Three Oranges. Rae comments:
"I got to know Corrado five years ago on rather short notice when I jumped into a production of Don Pasquale at the Santa Fe Opera. What a blessing that production turned out to be, since it introduced me to one of the most special conductors I've ever worked with. David Devan has observed that when we perform together, I hardly look at Corrado, and yet we're always together. To find a conductor like that, one who shares your musical sensibilities, and has the sensitivity to know exactly what you need while performing, is an incredibly rare thing. He makes me a better singer, helping me grow, while also allowing me to be the artist that I am. To top it off, he's one of the kindest men I've ever known! It is a joy and privilege to honor him at this upcoming recital."
Opera Philadelphia is the only U.S. opera company to offer its annual festival as part of a more extensive season, and Maestro Rovaris conducts two further presentations early next year. He leads the Opera Philadelphia Orchestra and Chorus in two dramatic concert performances of Verdi's Requiem (Jan 31 & Feb 2, 2020) at the Academy of Music, where they will be joined by a stellar quartet of soloists: soprano Leah Crocetto, mezzo Daniela Mack (also appearing in O19's Semele), tenor Evan LeRoy Johnson, and bass In-Sung Sim. Combining the drama and passion of opera with superlative chorus and solo writing, Verdi's mass has been dubbed "a conductor's dream come true" (NPR). The work also holds particular significance for the Music Director, who confides:
"I used to be the chorus master at La Scala, and Verdi's Requiem was written for the La Scala chorus. We used to perform it in the San Marco church in Milan, where it was performed for the first time, so it will always have a special place in my heart. The fact that now we can perform it here in Philadelphia, with my chorus and orchestra, is very, very moving to me. And it's very rewarding for the orchestra and chorus to work on something so important in the history of music."
To complete his anniversary season, Maestro Rovaris takes the podium for another great Italian masterwork: Puccini's Madame Butterfly (April 24–May 3, 2020), in a 2017 production by director Ted Huffman that impressed Opera News as "a treasure that will provide fond memories for a long time." Japanese soprano Eri Nakamura makes her company and role debuts as Cio-Cio-San, opposite tenor Bryan Hymel as Pinkerton. Both making company debuts, baritone Anthony Clark Evans sings Sharpless and mezzo Kristen Choi reprises her account of Suzuki. Tenor Julius Ahn revisits Goro, his signature role; bass Wei Wu portrays the Bonze; and baritone Takaoki Onishi sings Prince Yamadori.
About Opera Philadelphia
Opera Philadelphia is committed to embracing innovation and developing opera for the 21st century. Described as "the very model of a modern opera company" (Washington Post), Opera Philadelphia was the only American finalist for the 2016 International Opera Award for Best Opera Company. For more information, visit operaphila.org.
To download high-resolution photos, click here.
Top