×
Support great opera
Give today to help us unlock $2.5 million with the Artistry Now Matching Fund.
Donate
Reflections on being Composer in Residence - Part One
I've had a wonderful three years working with Opera Philadelphia. I'm always amazed how kind, knowledgeable, and generous everyone in the organization is, and I leave the Composer in Residence program with some sadness, but mostly a great deal of energy. It is difficult to summarize the immense effect this program has had on me and my work, but I will try to give some sense of my activities.
The first couple of years were a giant laboratory of learning experiences – observing rehearsals, taking voice lessons, being exposed to the behind-the-scenes work of the company, and most importantly, writing. During this time I wrote a song cycle for mezzo, horn, cello and piano called Three Immigrant Songs, and I think eight opera scenes for various workshops. This was a wonderful chance to experiment with different facets of operatic writing (for example, trying out different approaches to setting recitative) without the pressure or looming deadlines of a large-scale commission. This also gave me the invaluable experience of working with different librettists, like Mark Campbell (the librettist of the Pulitzer-prize winning Silent Night), who is a deep fount of opera wisdom. One of my favorite aspects of the residency in general was the access that it provided to mentors and advisors in the field, including directors, singers, producers, librettists and dramaturges.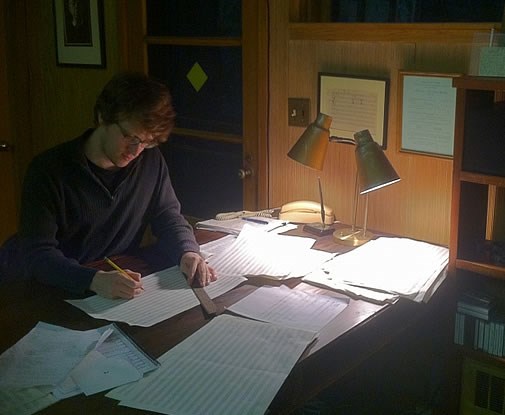 Recording session for I Have No Stories to Tell You at Oktaven Audio in Yonkers. And, Copland House residency where I worked on I Have No Stories to Tell You.
Observing Opera Philadelphia rehearsals was a fascinating experience. Understanding the different stages of the rehearsal process, and details like the way singers memorize, the effect of the distance from the pit to the stage, the change in the feel of a show between the piano and orchestra versions, and the physical demands on singers during staging rehearsals, will affect my work in countless small ways. Seeing so many rehearsals and performances was also a special opportunity to get inside works and understand how they were put together: I'm particularly thrilled to have been able to see an intricately written, psychologically complex show like Henze's Elegy for Young Lovers five or six times in rehearsal and performance.