A Different Kind of Journey
One of the great benefits of living and working in Philadelphia is being surrounded by a hotbed of young artists from every field.
The independent music and theater scene is teeming with young, inventive talent. There is a thriving visual arts community populated with artist co-ops, studios, and galleries. But of particular interest are the vocal artists from the Curtis Institute of Music and the Academy of Vocal Arts. Graduates from these two esteemed schools bring their talents to the global opera community. Since arriving in Philadelphia, I have made sure that Opera Philadelphia plays a significant role in the artistic development of these emerging artists. The mutual benefits are many. For me, however, the best part is observing their development.
One such artist is Ailyn Pérez. I have known Ailyn since I moved to Philadelphia and watched her progress through AVA. At Opera Philadelphia, Ailyn has had the opportunity to debut three different roles. It was with great joy that I was able to be with her to witness her Met debut on February 26. She sang the role of Micaela in Carmen, a role she debuted with us in 2011! It has been remarkable to watch her journey through the great opera houses of the world and to be an active part of supporting her incredible artistry. Both in Philadelphia and New York she was radiant, with a sophisticated and nuanced rendering of the role, all with her glorious sound. Brava Ailyn! (Teaser – she will be performing in a future season with Opera Philadelphia…stay tuned.)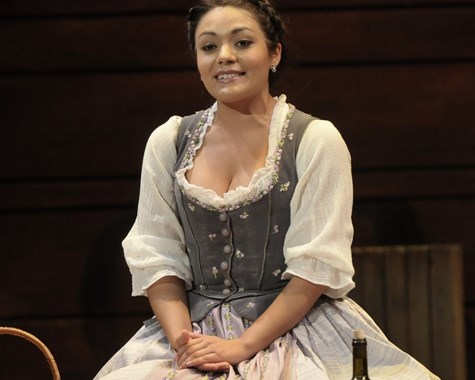 Speaking of artistic journeys, we just closed Strauss' Ariadne auf Naxos, our annual collaboration with Curtis Opera Theatre. This incredible opera demands virtuosic performances and clever staging. Each March, when we produce a work together in the Perelman Theater, I marvel at the Curtis singers and orchestra players but this year I marveled a little more than usual. The fact that a group of artists ranging in age from 15 to 26 years old could perform this work at such a high caliber, bringing so much captivating energy and delivering nuanced, refined, and moving experiences literally brought me to tears in the final 15 minutes of the opera. The Perelman, at 550 seats, was the perfect scale for this work and really let the singers connect directly with the audience. The combined vocal and instrumental sound simply enveloped you. I have said this many times: The appropriateness of the acoustic and performance space is critical to the artistry of the work and performers. Large opera houses are not built for all operas. This particular opera proves the point. The cast also had the help of a clever, imaginative, and beautifully-crafted set by David Zinn with direction by Chas Rader-Shieber that brought each character alive, making the entire effort an ensemble piece that at the same time provided jaw dropping solo moments (I'm talking to you Lauren Eberwein, Ashley Milanese, Heather Stebbins, and Jonathan McCullough).
Finally, I want to thank Kevin Ray for joining this production as Bacchus. Kevin, after graduating from Curtis in 2012, is making the transition from a baritone to a heldentenor. I felt honored to be a witness and to support him on his journey. Heldentenors are rare, producing a unique sound that takes a great deal of talent. It takes a steadfast commitment and an extended amount of time for such a voice to come into fruition. I equate a heldentenor's training to that of a figure skater. You can practice all you want, but in a competition you still need to complete that triple jump. That jump can't live only on the practice rink and you can never hold back. As a skater, you glide along the ice on 1/16 of an inch of metal at a high speed and then throw your body into the air, all the time risking a crash! The heldentenor needs to do exactly the same thing. He needs to fearlessly pursue the music written for him, filled with lots of triple jump-like notes. To fully learn his craft, a heldentenor needs real performances, not just time in a practice studio. To watch Kevin's journey, from the rehearsals through to the closing show, was to witness a great artist pursuing something very special. Trust me people – he is one to watch.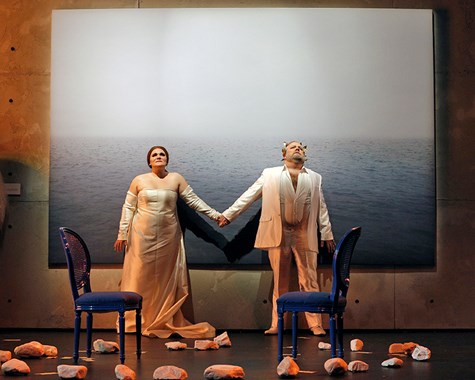 Photo top: Ailyn Pérez as Micaela in Carmen, 2011. Photo by Kelly & Massa.
Photo bottom: Heather Stebbins as Ariadne and Kevin Ray as Bacchus, 2015. Photo by Cory Weaver. 
Leave your comment below.
Top