Bird Lives
By George L. Starks, Jr., Ph.D.
Charles Parker, Jr., was born on August 29, 1920 in Kansas City, Kansas and grew up across the river in the fertile musical environment of Kansas City, Missouri. This was the wide-open Kansas City of the Tom Pendergast Machine during which nightlife flourished. In the city's African American neighborhood, so did the music of Bennie Moten, Andy Kirk, and Walter Page. Count Basie from Red Bank, New Jersey, Lester Young from Woodville, Mississippi, and Mary Lou Williams from Pittsburgh, Pennsylvania took up residence in Kansas City. Theirs was the Kansas City of all-night jam sessions, riff-based blues, spontaneous "head" arrangements, and blues shouters - big voiced vocalists who sang the blues.
But Kansas City could not contain Charlie Parker.
It was in New York in the 1940s that Bird truly spread his wings. He was the perfect example of a prime axiom of the jazz idiom – one must find one's own voice. He did so by building upon the foundation, which had been laid by Young, Smith, Berry, and other of his predecessors. It was in Harlem after-hours sessions at Monroe's Uptown House and Minton's Playhouse that he, along with participants like Dizzy Gillespie, Charlie Christian, Thelonious Monk, and Kenny Clarke, found nurturing environments for the development of the new music that became known as bebop.
Parker's innovations defined bebop and therefore defined what came to be called modern jazz. Though rooted in tradition, the changes were nevertheless dramatic. On many levels the music became more complex. Parker's music demonstrated great harmonic acuity. In this regard, there were altered chords and new chord progressions. There were substitute chords and substitutes for the substitutes. In pre-composed melodies and in improvisations, his work featured melodic twists and turns that were completely new. Front line instruments interacted with rhythm sections in new and dramatic ways; pianists comped and drummers played polyrhythmically. He brought a new timbre to the alto saxophone and other saxophonists followed his lead. Most of all, the rhythmic sophistication that he brought tohis music was unlike that of anyone who had preceded him.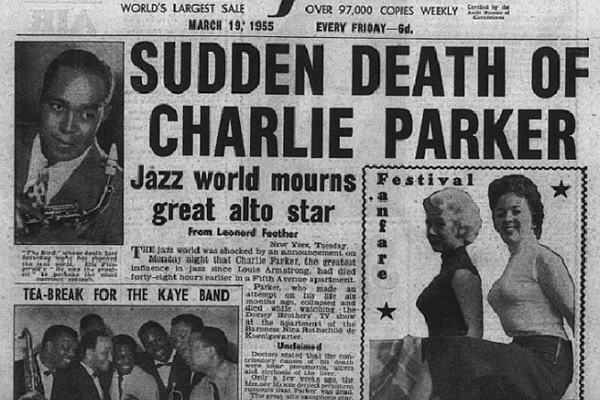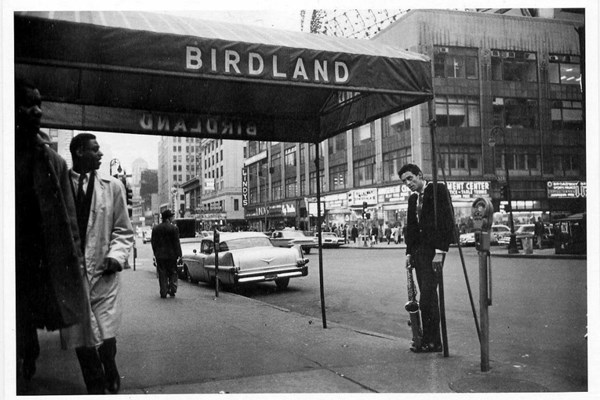 The musical tradition of which jazz is a part has always been responsive to, and reflective of, the socio-cultural environment in which it is situated. Parker's music gave voice to much of what was felt in this country during the decade of the 1940s. This was particularly true of the African American community. Participation in the war effort led the black community to expect fundamental change in that community's position in American society. New times demanded new artistic expression, and bebop was a part of that expression.
Parker's contributions have been recognized in numerous ways. One of the first was Birdland, a jazz club in New York City named in his honor, the original of which opened in 1949. Also, there is an annual Charlie Parker Jazz Festival in his adopted hometown of New York City, and a Charlie Parker Memorial sculpture in Kansas City. Largely as a result of the role that it played in the development of bebop, Minton's Playhouse is listed on the National Register of Historic Places. Dead at the age of thirty-four, Parker had an enormous influence that has extended far beyond his lifetime. It is indeed ironic that the appellation "Bird" was not originally bestowed in recognition of the creative output of a genius whose music soared like an eagle. Much in the sense that Parker found his voice by studying the music of Lester Young, Buster Smith, and Chu Berry, many post-Parker musicians passed through his music on the way to finding their own voices. A short, but imposing list would include Ornette Coleman, whose innovations led the way in the "Free Jazz" movement of the 1950s and '60s; Steve Coleman, one of the most original thinkers in jazz of the last thirty or so years; and Rudresh Mahanthappa, an American saxophonist of South Asian descent whose work reflects his Indian ancestry. Today, bebop remains the principal style through which improvisation is taught in colleges and universities. Aspiring musicians on college campuses study Parker's improvisations and play his compositions. As a testament to his genius, recordings by Parker, "live" and studio, are still being issued or re-issued.
His influence is felt and heard both inside and outside of the jazz community. Evidence of that is the new opera Charlie Parker's YARDBIRD. What was written on walls in New York City after his passing in 1955 remains true today – "Bird Lives."
George L. Starks, Jr., Ph.D. is Professor of Music and Director of the Jazz Orchestra at Drexel University