Q&A with Emerging Artist Alasdair Kent
Tenor Alasdair Kent is currently an Emerging Artist with Opera Philadelphia and a current resident artist at The Academy of the Vocal Arts. Alasdair makes his company debut in the roles of Junior and Charlie in the East Coast Premiere of Cold Mountain (Feb. 5-14 at the Academy of Music).

Q: This is your professional debut with Opera Philadelphia. What are you most excited/nervous for?
I've been very fortunate to collaborate with Opera Philadelphia on a number of smaller projects in my time in Philadelphia so far, but I'm really excited to join the family in a mainstage production. And with so much history in the Academy of Music, how could I not be thrilled to sing in that space? This is also the first time I've worked with Maestro Rovaris, so I'm looking forward to collaborating with a musician whose performances I've enjoyed so much as an audience member. And Jennifer Higdon's score... this is a great piece of music that demands great musicians. Most of the music I sing has so far been from the Italian bel canto period, where the demands in terms of musicianship are quite different. Jennifer's score has me changing metres sometimes every couple of bars, the rhythms and text are certainly complicated and the tonalities are not always traditionally defined… and can we mention the fact that learning a southern accent poses its own difficulties to my Australian tongue? These are all exciting, new things.
Q: As a current student at The Academy of Vocal Arts, you perform in productions throughout the year. What do you think the biggest difference will be in performing with Opera Philadelphia?
I think the biggest difference will be performing in a theatre the size of the Academy of Music. Our productions at AVA mostly take place at the Helen Corning Warden Theater, our in-house theatre at 1920 Spruce St. We do take some shows to theaters at Haverford School and out in Bucks County, but even these spaces are not the same scope as the Academy. For five years, I was a member of the professional chorus of my state's opera company back home in Perth, Western Australia. WA Opera performs at a beautiful Edwardian theatre, His Majesty's, which seats about 1250 people. That's the space in which I've performed the most, though I have recently sung in much larger spaces, for example the Winspear Opera House in Dallas or the San Francisco War Memorial Opera House. I'm looking forward to spending more time in the Academy of Music, which seats about twice as many people as His Majesty's.
Q: What is your favorite musical moment in Cold Mountain?
Too difficult to say. I'm really enjoying the music that I sing, the work is very different to other new works that I've performed, so it's been great to start to learn Jennifer's musical language and translate a little of it into Alasdair. There are some stunning lyric moments for the leads, but I love the storm scene too, and the chorus and ensemble scene that closes the opera is also riveting.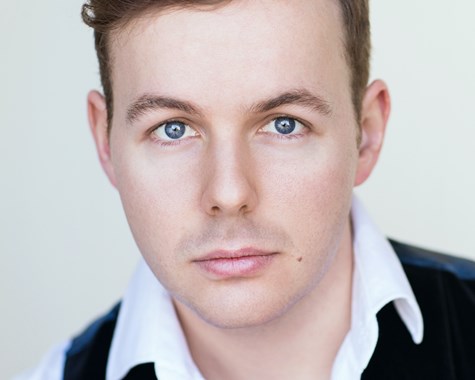 Q: How can people relate to the story and characters in Cold Mountain?
The story of Cold Mountain has had and continues to have such a deep appeal because it's fundamentally an allegory about, amongst other things, the progress of the human spirit in the face of great, maybe unending adversity. We all experience this on a daily basis, in one guise or another. I'm one of those rare people who thinks that even the most romantic opera plots can be completely relevant, because they're all about people, and really the more humankind changes the more we stay the same. We still have hearts, souls, minds and bodies. I'd say this is true for even a lot of the more overtly saccharine or "absurd" opera plots, if they're seen through the right lens. And Cold Mountain is far from saccharine or absurd. A lot of opera-goers lived through the greatest wars of the last century, and Cold Mountain, using war as the window through which to look upon suffering and humanity, resonates specially with those people. Even younger generations have distinct memories of the very many more recent conflicts, for example, in the Middle-East.
But more than all of this- who of us has not loved? Who of us has not been separated from someone we love by the vagaries of circumstance or timing? Who of us has not been called to fight to get back someone we once loved? This is that story, our story, painted large and bold, with a central era of American history as the backdrop. A more difficult question would be how could a person not relate to Cold Mountain?
Q: Who are your musical inspirations?
I have a huge admiration for each and every single working professional in the field of opera. This is a hard job, one that takes you away from your family and loved ones, one that pays in dividends that are frequently not financial, one that requires a substantial investment of time and money to begin and continue, and more than a little luck to come to any kind of fruition. Each singer, each director or conductor or coach or accompanist, each musician, everyone has their story, and every story has its dignity.
As for my particular musical heroes, again, there are too many to name them all. More and more, I find musical inspiration from non-vocal sources- Jascha Heifetz and Martha Argerich being huge favourites, with Vladimir Horowitz right up there too. I'd be remiss if I didn't mention the influence that the recordings of Dame Joan Sutherland and Richard Bonynge had on the development of my technical and repertoire tastes when it comes to opera, but the great voices of the recording era have all had an effect on my singing life- Luciano Pavarotti, Franco Corelli, Giacomo Lauri-Volpi, Fritz Wunderlich, Nicolai Gedda, Jussi Björling, Leontyne Price, Maria Callas, Edita Gruberova, Rita Hunter and Agnes Baltsa. The work of Tullio Serafin and Victor de Sabata had a particular influence on me in my early years, and it's this school of opera that I'm now an adherent of under Christofer Macatsoris at AVA. And how can you not respect and admire the singers scaling the heights of vocal achievement today- Renée Fleming, Diana Damrau, Joyce DiDonato, Lawrence Brownlee, Javier Camarena and Juan Diego Florez? All classical musicians aside, I'm a huge fan of Ella Fitzgerald and Adele- I think Adele possibly has the greatest voice of my generation.
Q: What kind of music do you listen to today? 
Mostly opera, but I'm told that I'm a rarity among opera singers in this respect. Sometimes piano concertos, Debussy préludes or images, or anything Chopin wrote for solo piano, if for whatever reason I can't stand to hear any more singing. Some electronic music to that end too, but probably things that are now considered a little old school- The Prodigy, Goldfrapp, Propellerheads. Very occasionally some Miles Davis or some Cole Porter, or maybe The Beatles. Thanks to car trips with my family as a kid, I think I still know all the lyrics to Revolver and Magical Mystery Tour!
Q: If you weren't singing, what would you be doing?
The gods alone know. If it were up to me, swimming naked in the Indian Ocean, taking care of and finding homes for homeless dogs, dancing with strangers, drinking my body weight in margaritas, and growing my own food. And farming lavender, for the pleasure of feeling the earth beneath my feet and the flower buds between my fingers.
Leave your comment below.
Top