Jarrett Ott & Rachel Sterrenberg: A Philadelphia Story
How two international opera careers and a life-long friendship started in the city of brotherly love
It's June, the fourth time that soprano Rachel Sterrenberg is opening a production of the jazz-infused opera Charlie Parker's YARDBIRD—but this time it's a little different. Sure, most of the cast is the same as the 2015 world premiere staging at Opera Philadelphia, but what makes this iteration, a co-production with the English National Opera at Hackney Empire, unique for Sterrenberg is that it marks her European debut.
"It's unreal," she said. "I'm coming from doing Mozart, The Elixir of Love, all that kind of stuff you're typically doing. It's hard to bring a new piece to new audiences, and I feel so lucky. I really want to just soak it up."
Across the Atlantic, and closer to Philadelphia, baritone Jarrett Ott is preparing for his turn at the world-renowned Glimmerglass Festival in Cooperstown, New York. He'll be performing, ironically, not in an opera, but in one of the most iconic Broadway musicals of all time: Oklahoma!, as Curly. Ott has just finished a stint at Deutsche Oper Berlin in the world premiere of Andrea Scartazzini's Edward II.
However, despite all of his national and international acclaim, when asked what role Philadelphia had on his growth as an artist, Ott admittedly got a bit teary-eyed.
"Philly has put me exactly where I am today," he said. "There is such nurturing and commitment to the people in the arts. Anyone who is anyone in the opera world knows my work because of Philadelphia."
Ask any friends who are professional opera singers and they'll tell you that the old adage is absolutely true: distance makes the heart grow fonder. In the case of Sterrenberg and Ott, stars of O17's The Magic Flute and real-life best friends, they know that despite the miles apart, Philadelphia is their artistic home.
Sterrenberg, who arrived in Philly back in 2012 to attend the Curtis Institute of Music, shares a great affection for the city that arguably started her professional career. She was, to use her own words, a "country gal from Middle Georgia" when she first started Curtis, but she had the support of several mentors who saw her talent for what it was. "Once you find people who believe in you and in the art you create, you have to hold on to them," she recalled.
"Once I got to Curtis, I got a real taste: Handel, Britten, this huge spectrum of stuff. 'This is what [opera] is,' I remember thinking. 'Give me more! I can handle this! This is what keeps me going.'"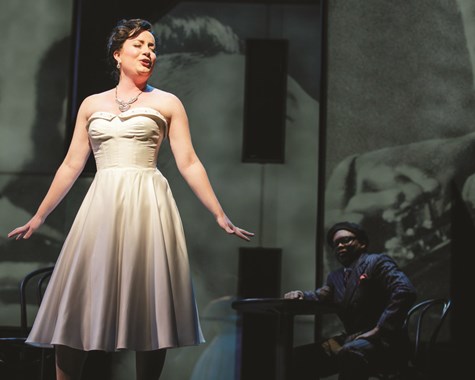 Ott, too, is a Curtis alum, but his artistic Philadelphia roots started long before his enrollment at the prestigious conservatory. In fact, Ott completed his undergraduate degree at nearby West Chester University, and he credits his voice teacher there, Randall Scarlata, for his artistic aspiration. And, despite his rigorous national and international performance schedule, Ott still considers Philadelphia to be his "artistic home base."
Ironically, Sterrenberg and Ott didn't initially meet in the City of Brotherly Love, but at the Chautauqua Music Festival in New York in 2012. However, the subsequent academic year, both singers began their careers at Curtis, where they became something of an artistic cohort on stage. "We ended up in every [Curtis] production together," Ott remembered. "We were either lovers or brother and sister, and we ended up becoming the best of friends." 
"Curtis sealed the deal," Sterrenberg said of her friendship with Ott. "There were all of these productions where we were singing together."
But the artistic relationship between Ott and Sterrenberg didn't stop at Curtis. Both of the singers recalled the exact day, September 6, 2012, when they were in a rehearsal room at Curtis and Mikael Eliasen, Artistic Director of the Curtis Opera Theatre, approached them with what he called "a really fun project."
That project ended up being the opera Cold Mountain, written by Philly-based composer Jennifer Higdon, that was co-commissioned by Opera Philadelphia, the Santa Fe Opera, and Minnesota Opera. Ott and Sterrenberg were cast as the leads, W.P. Inman and Ada Monroe, throughout the opera's workshop development. Ott went on to cover Inman in Sante Fe and, in a last-minute casting change, performed the role during the East Coast premiere of the work in Philadelphia.
"The Cold Mountain process was so special to us," Sterrenberg said. "It was the first time that Jennifer [Higdon] was writing an opera, too, so on so many levels it became quite personal." 
Ott remembers many calls from Higdon during her composition of the opera, asking him how he would personally approach certain notes or certain phrases in the score. It was an experience that was utterly unique: not only was he singing music never heard before, but he was, in a way, actively participating in the creation of it. It was during this time that both Ott and Sterrenberg were named to the inaugural class of the Opera Philadelphia Emerging Artists program for both the 2014–2015 and 2015–2016 seasons, appearing in both new works (Sterrenberg made her professional debut as Chan in Charlie Parker's YARDBIRD while Ott appeared in Oscar) and classics like La traviata.
When Cold Mountain opened in Philadelphia in 2016, Sterrenberg played the minor role of Sara. But this fall, in O17's Suzanne Andrade– and Barrie Kosky–directed The Magic Flute, she'll be making her professional role debut as Pamina. In a way, it's all coming full-circle: Sterrenberg's first role ever at Curtis was Pamina, and when she performed the part, she remembered hearing about the Andrade-Kosky production in Berlin, famed for its now-iconic 1920s silent movie stylization and huge video projections. She had to find out more.
"When you're a musician, you're a nerd," she joked. "When this production was opening in Germany, I found the trailer for it. I remember thinking, 'This is the coolest thing ever.' It was a totally different way of thinking of Mozart."
While in Berlin, Ott, who plays Papageno in the O17 production, actually saw the opera at Komische Oper Berlin. He was also amazed by the unique and fanciful approach to the material. "It's so spot on," he said. "It has these child-like whimsical animations that are done in such an adult manner that everyone can connect. The singers literally get to pop out of a screen in the middle of a silent film. It looked like such a blast."
Sterrenberg admitted that she's a little intimidated by the jaw-dropping technical theatrics of the production, including being holstered into a platform nearly 30-feet above the stage ("I'm scared of heights," she said. "But I'm going to have to get over it"). However, any opportunity to be on the same stage with her best friend is one that she can't pass up. Neither can Ott. "She's such a doll and I've seen her grow so much," he said. No doubt, both singers can thank their ongoing commitment to their music, and to Philadelphia, for shaping their growth as artists and for a friendship that will last a lifetime.
Leave your comment below.
Top