A Tragic History A Lingering Hope: 32 Years After the MOVE Bombing, One Man Reflects
When members of Philadelphia's radical MOVE group moved onto the 6200 block of Osage Avenue in 1981, Baba Taiye Renfrow had only one question:
"Do they have kids?"
The 48-year-old Philadelphia native was about 11 at the time and only dimly aware of the group's controversial ideology, of the showdown with police in their former Powelton Village headquarters that would send nine of their own to prison, charged with the shooting death of an officer, and eventually force their relocation to his Cobbs Creek neighborhood.
"They moved in with one of my neighbors, Louise James," recalls Renfrow of the rowhome at 6221 Osage Avenue that belonged to MOVE founder John Africa's sister. "There was a bit of apprehension by the neighbors but they came onto our block peacefully."
And their kids were quickly welcomed into the games that floated rambunctious chatter and laughter from the streets and sidewalks.
"All of us on the block were like brothers and sisters. All we wanted was to play with their kids," said Renfrow, who now lives in suburban Montgomery County with a family of his own. "We were just kids hanging out, whether it was on the block or going down to the park or playing basketball."
That was a different era on Osage Avenue, a time where children roamed freely, unencumbered by the scourge of drug dealing and prostitution, the shadows of violence and blight.
Back then, there were block parties and cookouts and an easy community knitting together each lovingly kept, middle-class home. It was the kind of neighborhood where kids grew up to raise their own families, as Renfrow's own parents did, putting down roots at 6234 Osage, mere blocks from his grandparents.
Even the MOVE members seemed to settle in peaceably, going door to door selling the fruits and vegetables grown in their gardens to gain their neighbors' trust.
"If someone was suspicious, they would cut a piece of watermelon or whatever it was and eat it themselves," Renfrow said. "None of us wanted any trouble."
But then the group boarded up the windows on its property, fenced in a driveway neighbors often used as a cut-through, and built a bunker on the roof. Their kids were no longer allowed out to play, although they could sometimes be seen rifling through the compound's trash. And day and night, the revolutionaries took to broadcasting their anti-police rhetoric from a bullhorn.
"All of a sudden, they became unsanitary. They started hanging raw meat on their fence, attracting stray cats and dogs. The gnats one day clouded the street like it was smoke," said Renfrow, who remembers having to wear his faux Cazal sunglasses to shield his eyes whenever he was outside.
Neighbors complained. The MOVE members racked up violation after violation, ignoring them all. On May 13, 1985, police decided to clear them out.
The day before, Mother's Day, officers pounded on residents' doors with instructions to evacuate. "They were saying, 'Don't worry. This will be over by tomorrow. You'll be back here when it's over with,'" Renfrow said.
His parents piled a few things into their pickup truck and drove the few blocks with Renfrow and his two younger siblings to his grandparents' house.
When police dropped the bomb on MOVE's headquarters the following day, the reverberation rattled the home five blocks away, where the Renfrows sat watching the entire tragedy unfold on TV. They watched as the fire ignited by the bomb raged unchecked.
"You don't understand what's happening but when you see the fire is not going out, you become grief-stricken because all you see is your life going up with no regard for it," Renfrow said, who was 15 at the time.
The blaze destroyed 61 homes and displaced 250 residents. It killed 11 in the house at 6221 Osage Avenue, including five children. Only two MOVE members—Ramona Africa and 13-year-old Birdie Africa, who had once played with Renfrow and his friends on the street— survived.
"We had a million questions," Renfrow said. "Why didn't they put out the fire? Who do we talk to about this? Who's going to talk to us about this? There was the shock of just trying to wrap your brain around it and every time you thought about your loss, you'd just break down and cry."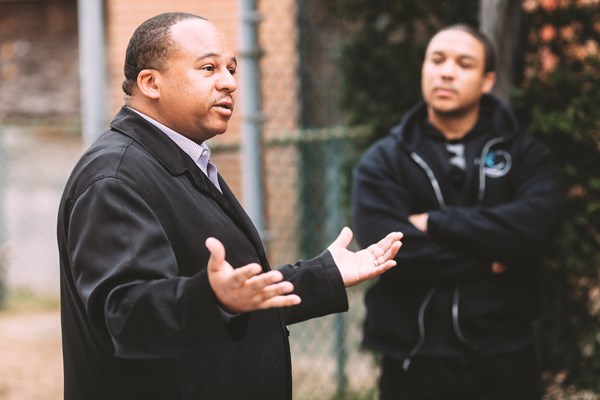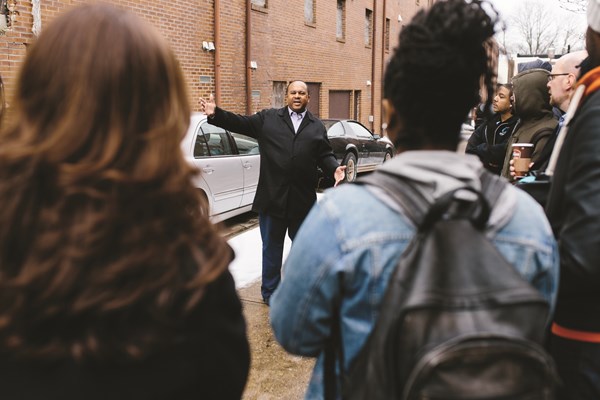 Baba Renfrow (left) toured Osage Avenue with We Shall Not Be Moved cast members in March 2017. Photographs by Dominic M. Mercier.
Even now, more than 30 years later, his voice cracks and a muffled keening threatens to undo him as tears fill his eyes.  
The city temporarily relocated those who had lost their homes to the Korman Suites near the Philadelphia International Airport. The Renfrows, like all their neighbors, had little to take with them.  
But one small belonging became a priceless treasure.  
"When we were leaving our house after being evacuated, I said 'Wait!' and ran into the house to grab this particular photo—my parents' high school prom photo. I had become very fond of that picture as a young boy. It was in the original frame it was put in back in the sixties," Renfrow said. "I didn't grab the magazines with all my rap idols or what I had left of my radio. Something just struck me, telling me 'Baba, you need to run back in there and grab that photo.' That was God in my mind."  
Today, it is not only a reminder of a blossoming love that would endure, but a link to the heartbreak and devastation that still shroud the Cobbs Creek neighborhood and its residents today.  
Families who lost everything in the fire were allowed to move back into new homes made of brick after more than a year in temporary housing. But those were shoddily built, leading to a decades-long battle with the city of Philadelphia.
In 2000, 37 homeowners took a $150,000 buyout after Mayor John F. Street's administration decided to stop pouring money into repairs promised by his predecessor. Twenty-four residents sued for breach of contract and won in federal court but an appeal ultimately brought their award of half a million dollars each to $190,000 per house. Sixteen homeowners accepted the settlement and eight, including Renfrow's parents, Gerald and Connie, refused.  
"To watch our parents have to fight and deal with the city day in and day out—it's consumed our lives on a level that nothing else ever has," Renfrow said. "Every Thanksgiving, every Christmas, every Easter, when the family gets together for dinner, that's the topic of conversation. When is this going to end? When are we going to go back to how we used to be?"  
He, too, has thrown himself into the fight, having finally, as an adult, tasted the bitterness of the unconscionable, the heaviness of the hurt his parents tried to shield him and his siblings from as a boy.  
"They just wanted to normalize our life," Renfrow said. "I didn't feel any emotions about it. It was too surreal for me."
When he returned to school, he even had a running joke when homework assignments were due: "That burned up in the fire."
"I didn't really start to hurt about the whole tragedy until we were way into the years of wondering why isn't the city doing what it's supposed to," Renfrow said.
Today, many of the rebuilt houses on the 6200 block of Osage and Pine sit vacant, boarded with plywood and padlocks. Last year, city officials announced they are seeking a developer for those properties. But optimism is hard to root for in a history of broken promises and blatant neglect.
"As an African American, I've learned from experience how an administration responds to us," Renfrow said. "I saw what they're willing to do—to drop a bomb on an entire family and let their neighborhood burn."
For Renfrow, having that night evoked onstage through Opera Philadelphia's world premiere of We Shall Not Be Moved reawakens the sense of tragedy.
"This was 32 years ago. Everything we're going through in the world with African Americans today, black males today, and how law enforcement is perceiving and receiving us and how we're reacting to them, to see it all dramatized—it brought back the people who perished," he said. "It's the most horrible death you ever want to hear about."
He hopes the power of the piece connects with as wide an audience as possible, especially given how few in the Philadelphia region know about the bombing today.
"Because of how many years have passed, someone being brought to justice is the one thing that will never be. And I'm OK with that," Renfrow said. "But I want my parents to live in a home they deserve. I want Osage Avenue restored to what it was, which was a beautiful, loving block of West Philadelphia." 
Naila Francis is a writer and editor based in Philadelphia.
Leave your comment below.
Top