Fragile Glass, Handel with Care
I'm not an impulsive person.
But I found myself having to make a quick decision. I had just walked off the stage after singing an opera in Miami, and I saw the name of the famous painter George Condo flash on the screen of my phone. I picked up. "ANTHONY," he said in his inimitable, spirited rasp, "Is there any way you can be in New York tomorrow at 4 p.m.? I think it's important for your project." The universe in which I book a flight with frequent flyer miles while throwing clean socks into a backpack at 2:00 a.m. as I head to the airport for a flight a few hours later, is the universe in which I have found myself building Glass Handel with equal parts luck and sweat.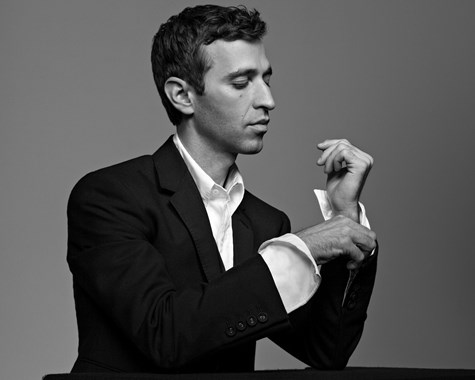 So how did I get here? Here, into this beautiful program book, trying to elucidate a project that has become my passion and is ten times bigger than anything I've ever created before? Two years ago, the president of Universal Classics, Graham Parker, asked me to make a record for the Decca Gold label. My first solo album!
As a countertenor, my repertoire lies at two ends of the spectrum: baroque and contemporary. Instead of becoming a specialist in one or the other, I've split my career evenly between the two. Handel defined me and Glass changed me, as I like to say. They both use repetition in almost all of their work, and the more I thought about it, the more I realized that they might form an invigorating musical partnership. I chose selections from both composers that ranged from obscure to obvious, and we made the CD. It was one of the most joyful and satisfying musical experience of my life.
Then I started thinking. How do I give this CD a life? A concert tour, sure. But at heart I'm a renegade. I want to excavate a new audience for opera and classical music from yet untapped factions of artistically inclined people, old and young, who aren't already in an opera house or a concert hall. Let's start with the cover of the CD, I thought. I wanted it to be something strange but beautiful, not the regular glamour shot.
I have always loved the art of George Condo, and I'd met him on the street years back. He was excited he had stumbled across a countertenor because he loves playing lute − John Dowland in particular − and had been looking for someone to sing the melody. I would go over to his apartment or his painting studio and we'd pluck our way through some doleful tune. But I hadn't seen him much since those days some five years back. Nonetheless, I couldn't shake the dream of him painting me for my album cover. Given the enormous demand for his paintings and the fact that he'd only ever done one album cover, for Kanye West, it seemed like a pipe dream. Nevertheless, I wrote and asked if I could come see him. We sat down together a week later and before I knew it, I was singing Dowland's "Go Crystal Tears" while he miraculously extracted multiple melody lines from the lute with various colors of paint wedged into the corners of his fingernails. When the crystal tears had gone, I leveled with him. If an artist of his stature were to paint a countertenor for an album of Glass and Handel, people who didn't usually pay attention to classical music might perk up their ears. He wholeheartedly and magnanimously dove in. He said he had to get my face in his fingers, and we'd spend long nights together cooking dinners and talking while he drew my face. One night he took me into the studio in the back of his apartment and presented a prepared canvas. He started to paint me. It was not lost on me that one of the great living artists was explaining chiaroscuro while making masterful tiny brush strokes; telling me secrets about turpentine and glazing while regaling me about his days with Warhol, Basquiat and Allen Ginsberg. Before I knew it, we had a painting, we had a cover, and it was insane in the best way possible.
With an asset like that painting, I knew I had to create a live embodiment of the album that went beyond a concert tour. I was in the sweep of the painter's stroke, and so I began to think about museums. What if instead of a straightforward concert, I could make some sort of art installation. 
It occurred to me that David Byrne, who wrote the lyrics to Glass's "Liquid Days," had been making art installations for years. After a lot of calling and emailing, I found my way to his email address and asked if he would have coffee. We both arrived on 19th street in Manhattan with bike helmets in hand, and I had the thrill of learning about how he approached his groundbreaking work and telling him about my nascent ideas. He told me I was on the right track, pushed me forward, but said that he wasn't the person to help me because he was in the midst of creating a new show of his own. 
A few weeks later I was asked to sing at a small fundraiser at someone's home. I should have said no given the demands on my time and vocal chords, but "no" is not my forte.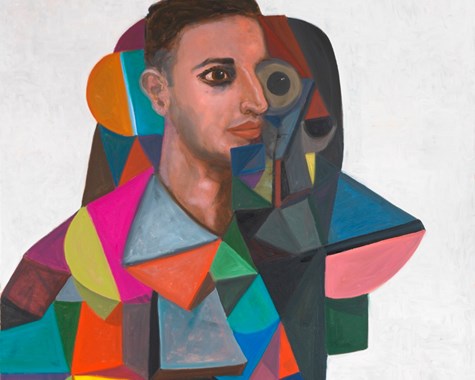 At the event I ran into Cecilia Dean and James Kaliardos, founders of the incredible art and fashion multimedia publication Visionaire, whom I had collaborated with a decade before. Their 27 years of work together has produced collaborations with the biggest names in art, fashion, architecture, and pop music, but never classical music. In 2017, they had earned over 1 billion media impressions and they told me that they wanted to be channeling this huge following towards more live performance and digital content, in addition to the physical editions they create. Click – a lightbulb. I asked them for a meeting.
I sat in their office and set up a portable speaker and played them a rough cut of the album. While I didn't know what the installation should be, I knew that we had to perform the music live, with full orchestra, and I told them I had some ideas. I wanted to cross disciplines. I had always envisioned classical music videos, but unconventional, artsy ones, and thought it would be exciting if those videos could be part of the installation, as well as existing digitally. I explained to them that when listening to Glass or Handel, I experience the music deeply when in motion – biking around a city or sitting on a train. I had this idea that somehow we could get the audience in motion. Without missing a beat, Cecilia and James told me about Ryan McNamara, a performance artist who had come up with a system for moving people in their chairs around a space during performance. They explained it to me and we started imagining how such a performance could unfold. People would move around the space without leaving their chairs, and they would encounter different "stations", each an embodiment of the live music in a different discipline. The "music videos" could be one embodiment played on monitors, but perhaps also dance and maybe even art. My mind started racing.
When I was 15 years old, I acted in a Merchant Ivory film, and the director James Ivory quickly became a close friend and mentor. What if I were to ask him and artist and music video expert Pix Talarico to make one of the videos? Would they ever do it? It turned out they would.
I fell in love with Justin Peck's choreography at New York City Ballet when I saw "Everywhere We Go." I then fell in love with him and his now fiancée, the incredible dancer Patricia Delgado, when I met them, and I wondered if I could dare to ask Justin to make a dance for this piece and for Pat to dance it. Justin was busy choreographing Carousel on Broadway while simultaneously revolutionizing ballet, but I gave it a shot. We came up with the idea of having the choreography repeat itself just like Handel and Glass's music does, but in less predictable ways. He could give the dancers agency to riff on a phrase and create a dance that would react in real time to the music and the other art happening around it. Shortly after Justin and Pat signed on, I ran into the ABT star and ballet idol David Hallberg at a party. He told me how he was ever hungry to explore new modalities and I saw my chance. David was in.
I told George Condo how this whole project was growing out of his painting. He had an idea. At Allen Ginsberg's memorial, he had stood behind a huge canvass and painted while backlit, so only the emerging lines were visible, but not the artist. He had always wanted to try this with live music and suggested he join the crew of performers. You can imagine my response.
With Visionaire on board, and artists joining the ranks, we embarked upon constructing the world of this show. Cecilia and James opened their rolodex, and with their uncanny knack for engaging superstars to contribute to artistic projects, found eight more artists fascinated by the idea of trying to make a music video for a piece of classical vocal music. We were cooking with gas.
While this was all unfolding, Opera Philadelphia's General Director David Devan took me to dinner after a Written on Skin rehearsal and asked if I would be interested in doing something for the O18 Festival. "Well it just so happens that I'm working on a crazy project, but it's totally unconventional and just taking shape…" David saw the vision immediately and got behind it with the full weight of his influence. The Barnes Foundation signed on to host the event in Philadelphia. I then asked National Sawdust to coproduce the project with us and eventually we convinced the Cathedral of Saint John the Divine to co-present it.
The idea of costumes kept coming up, but none of us had found quite the right solution. Then I got the call from George Condo when I was in Miami. He had told his friend, the revered fashion innovator Raf Simons, what we were up to, and Raf wanted to hear more. George explained how intensely busy Raf was running Calvin Klein and that if I wanted a shot at getting him to do this, I had to show up and meet him.
Slightly delirious from no sleep and an unexpected flight, I arrived a George's apartment only minutes before Raf Simons swept in the door bearing beautiful oversized T-shirts from his collection for George and me. We donned them and proceeded to sing him Dowland songs and cook him dinner. And then in George's ornately pink sitting room, Raf got down to brass tacks. He wanted to know what the vision was, what the impetus was. Simply put, I told him I wanted to put classical music in a new context. I wanted to make something beautiful, complex, and that would engage audiences new and loyal in the emotion of the music. "If we do this, the whole orchestra should be dressed, the extras, the dancers and of course you!". That comes out to over a hundred costumes. I knew I couldn't raise the money for it. Raf said he would take it to Calvin Klein and see if they'd get on board.
Isn't this all just wild? I've only touched the surface of what was and is involved in putting together this project, and the most interesting part of the process is yet to come. As I write this, we are immersed in the artistic work of making sure that all of these disparate parts fit seamlessly together, and that the show has a flow that feels unique, entrancing, and new. I'd tell you more about how we're planning to do that, but George Condo is calling. I hope I don't have to get on an airplane!
Leave your comment below.
Top