How does Mahagonny relate to The Medium?
Superficially, it is easier to identify the differences between Mahagonny: Ein Songspeil and The Medium than it is to note the common themes. Musically, Weill incorporates a signature stylistic stew of cabaret, jazz and splashes of atonality, resulting in the bitingly expressive voice that seems to be the very soundtrack of Weimar Germany. Menotti's tone is more lyrical, even Italianate. 
A bit of digging beneath the surface finds strong connections. Even the purely technical differences are not as glaring as they may seem at first hearing. Both composers were Europeans who spent important portions of their careers in America: Weill became a citizen in 1943; Menotti retained his Italian citizenship, but considered himself an American. Both aspired to appeal to wide audiences, and both turned their attention to Broadway-friendly theater compositions in the period after World War II. Dramatically, the two works are easier to link—thus, this presentation of the Songspiel as a prelude to the Menotti opera. The two works offer similar reflections on the human condition.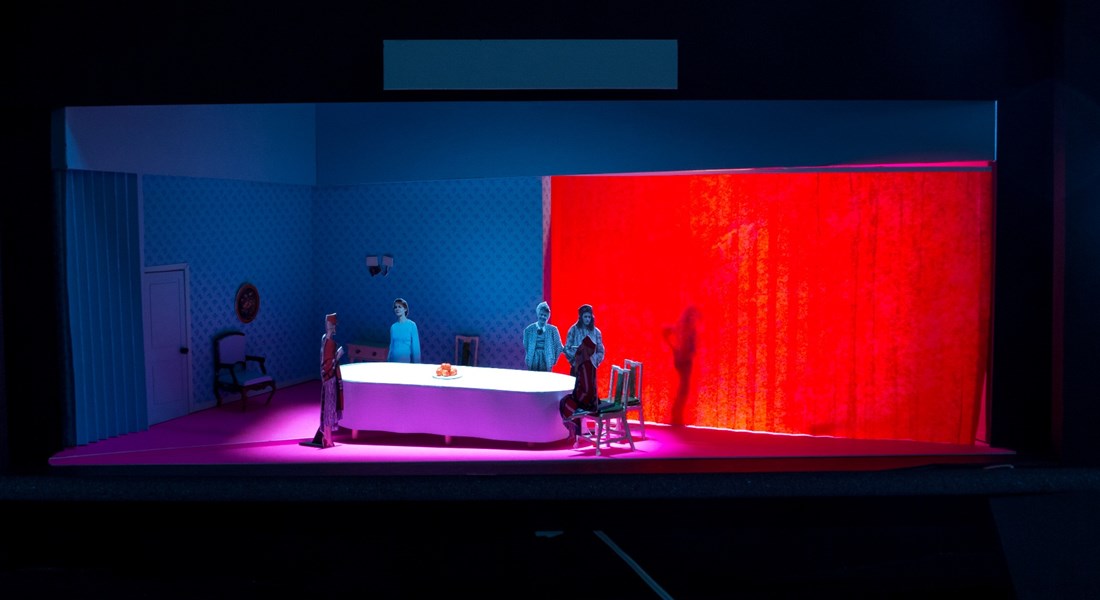 Weill conceived Mahagonny: Ein Songspiel as a study for The Rise and Fall of the City of Mahagonny, a large-scale opera that was premiered in 1930. It is often referred to as "Das kleine Mahagonny." First performed in Baden-Baden in 1927, its original cast included the composer's wife, the legendary Lotte Lenya. It is essentially a song cycle, or, as the composer called it, a "small-scale scenic cantata." Two of the best-known numbers from the opera, "Alabama Song" and "Benares Song," both originally written in English, make their first appearance in the Songspiel. Brecht's words are pungent and suggestive, describing a kind of pilgrimage to the city of Mahagonny, enticed by whiskey and poker, as well as "good whores and good horseflesh."
The Medium, which premiered in New York City in 1946, describes the tawdry affairs of a mean-spirited alcoholic psychic, Madame Flora, who conducts séances designed to take advantage of parents who have lost children and are desperate to retain some connection to their dead offspring. 
In both works, cynicism and false hope are defeated in the end. The Songspiel, though not an opera, lays out basic themes fleshed out in the subsequent musical drama, in which hedonism and avarice create mirages that ultimately dissolve. Despite the racy nature of the songs, Weill and Brecht are rather moralistic, invoking biblical themes (most obviously, the story of Sodom and Gomorrah).
The Medium also deals with this kind of craving for illusion, but adds some twists which imbue the narrative with philosophical subtlety. Menotti, as always a wonderful storyteller, does not exclude the possibility of supernatural phenomena, by leaving unresolved the question of whether or not Flora encounters some kind of specter. A more potent element of the drama involves her confession to her clients. Even as she throws their money back at them, they cannot let go of the possibility that they could still interact with their dead children. Her admission is not accepted. It is a powerful and perplexing intersection of stubborn hope, despair, and faith. 
(Program note written by Peter Burwasser for Mahagonny/Medium) 
Learn more about the decision to pair Mahagonny: Ein Songspiel with The Medium here: Exploring Mahagonny/Medium
Leave your comment below.
Top