×
Support great opera
Give today to help us unlock $2.5 million with the Artistry Now Matching Fund.
Donate
Meet the Scholar in Residence
Meet Dr. Lily Kass, Opera Philadelphia's 2021–2022 Scholar in Residence! 
The Scholar in Residence is a new position that is part of the Education & Community team, participating in lectures, Reflection and Re-Vision panel discussions, the development of Dress Rehearsal Program resources, and other educational programs and community engagement events. 
The position of Scholar in Residence bolsters Opera Philadelphia's commitment to offering learning opportunities around the works we produce. We want to help our audiences deepen their relationship with opera while gaining a greater appreciation for the relevancy of opera to today's world. 
Lily Kass is an interdisciplinary scholar, educator, and artist. Lily's research focuses on how operas are reimagined, adapted, and translated to meet the needs of new audiences. She has lectured for the Philadelphia Chamber Music Society and the Metropolitan Opera Guild. She has taught music history at Johns Hopkins University, Temple University, and the University of Pennsylvania. A trained coloratura soprano, she co-founded the opera scenes program at the University of Pennsylvania and is a Marian Anderson Scholar Artist with the National Marian Anderson Museum and Historical Society. Learn more>>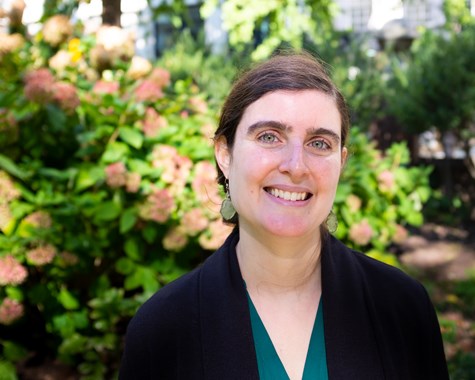 This fall, Dr. Lily Kass joined Vice President of Community Initiatives Veronica Chapman-Smith at the Athenaeum of Philadelphia to talk about her scholarship, opera through a contemporary lens, and her work with Opera Philadelphia.
Veronica
With an art form that is strongly tied to the past, we at Opera Philadelphia have been exploring how opera can be in dialogue with contemporary life. There are many ways to achieve this. One way is to offer auxiliary programming that gives a fuller picture of the works we produce by offering historical and societal insights into the world these works were created in. 
As part of this exploration, we have created a new role at Opera Philadelphia, the Scholar in Residence. The 21-22 Scholar in Residence will provide lectures through the Opera Overtures and Between the Notes programs, moderate the spring roundtable discussions on the depiction and treatment of women throughout the canon for our Reflection & Re-Vision series, and will create several articles for the Dress Rehearsal Program.
I have with me today our Scholar in Residence for the 21-22 season, Dr. Lily Kass. Dr. Kass will look familiar to some of you. She's not new to Opera Philadelphia and has served in various capacities over the years. Welcome Dr. Kass, thank you so much for joining me today. I thought it'd be really nice for us to reintroduce you to the Opera Philadelphia audience. Tell us a little bit about yourself.
Lily
I have been hanging around Opera Philadelphia for quite a while. I call myself Opera Philadelphia's number one fan, not just because it's the opera company in the city where I live and I love opera, but really because of Opera Philadelphia's mission of expanding the definition of what opera can and should be, and inclusion and accessibility, which are major passions of mine. So, I'm really happy to be back in this capacity. I do a lot of work surrounding opera, major themes of accessibility and inclusion in a lot of different capacities. I started out as a performer – I was singing opera starting in high school, and that's what drew me into the art form.
And then I started to think more as going through learning roles thinking, "Okay, what does this really mean? And what am I communicating to the audience?" And thought, I can think about this, kind of take a step and do this on a larger scale in other capacities as well. I've also been in arts administration working in lectures and community programs department at The Metropolitan Opera Guild as a fellow. I worked at Opera News magazine for a little while, just trying to find different ways to learn about the opera world from lots of different angles and think through these important issues of the past of opera and the future of opera.
I then went to get my PhD in music history at the University of Pennsylvania, basically just to learn more, to really immerse myself in the material. And so now I teach college undergraduates and also graduate students and many topics in opera history around the Philadelphia region.
Veronica
That's wonderful. You spoke a little bit about what drew you to opera. Within the scope of the work that we do, what would you consider your specialty or your area of scholarship?
Lily
I'm really interested in how operas can be adapted to fit new audiences. And this has been going on throughout opera history. I think there's a lot that we can learn kind of from past practice to learn both pitfalls and positive lessons from the past. So, my niche area of research is issues of translation in opera, because opera is so often in the United States performed in a language that is foreign to the audience, not the audience's vernacular language. Translations do a lot of work to bring the text of the opera to the audience and can alter the audience's interpretation of the work, even kind of adapting it.
Veronica
Oh, that's fantastic. And it seems like some of the work that you are doing is also in direct conversation with some of the larger thought that is happening in the opera world. I wonder what kind of things about these larger conversations is exciting to you as a scholar, but also as a performer and a person who likes to go to opera?
Lily
Yes, in all of those capacities, what I'm really interested in right now is, now is a time of massive change. Both in academic discussions of music history and opera history, and for performing arts companies and for performers and for directors. Everyone's really kind of been forced to take a step back partially because of the pandemic, partially because of racial issues that have been present in the United States for so long and around the world for so long, but kind of coming to a boiling point in the last few years.
So, there are a lot of things that are making this a really interesting moment of change. And it's really fascinating to be in the midst of that and to try, as I know you're also trying, to capitalize on this moment to see what we can do now that things have stopped just going forward in the way that they've always been. I think it's really thanks to the bravery, I would say, of lots of different artists, opera companies – many of these artists are people of color or people in historically marginalized groups – to come forward and say, "This has to change."
I'm so impressed by these efforts that are going on. And I just want to do everything that I can to amplify these efforts and think, what has opera been? What can opera be? Can opera be more inclusive? Yes, I think so. Can opera be more accessible? Yes, I think so. Does educating everyone about opera make them immediately appreciate opera? No, and we don't have to – not everyone has to appreciate opera, but I think giving people the tools to understand opera is a good step in kind of confronting the past of opera history and opera performance that has been harmful to some groups, to many groups in fact, and to find a way to move forward in a more inclusive way.
Veronica
I 100 percent agree with everything you said. That is fantastic. And it leads to my next question, because I really think of any kind of art as something that should make you think and feel. And really impactful art for me changes the way I see myself or way I see the world. It changes my lens a little bit. I wondered if you could talk a little bit about your thoughts about how art or opera, and to be specific, can help us to learn more about ourselves as people and the society?
Lily
That's such an interesting question. I think opera, just like all works of art, is kind of placed where it was created, when it was created. Even if it doesn't take place in the setting in which it was created, like in terms of the plot, there's so much from that time from that place kind of infused into it. For example, one of the very first operas that we have a record of, Monteverdi's L'Orfeo, is based on the myth of Orpheus and Eurydice. So, ancient Greek, not especially realistic necessarily. But it written in 1607 in Mantua, Italy. And there's so much of the ideas and the philosophy of thought at that time that comes into the opera and not just in how the characters act, but the kinds of words they say, the way they express themselves musically, it's just all kind of infused into it.
And I think that's a really good first step to think about how opera can speak to us, is thinking about what is it saying about its place and time and how can we build a bridge to our place and time so that we can keep on performing these works, if we want to keep on performing these works, but we can see them as a historical artifact and also as a living art form that can still speak to us for today. The stories of Orpheus and Eurydice have a lot to offer us in terms of love, in terms of loss, and all of these emotions haven't changed over the course of history. So we can still get up under this powerful music, powerful text, but really being cognizant of the difference in time and place as well.
Right now, I think this week or next week, at the Metropolitan Opera is being mounted a new opera called Eurydice based on a play by Sarah Ruhl written by the composer Matthew Aucoin, who I actually went to college with. Very exciting, I feel very starstruck. But Matt's opera, and Sarah Ruhl's play, adapt the story of Orpheus and Eurydice for our time. So, it's a really interesting kind of book-ending of opera history right now. They wrote the opera for performance in 2019, I think, so very, very recent compared to 1607. Same story interpreted differently, different kinds of music, different kinds of thought, and giving a little bit more centrality to a female protagonist instead of just Eurydice as the lost love that the men needs to go save.
Veronica
It's interesting you bring that up because I was actually looking at that this morning. Because I think John Holiday might be making his debut. So I was like, "I have to go see this."
Lily
Yeah, I heard the opera and it's really amazing.
Veronica
So, I'm going to switch a little bit. You've been a part of our space for several years in many, many positions. What excites you about this new position?
Lily
What excites me is that I'm able to bridge some of my work as a scholar, as someone who publishes in academic journals and books about my research, some of it that is archival, like paging through 18th century scores, is very fun and exciting but doesn't really have a direct impact the world on audiences. Very few people are reading when I'm writing in these academic journals. So, to bring some of the thought from those more private niche parts of my scholarship to the general public through this, is very similar to what I'm doing in my college teaching. 
I teach all kinds of students, people who have never, ever seen an opera before, don't even know what an opera is, come into my class and they're like computer science majors or like applied math majors. And they've never written a paper before or like analyzed a work of art before. So, I teach complete novices to opera. I also teach very accomplished singers at the Peabody Institute who are making careers in opera and allowing them to see into these works and that they're performing in different ways. 
So, it's really exciting to reach out to the Opera Philadelphia audience for whom I had the occasion to lecture in the past, both adult education lectures, and also materials for the school children who are involved with Opera Philadelphia's educational programming to really bring some of the ideas that I've developed in the archive, in the classroom, as a performer as well, back to the audience to help contextualize the material for this season.
Veronica
That's fantastic. I know for myself, I'm very excited to hear some of your lectures. I know that it's going to be a wonderful learning moment. And as the person presenting these lectures, what do you hope people will take away from them?
Lily
Yeah, I've been thinking about that a lot because often when you think about opera education programs, even some of the phrasing in the marketing materials for companies everywhere, it's just like, "Come learn about the opera." Like it will make you appreciate it. And I think that language of forced appreciation, I really react against. I don't necessarily want you to appreciate the opera more by coming to my lectures, but I want you to understand it and be able to have your own opinions.
I hope to give audiences, both of my writing and of my lectures, information that they can use and really basic skill sets they can use to apply to the opera that they're going to see, but also hopefully take with them to other performances and say like, "Oh, that text and that music and those visual elements together are combining to make me feel a certain way, or are combining to make me understand this certain thing."
So, really pointing out how opera works, this multimedia art form, where so much is coming at you at this same time through your eyes, through your ears, through just your emotions. And trying to give audiences the tools to harness that and be able to understand the experience and interpret it for themselves.
Veronica
Fantastic. I have one more question for today and it's really to plug anything that excites you, something that's in your world, outside of the Opera Philadelphia world. Is there anything out there that you're working on that you're really excited about and kind of makes you want to get up in the morning?
Lily
There's a lot that I'm excited about. I'm really excited about my teaching work, and especially a class that I've just developed for master's students at the Peabody Institute at Johns Hopkins University, many of whom are conductors and opera singers and instrumental musicians, on the topic of exoticism on the musical stage. Which I think is a really important topic for us as opera companies, opera historians. My class also goes a little bit into musical theater with works like West Side Story and stuff. Exotic works are works that, most of the time, the composers and librettos were white European, most of the time, men who were writing about other cultures and representing other cultures without too much knowledge of these other cultures.
Works like Turandot, Madama Butterfly, Carmen, Mozart's Abduction from the Seraglio, all represent different cultures, China, Japan, the Roma people, Turkish people, but from the point of view of a white European man. So grappling with these works, many of which are still very centered in the standard repertoire, and thinking about, again, the history and bridging to today, can we perform these works today? How might we perform them responsibly today? And by responsibly, I mean, with reference to the history, with reference to the damage done to the groups who are being othered by these works and in a way that is accessible and inclusive.
So that's been a really important project, developing and teaching this class this semester. I'm also doing a research project right now about racism in The Magic Flute, especially with the character of Monostatos. And because my major research interest is translation in opera, I'm actually analyzing English language translations of The Magic Flute, the subtitles, supertitles and also singable English translations of The Magic Flute. Many of which kind of gloss over the language related to race and skin color, particularly. So, thinking about how these translations vary the history of racism in The Magic Flute in a certain way, and to kind of identifying that through this broad survey of lots of different or productions and trying to think through best practices of translation going forward.
Veronica
Can I sign up for that class please? That's amazing. That sounds so fantastic. Well, I want to thank you so much for taking the time to sit with me and just talk a little about yourself and some of the work that you'll be doing here at Opera Philadelphia and also outside in the world. And thank you, thank you, thank you.
Lily
Thank you so much for having me.
Veronica
It was an honor. You can find a full list of all our programming in Opera Philadelphia on our website at operaphila.org/whats-on/events.
Leave your comment below.
Top