Q&A with Christopher Allen
Christopher Allen, Music Director & Pianist for La voix humaine on the Opera Philadelphia Channel, shares what it was like to delve into Poulenc's monodrama for the stage and screen, including his experience working with James Darrah and Patricia Racette. The LA-based artist also shares a few of his favorite spots in Philadelphia.
What was it like to take La voix humaine from the stage (with Opera Philadelphia in 2018) to the screen?
Our performances at Festival O18 still live in my memory as some of the most special moments on stage. It felt good to take a piece and a production that we were all proud of and explore it further. There are endless artistic possibilities with La voix humaine and in making the film, we continued to "peel away the layers," discovering more meaning. The stage creates many logistical "challenges" that we address in order for the audience to experience what they do. Film offers a completely different list of challenges but also possibilities. Bringing La voix humaine to life in film allowed us to explore a more intimate feeling and relationship with Elle (Patricia Racette). Being in the room with James Darrah and Patricia Racette, all of us working seamlessly together to create art (either on stage or film) is always special. I wouldn't compare the two projects although the material is the same. Two completely different experiences with the same work of art.
In the film we don't see you, but we hear the piano and have a sense of your presence. How do you see your role in the storytelling of this piece? 
When you hear La voix with an orchestra, the orchestration adds to the drama, adds colors that only an orchestra can create. For me, La voix is an incredibly intimate piece of art. Compositionally, Poulenc and Cocteau wrote the piece in a way that drama oscillates between dialogue, little snippets of narrative which then transition to heightened moments of expression in more traditional aria-like sections. Inevitably, coordinating an entire orchestra with the soloist is something that is always at the forefront of a director and conductor. When coordination ONLY involves a singer and piano, there are a world of possibilities for us to explore. Poulenc actually did the piano reduction himself. It's written with thought and care that doesn't only try to recreate an orchestral sound but writing in a way that the piano itself adds to the drama. The piano becomes the voice. I enjoyed discovering when I thought the piano was the response to Pat's statement, when the orchestra was psychologically the material going on in Elle's head, or when the piano became theatrical, creating atmosphere. Since Pat and I have done the piece before on the stage, we were able to almost read each others minds with what we wanted to do artistically, coordinating the beginning of each section. The piano allowed us to create an intimacy on film that a full orchestra never would've allowed.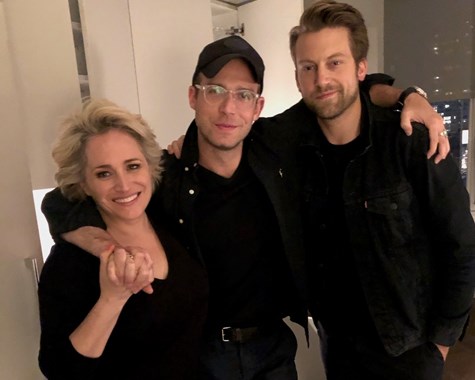 You've worked with Patricia Racette several times – how did you first meet, and what do you love about working with her?
I met Pat in rehearsals for The Ghosts of Versailles at Los Angeles Opera (in 2015). I was put in charge of the musical preparation of the piece which was being recorded later that month (the recording later went on to win a Grammy for best Opera Recording). I could take up the entire interview explaining why I think Pat is amazing. But at the core, other than being arguably one of the most important voices of our time, Pat has an authenticity in her music making and story telling that should be admired. She has so much to say and express which comes from diligence and a rigor for how she learns and prepares a role. Pat thinks about all the possibilities both musically and dramatically of a section of music and gives something to the audience that they will never forget. I also had the privilege to conduct La traviata where Pat made her directorial debut. 
What are your favorite memories from set, working with Pat, James, and the rest of the team on La voix humaine?
I don't have a specific memory but what I treasured most was the three of us (as well as the Director of Photography Michael Thomas) sitting on the set brainstorming, problem solving, making art. We all worked like a well-run machine each contributing equally. There was an intoxicating feeling when we got the shot and musical take we had been searching for.
You're also a filmmaker. Do you see film as part of the future of opera?
I like to make beautiful things and tell stories and I want to explore more about how I can tell stories in the world of film. In my opinion, film will have an increasing presence in this our art form, and needs to. We have to bring our art form in to our current time. That doesn't mean we don't honor and respect tradition but why wouldn't we explore the current technological advancements? This art form for me is relevant today. We need to keep asking ourselves to become more relevant in our current society. The question more importantly is "why wouldn't we do more film?" I did a recorded concert for the Lyric Opera of Chicago which got close to 50,000 views. That's A LOT of performances in a 3,000 seat opera house. Don't we want to bring more people to the genre? Film will NEVER replace live theater but it's not mutually exclusive. If people see Pat in La voix, might they come to the theater to see her live? I think so. 
Now that you've been to Philadelphia a few times, what are some of your favorite spots? 
I love Philadelphia! Philadelphia is a vibrant city with a cultural tradition to be admired. When I'm there I like to explore the Philadelphia Museum of Art. I love early American history so could get lost for hours exploring the sites and walking around the city. In particular the Liberty Bell, Franklin Square, and Independence Hall. Reading a book in Rittenhouse Square is a great way to spend the afternoon.
La voix humaine is now streaming at operaphila.tv.
Leave your comment below.
Top