×
Support great opera
Give today to help us unlock $2.5 million with the Artistry Now Matching Fund.
Donate
Q&A with Courtney Bryan
Courtney Bryan, a composer and professor at Tulane University, has been called "a pianist and composer of panoramic interests" by the New York Times. This season, she also becomes Opera Philadelphia's newest Composer in Residence.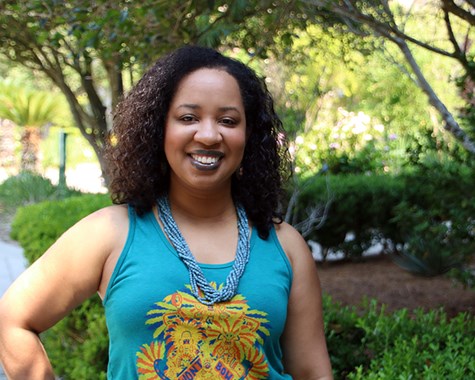 Opera Philadelphia audiences may recognize Bryan from her digital commission Blessed, which premiered on the Opera Philadelphia Channel in February of 2021. The personal piece includes footage of Bryan at St. Luke's Episcopal Church of New Orleans,which is home to an organ with a feature named after her father, Dr. Clifford Bryan. Whenever she uses the stop of Trumpet Bryan as the church musician, she said, she feels connected to her grandparents.  
Bryan is currently working on a piano concerto that she will premiere as composer and performer with the LA Phil in February 2023 and with the Cincinnati Symphony Orchestra in May 2023. She also is working on a commission for the NY Phil in collaboration with librettist Tazewell Thompson that will feature bass-baritone Ryan Speedo Green, to be premiered in March 2023. Learn more about Bryan as we welcome her to Opera Philadelphia! 
Where did you get your start in music? 
I grew up in New Orleans, Louisiana and music is a part of everything in this city. Growing up, we had a piano in the house. My sisters were taking piano lessons, and I liked to do whatever they did. That's how I got into it and I fell in love with the piano as soon as I could climb onto the bench. I would improvise and hear the sounds and spend all the time I could at the piano. At five, I started studying piano. I would practice these lessons and would improvise on them and on music that I heard on the radio and movies. This is how I taught myself how to compose. Once I shared with my kindergarten teacher a composition of mine and she started teaching me, outside of class, an introduction to music notation. 
What musical genre have you always wanted to experiment with? 
I have had experience playing and writing in various musical genres. The first composers I learned about were Scott Joplin and Frederic Chopin. My formal training is in Western classical and jazz musical styles. I have performed in R&B bands, contributed to hip-hop tracks, and have performed in and written for marching band growing up. I have been involved in a range of experimental music traditions. A major part of my training has been as a church musician with a range of musical styles, including gospel music. One musical genre that I have been looking forward to experimenting with is opera! I am also interested in improving upon my production skills, finding inspiration in electronic dance traditions.
What composers and musical pieces do you admire? 
I have many favorites, too many to mention. Some of my favorite composers and performers have been my teachers: George Lewis, Stanley Cowell, Wendell Logan, Edward "Kidd" Jordan, Moses Hogan... I have also been greatly influenced by music by Scott Joplin, Frederic Chopin, Igor Tchaikovsky, John Coltrane, Alice Coltrane, Wayne Shorter, Gyorgy Ligeti, Geri Allen, Tania León, Alvin Singleton, Nina Simone, Billie Holiday, Billy Strayhorn, Rihanna, Michael Jackson, Bjork... There are many more, but this represents a list of musicians I admire. Ask me tomorrow, and I'd have another variation on this list!

What advice do you have for aspiring composers? 
I would like to share advice from composer Alvin Singleton that he learned from Hall Overton, "You should learn broadly and exhaustively, and compose intuitively." This is something I share with my students as well. I think this is super important. And as Donald Byrd said to us at Oberlin, "do not what they do... do as they do." It is important to learn from those that came before, but you have to find your own way, your own original voice. I remember George Lewis sharing with me the sayings, "the angel not the devil is in the details" and "leave it all on the score," and I think about that whenever I compose. To truly articulate your ideas, it really takes meticulous and careful detail and that is something that is important to do with mindfulness and patience. To aspiring composers, I would like to emphasize the importance of making time to dream. Take time to zoom out and zoom in on your goals and keep in touch with why you are doing this. As my pastor Rev. Dr. William Howard advised me, it is important to consider what things you do that if you did not do it, it may not happen. You know, what is your contribution to the world? I think this is something we learn as we live. Patience and persistence and joy are all key. 
What are you most interested in exploring as Opera Philadelphia's Composer in Residence over the next year? 
I am thrilled about this opportunity! I am looking forward to learning about the various aspects of what it means to make an opera, from how the administration roles work to the creative process and collaborator roles. I love that Opera Philadelphia has such a forward-thinking approach to opera and I look forward to learning more about the various productions that the company has produced and to being involved in the arts community in Philadelphia over time. 
When you are not composing or playing music, how do you spend your time? 
I like to enjoy various cultural events and talks at Tulane University where I teach, and great music venues and art museums in New Orleans. I enjoy concerts by the Louisiana Philharmonic Orchestra where I work as creative partner. In my free time, I enjoy spending time with my family in New Orleans. For inspiration, I love to walk around the French Quarters and Congo Square and to visit Lake Pontchartrain. I am a fan of oysters, so I can give a tour of the oyster spots in town! For work I travel often, and I love enjoying the various neighborhoods wherever I go, especially enjoying important historical landmarks. I look forward to getting to better know Philadelphia, such a rich history! 
Leave your comment below.
Top