×
Support great opera
Give today to help us unlock $2.5 million with the Artistry Now Matching Fund.
Donate
Growing up on the Opera Philadelphia Stage
29-year-old Kara Goodrich first stepped on stage at age 4; this spring she stars as Mimì in La bohème
There's a story her mom likes to tell about her, says soprano Kara Goodrich. She was four years old, joining her parents – longtime Opera Philadelphia Chorus members Carole Latimer and Michael Mulder – in The Capulets and the Montagues. At the curtain call, Anna Netrebko, who was singing Giulietta, walked out on stage to take her bow, the chorus and children lined up behind her, and as the audience cheered, young Kara stepped forward.
"There was a huge standing ovation and obviously it was for me," Kara said, "so I bowed again."
It was like she could see the future; this spring, as Mimì in La bohème, she will be the diva the audience is applauding.
Kara always loved to sing, says her mom, Carole. "Kara was in children's choir at Bryn Mawr Presbyterian Church at the age of five, and the director pulled me aside one day and said, 'That little girl is not going to be happy in a choir very long, she's going to need to be out front!'" 
She got an especially early introduction to the stage; Carole was pregnant with Kara while in the chorus of Eugene Onegin in 1993, and the women's chorus gave her a surprise baby shower. Once she was old enough, Kara tagged along with her parents to the Academy of Music as a child supernumerary.
Growing up in Philadelphia, Kara fondly remembers riding her bike around Fairmount, shouting into friends' mail slots, and listening for her father to call her home to dinner. As a teenager, the family moved to Havertown, and Kara attended the Girard Academic Music Program. She credits SEPTA with the fact that, wherever she travels in the world, she can navigate the local public transit.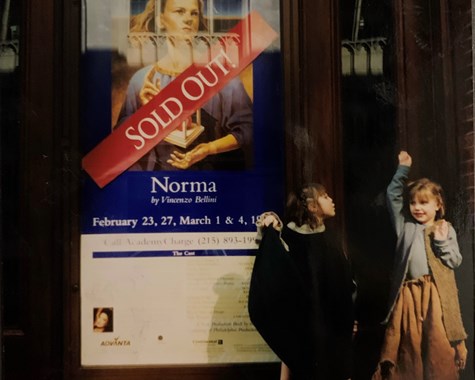 And of course, whether the family was singing or not, they attended every Opera Philadelphia production. While she's performed in many theaters since, the Academy of Music has a special place in her heart.
"The best theater is the Academy," Kara says. "I don't think there's a better place in the world to sing than the Academy."
Michael Eberhard, Director of Casting & Artistic Administration, first heard Kara when she was still in high school, at a Christmas caroling gig. "It was clear even then that she was a special talent," he says.
Kara went on to study at the Eastman School of Music and University of Michigan, then came back to Philadelphia and studied at the Academy of Vocal Arts. In between, while waiting for her AVA acceptance, she joined her mom in the chorus of 2018's Carmen at the invitation of Chorus Master Elizabeth Braden, who praised her not only as a wonderful singer, but as a kind and caring person.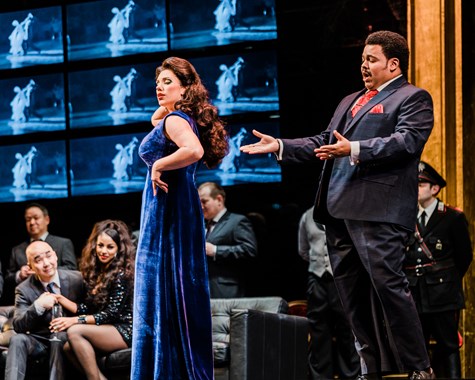 "It feels like Opera Philly has always believed in me from the start," Kara says.
Jack Mulroney Music Director Corrado Rovaris took notice of her talent when he was a judge at AVA's 2020 Giargiari Bel Canto Competition, at which Kara took first prize. She made her Opera Philadelphia debut as Countess Ceprano in 2022's Rigoletto. Like her mom before her, she was pregnant with her daughter, Clara, during the production.
Following her success in Rigoletto, she was the obvious choice for Mimì, said Michael.
"I'll never forget, I woke up that morning to an email from my agent," Kara says. "The subject was just 'Woohoo.'" She read it over and over, passing it to her husband for confirmation, as the news began to sink in.
"I'm just so excited to be doing this, to be able to sing here at home with the opera house I grew up with and the company I grew up in," she said. "It just feels like family."
Carole cannot wait to watch from the audience. "It is definitely going to be a very proud Opera Phila family moment," she said. Chorus members, among them Greg Cantwell and Rob Phillips, have seen Kara grow up on the stage, and Carole noted with sadness that Chris Hodges, who passed away in February, would not be there to see Kara make her star turn after years of following her progress 
"The whole building will be pulling for her."
Soprano Kara Goodrich performed an aria from her upcoming role as Mimì in La bohème at the Annual Meeting in 2022 and talked about growing up on the Opera Philadelphia stage.
Leave your comment below.
Top