×
Support great opera
Give today to help us unlock $2.5 million with the Artistry Now Matching Fund.
Donate
Verdi and Simon Boccanegra: Finding operatic inspiration in personal tragedy
There are all sorts of things you can find in the lost-and-found: umbrellas, eyeglasses, cell phones, even an engagement ring – items relegated to a temporary cardboard graveyard for weeks or months, more likely to end up in a local landfill than restored to their owner.
There are plenty of moments in opera when lost items are reunited with their owner, such as the dying Mimì getting her bonnet back in Act IV of Puccini's La bohème. The emotional impact of a reunion is even more significant when separated characters meet again, such as the heroic rescue of the imprisoned Florestan by his wife Leonore in Beethoven's Fidelio. Yet, there is one operatic lost-and-found moment unique in the canon for its emotional power: the reunion of Amelia Grimaldi with her birth father Simon Boccanegra.
Verdi explored father-daughter relationships in 10 of his 26 operas. The cursed Rigoletto and the sacrificial Gilda, or the manipulative Amonasro, who asks Aida to deny her love of Radamès for the sake of patriotism, may come to mind. But none of the father-daughter relationships in Verdi's oeuvre has the same gravitas and humanity as that of Boccanegra and Amelia. Their reunion is truly one of Verdi's greatest moments both musically and dramatically. Yet, tragic events in Verdi's life may help explain his emotional connection to this opera and to the recurring pater-filia theme in his operas.
The young Verdi fell deeply in love with Margherita Barezzi, the beautiful daughter of the local merchant and distiller Antonio Barezzi who not only allowed Verdi to practice on his pianoforte as a youth, but welcomed Verdi to live in his home while the composer gave voice and piano lessons to Margherita. The couple kept their relationship a secret for over a year, marrying on May 4, 1836.
The newlyweds were very happy and were soon a burgeoning family. The couple welcomed a daughter, Virginia, into the world in March 1837. She was followed sixteen months later by their son, Icilio. However, the young couple's early bliss was short-lived. A few weeks after the boy's birth, their daughter died from a childhood disease, devastating the couple. Tragedy struck again a year later while Verdi was in rehearsals at La Scala for the premiere of his first opera, Oberto. Verdi's son fell ill and, despite efforts to save him, died on October 20, 1839. A year later, his wife died at the age of 26 from encephalitis, ending a brutal two-year cycle of life and death.
Margherita had been the love of Verdi's life. Her death and that of his children, on top of the failure of his second opera, the comedy Un giorno di regno (King for a Day), destroyed him. He is quoted as saying "A third coffin goes out of my house. I was alone! Alone!" He vowed to never compose again.
But others had great faith in him, including La Scala's impresario who encouraged him to set a new libretto called Nabucco to music. Composed in 1841, the year after his wife's death, the opera was an extraordinary success, beginning Verdi's path to claiming the crown as Italy's greatest opera composer. Nabucco also happens to contain the first of his great father and daughter duos: Nabucco and the power-grabbing Abigaille.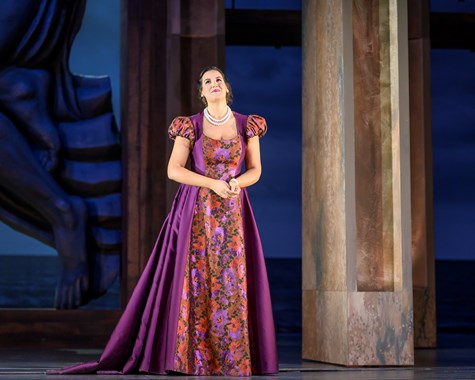 By the time Verdi composed Simon Boccanegra for Venice's La Fenice theater 16 years later, he was a figure of international importance.
Given the opera's magical moment of reconciliation between father and daughter, one can't help but wonder if Verdi dreamt of seeing his own daughter again. If the dramatic situation is not exactly the same as the events in Verdi's life, there are parallels.
In the opera's prologue, Boccanegra is deeply in love with Maria Fiesco, but her father has separated them after the couple's illegitimate child brought shame on the family. In unrelated events, we learn that their daughter has disappeared, and Maria has unexpectedly died, just as Boccanegra is elected Doge of Genoa.
Twenty-five years later father and daughter meet as virtual strangers when Boccanegra visits the Grimaldi household to ask Amelia Grimaldi to marry a courtier for political reasons. Amelia reveals that she is not actually a Grimaldi. Realizing the stories of her youth are similar to that of his own long-lost daughter, Boccanegra hopes that Amelia might be she. When the two display lockets containing the same portrait of Amelia's mother and Boccanegra's beloved Maria Fiesco, that hope becomes reality.
While this is one of the most powerful scenes in the opera, its perfection came only after Verdi's publicist encouraged him to revise the problematic score. Significant changes were made with librettist Arrigo Boito, including the addition of the famous Act II Council Chamber scene and modifications to the great father-daughter duet in Act I.
"This is one of Verdi's most beautiful father-daughter duets, in which the characters display great humanity," Maestro Corrado Rovaris said. "In the updated version of the duet, Verdi presents a more caressing, more feminine Amelia. There is the same soft tone that Verdi uses to demonstrate the beautiful emotional intimacy in father-daughter duets in Luisa Miller and Rigoletto. The orchestra in the coda also supports this color: it takes up Simon's theme, but softly, with expression, and not fortissimo as in the first version."
Bringing a lifetime of musical accomplishments and personal heartbreak to the score, Verdi made his final important statement on father-daughter relationships with the revised Simon Boccanegra (1881). Reunited with his lost daughter after a 25-year separation, Boccanegra expresses his joy with the hushed emotional cry of "Figlia!" (daughter). As a delicate harp intimately accompanies that utterance, a dream has been fulfilled, as neither one gave up hope of finding what was once lost.
Michael J. Bolton is an opera lecturer, voiceover artist, and content creator. He can be heard regularly as a classical music host on WRTI 90.1FM and on his opera podcast, Front Row Center. Learn more at michaeljbolton.com.
This essay is part of the O23 Festival Book.
Leave your comment below.
Top