×
Support great opera
Give today to help us unlock $2.5 million with the Artistry Now Matching Fund.
Donate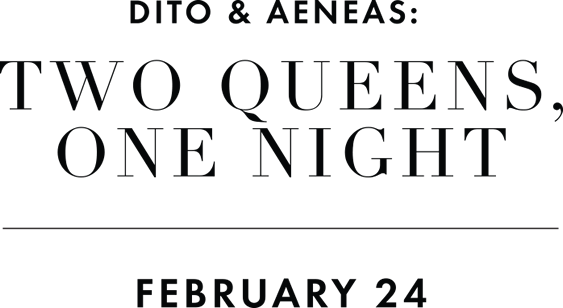 Dito & Aeneas: Two Queens, One Night
Theatre of Living Arts
Written and Directed by John Jarboe
Music Direction and Arrangements by Daniel Kazemi
Costumes and Scenic Design by Machine Dazzle
Martha Costumes by Max Brown
Lighting Design by Drew Billiau

Event Chairs:
Kathy Hanrahan and Drew Christiano
Thank you to everyone who joined us for Dito & Aeneas: Two Queens, One Night on Friday, February 24, 2017! From renowned mezzo-soprano Stephanie Blythe taking the TLA stage as Blythely Oratonio to Dito van Reigersberg as Martha Graham Cracker testing her opera chops, we hope you agree that it was a one-of-a-kind experience filled with surprises, incredible music and a whole lot of fun! We are thrilled that you were there with us to celebrate the talents of these two powerhouse performers, and hope to see you again this spring for The Marriage of Figaro and next fall for our first festival, O17!
Please view the photo gallery from Dito & Aeneas below. Photos by Dominic M. Mercier.
Dates are in 2017.
Doors open at 9 p.m.
Kingly and queenly attire encouraged