Opera Philadelphia Presents U.S. Debut of Robert Carsen's Classic Staging of Britten's A Midsummer Night's Dream (Feb 8–17)
"One of American opera's success stories"
– The 
New York Times
 on Opera Philadelphia
Early next year, Opera Philadelphia follows the success of O18, the second edition of its season-launching festival, with four performances of Benjamin Britten's A Midsummer Night's Dream led by Music Director Corrado Rovaris at the historic Academy of Music (Feb 8–17). Starring the dream team of Tim Mead, Anna Christy, and Game of Thrones alum Miltos Yerolemou, all making company debuts, the production marks the long-awaited first American presentation of Robert Carsen's classic staging of the opera, which has been touring the world for more than a quarter of a century. As The Guardian notes, "A Midsummer Night's Dream is one of Britten's most durable operatic achievements, and this production shows why."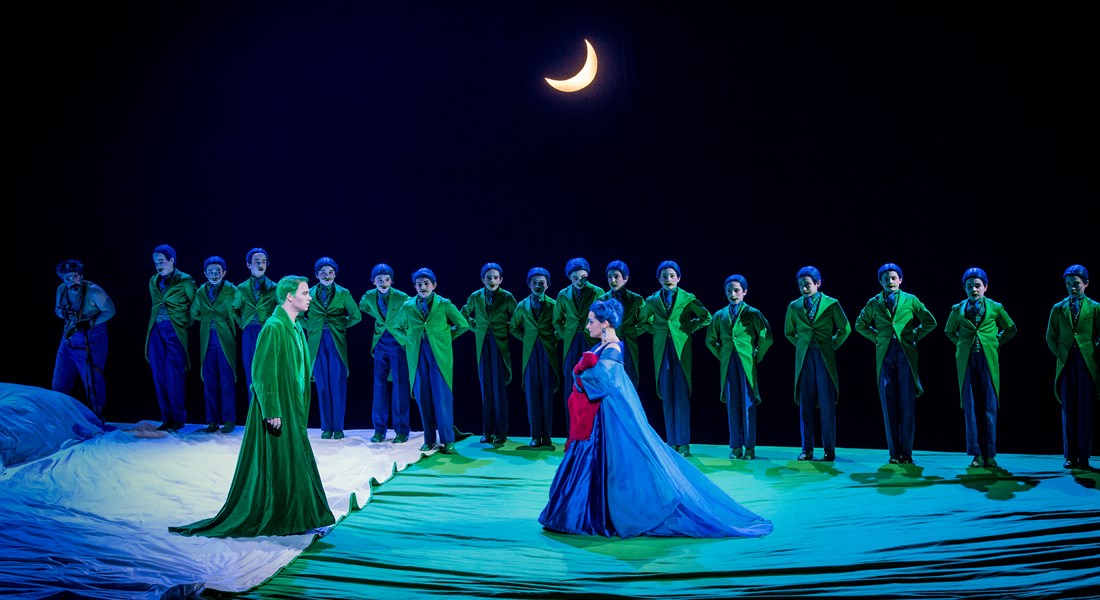 Leading the cast, British countertenor Tim Mead reprises the "seductive and commanding" (The Guardian) portrayal of Oberon with which he wowed audiences at Glyndebourne. Opposite him, American soprano Anna Christy, whose "radiantly sung" Tytania at Lyric Opera of Chicago showed her to be "completely at home in the ethereal stratosphere of Britten's coloratura writing" (Chicago Tribune), revisits her interpretation of the fairy queen. Best-known as Syrio Forel in HBO TV's Game of Thrones, English actor Miltos Yerolemou makes for "a Puck like no other you have ever seen, … who keeps on messing up and stealing the show" (Telegraph, UK); as Bachtrack reported, after seeing him play the mischievous sprite in Aix-en-Provence,   
"As Puck, Miltos Yerolemou has it all: a scorching twinkle in his eye, the richest of speaking voices and fearless tumbling skills as befit his background at the Jacques Lecoq School. He's been Carsen's Puck of choice since 2008 and he's the best yet." 
Grammy Award-winning bass Matthew Rose – styled the "top of the Bottoms" by The Times of London for his "funny and touchingly endearing" performance (The Guardian) – reprises the role with which he won the John Christie Award at Glyndebourne. 
As Lysander, Grammy Award-winning tenor Brenton Ryan sings opposite "sensational" soprano Georgia Jarman (Financial Times) in her house debut as Helena. Rounding out the quartet of lovers are German-American mezzo-soprano Siena Licht Miller as Hermia and American baritone Johnathan McCullough as Demetrius. As members of Opera Philadelphia's Emerging Artists Program last year, their "characterizations manifested themselves vocally with great depth" (The Philadelphia Inquirer) in the leading roles of Doctor Atomic. 
 The revival will be directed by Emmanuelle Bastet, Carsen's collaborator for the past two decades. As in Europe, the production features Michael Levine's original set and costume design with lighting by Robert Carsen and Peter Van Praet and the choreography of Matthew Bourne.
What critics said about F

estival 

O18
A Midsummer Night's Dream follows on the heels of Festival O18, which inspired a chorus of approval in the national press.   
"Opera Philadelphia really can claim to offer something for everyone." – Washington Post 
About Sky on Swings (world premiere): 
"Composer Lembit Beecher and librettist Hannah Moscovitch have created a shattering musical and theatrical evocation of what it feels like to have Alzheimer's disease. This was opera as real life." Marietta Simpson and Frederica von Stade gave "a tour-de-force duo performance." – Wall Street Journal 
"Given the brutal subject matter, the opera stays remarkably agile, avoiding sentimentality even as it embraces frank sentiment. … The two leading ladies … sing with sensitivity and grace." – The New York Times 
About Ne Quittez Pas (a site-specific new reimagining of La voix humaine): 
"There's nobility … in the soprano Patricia Racette's startlingly exposed yet consummately artful interpretation of Poulenc's monodrama." – The New York Times 
About Lucia di Lammermoor (new production): 
"Laurent Pelly's searing staging, produced with the Vienna State Opera, crisply played and superbly cast, showed that a fogy can burn with as much – if not more – fire as something fresh. … This was a Lucia to be proud of." – The New York Times 
In the title role, Brenda Rae was "incandescent, creating a three-dimensional character whose fluid coloratura mirrored the passionate meanderings of her mind." – Washington Post 
About Glass Handel (world premiere): 
"Glass Handel [is] a unique spectacle for which magnetic countertenor Anthony Roth Costanzo provided both accomplished vocal muscle and aesthetic savvy. … The juxtaposition of the Baroque and minimalist masters … seemed fully justified, the elements of repetition with decorative variants knitting the program together and the linguistic contrast intensified by the countertenor's keen, expressive diction." – Opera News 
"Glass Handel … [was] a pure, joyous spectacle showing a host of people at the top of their games. … The result was an hour of pure entertainment … And it was musically excellent, making a strong case for Philip Glass as Handel's dramatic equal." – Washington Post 
Opera Philadelphia is committed to embracing innovation and developing opera for the 21st century. Described as "the very model of a modern opera company" (Washington Post), Opera Philadelphia was the only American finalist for the 2016 International Opera Award for Best Opera Company. For more information, visit operaphila.org.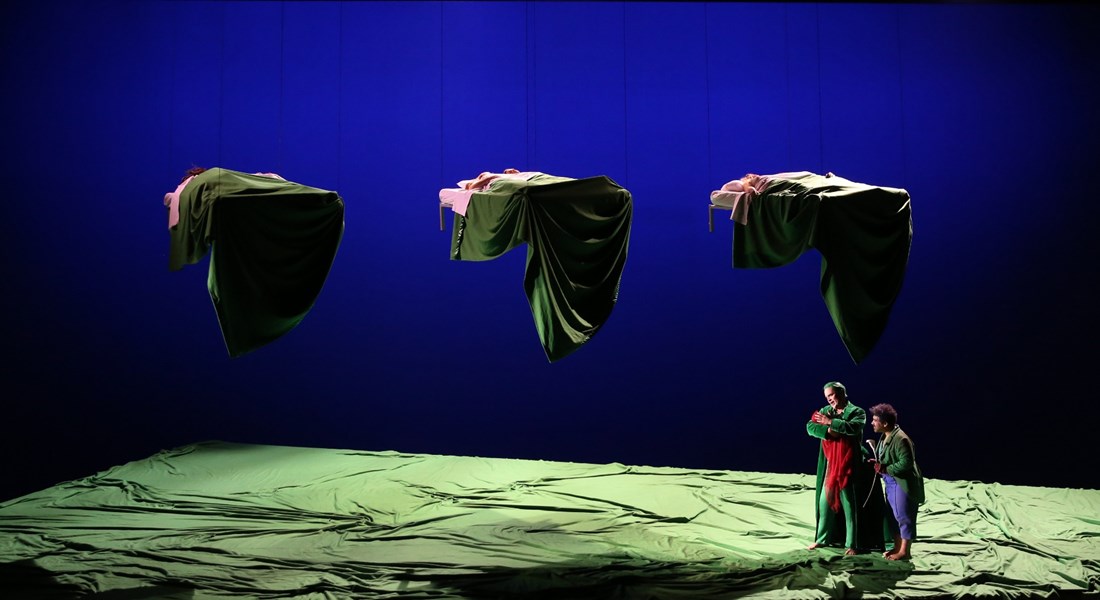 Opera Philadelphia

:

 

A Midsummer Night's Dream

 

(

U.S. production premiere

)
Music by Benjamin Britten; libretto by Benjamin Britten & Peter Pears 
Based on the play by William Shakespeare 
Production of the Festival d'Aix-en-Provence & Opera National de Lyon 
Demetrius: Johnathan McCullough 
Hermia: Siena Licht Miller 
Starveling: Zachary Altman* 
Quince: Brent Michael Smith* 
Hippolyta: Allyson McHardy* 
Original direction: Robert Carsen* 
Director: Emmanuelle Bastet* 
Conductor: Corrado Rovaris 
Set and costume design: Michael Levine 
Lighting design: Peter Van Praet* 
Revival lighting designer: Adrian Plaut*  
Assistant director: Seth Hoff 
Production stage manager: Lisa Anderson 
Choreographer: Matthew Bourne* 
Revival choreographer: Shelby Williams* 
Wig and make-up designer: David Zimmerman 
Production design associate: Alison Walker* 
Associate costume designer: Zeb Lalljee* 
Chorus master: Elizabeth Braden 
* Opera Philadelphia debut 
Top