Notes on the Music of ANDY
ANDY: A Popera was conceived in the fall of 2013. Starting with five cabaret performers and four wonderful and generous singers provided by Opera Philadelphia, we began tackling the phenomenon of Andy Warhol. Before there was even a libretto, John Jarboe asked me to compose music for scenes that evolved from group improvisations. Chosen scenes would be taped and transcribed and then I'd go home and would compose a short opera scene to try out the next day. We also chose Warhol quotes to set to music, from his elliptical comments on art to the prosaic observations that fill his diaries ("Why is he so big?"). While this process rarely yielded memorable music, it nurtured an atmosphere of exploration and experimentation.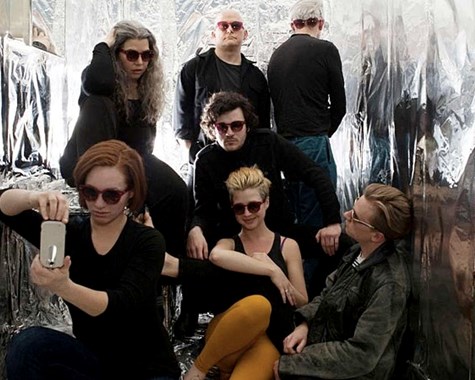 After quite a few unsuccessful stabs, I gradually began to find a musical language that both fit the subject and allowed for a co-existence of pop and classical voices−music that reflected both the utter simplicity and confounding mystery one encounters when confronting Warhol's life and art. Considering Warhol's many images of violence (car accidents, electric chairs, skulls, guns, etc. ) along with the fact that the man eventually became of victim of gun violence himself, I composed a "Dona Nobis Pacem" [Give Us Peace] set atop an old blues riff appropriated and made famous by The Kinks ("Girl, You Really Got Me Now"). This was the first piece where I felt, "This is the right musical language for a Warhol popera." It's simple repetitive ground rhythm with the liturgical text floating above it in a distant harmonic relationship, simultaneously both connected and disconnected, seemed somehow similar to Warhol's transformation of everyday objects into transcendent icons.
With a libretto very much in process, I began searching for other text to set. I discovered the blog of a Toronto-based poet, Liz Worth, in which she published a new poem every day based on a page of Warhol's novel "A." As Liz and I were both, in our own way, wrestling with Warhol, I began setting some of her poetry to music. Three of these "songs" have survived the many re-writings of the show: "Fifteen Minutes," "Country of Women'" and "Death Set." In two of my songs ("Edie's Double" and "Everything Will Be Just Fine"), my lyrics are very much inspired by Liz's work. And a good deal of my music for the party scene derives from music I wrote as settings for other poems by Liz.
As the libretto began to form, we sometimes employed extant music to fill spots that would ultimately be replaced by original music. One extant piece remains in the show: The 60s pop classic, "Sally Goes Round the Roses," a song which Warhol loved and reportedly played over and over again. Setting a Warhol quote ("I just read the texture of words") atop the song's repetitive groove proved to be another breakthrough step in the popera's musical development. It just felt right to me−pop and opera meeting but not merging.
Composing the music for Val's opera proved to be a week of pure fun. Prior to ANDY: A Popera, all my "opera" composing was decidedly satirical. Having already worked with the Bearded Ladies to turn James Bond and Mommie Dearest into comic operas, I was in familiar madcap territory.
After our Stage Two production in July 2014, Dan Visconti joined me as a second composer on this project. Besides being a joy to work with, Dan has brought his own distinct musical language to the piece. His music often takes a moment in the opera and puts it under the microscope: Time stops and we're allowed to examine small nuances as his musical camera rests on his subject like a Warhol screen-test. And while it's unusual for an opera to have two composers, it seems appropriate for a popera about Andy Warhol, an artist who co-painted with Basquiat and often overlaid two images of the same subject (for example his "Last Supper"), on the same canvas. My music and Dan's music likewise exist side to side, sometimes commenting on each other and sometimes revealing two very different approaches to our ever-growing, ever-morphing subject: Andy Warhol.
Lastly, I need to give a big shout-out to Maren Montalbano Brehm and John Miles (pictured right), two singers who have been on this journey with us since day one of our Andy workshops and have taught me so much along the way.