×
Support great opera
Give today to help us unlock $2.5 million with the Artistry Now Matching Fund.
Donate
City Council Honors Opera Philadelphia for International Opera Awards Nomination
The Opera Philadelphia staff spent a rousing morning at City Hall Thursday, May 12 as the Philadelphia City Council graciously honored us for our 2016 International Opera Award nomination for Best Opera Company. 
Councilwoman Cindy Bass sponsored the resolution to honor Opera Philadelphia and presented it to General Director and President David B. Devan and members of our Board of Directors in front of a packed City Council Chamber.
"Opera Philadelphia continues to set new expectations for opera," the City Council's resolution read, "for how the arts can be an economic driver, elevate the City's global profile, invigorate the community through creative place making and educational initiatives, and attract artistry, attendance and philanthropy from outside of Philadelphia." 
Quite a mouthful, and boy were we blushing!
Councilwoman Bass and Councilmen Allan Domb and Mark Squilla all spoke on our behalf before David Devan accepted the great recognition. 
"This opera company loves Philadelphia," Devan said. "We love how Philadelphia's at the intersection of sophistication and grit, and we look forward to taking that energy and that work and representing our city internationally and being ambassadors for the many great things happening in Philly. And we will wear this city with pride on our way to London!"
Of course, we weren't the only ones to be recognized at City Council Thursday. The NCAA Champion Villanova Wildcats and Julia R. Masterman School's Odyssey of the Mind team were also honored. It was such a pleasure to be recognized with such wonderful Philly organizations – plus, we got to mingle with Villanova Head Coach Jay Wright and senior members of the Villanova men's basketball team!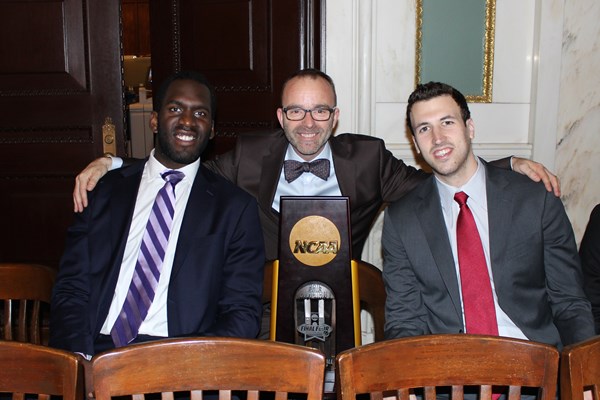 We can't thank Councilwoman Bass and City Council enough for presenting us with this honor. We hope to make the city proud this Sunday, May 15 at the International Opera Awards in London, England.
Leave your comment below.
Top