Why Opera is the Perfect Medium for Director Robin Guarino
Throughout March, the Opera Philadelphia blog and social media channels will host a celebration of Women's History Month, shining the spotlight on the women creating opera today with guest posts and takeovers. First up: an exclusive interview with Robin Guarino, director of War Stories, making its Philadelphia debut during O17.
Director Robin Guarino has been a fixture in the opera scene for over two decades. But the truth is, her love for opera, and directing, runs even deeper.
"I knew I wanted to be an opera director when I was 12 years old," Guarino said one recent afternoon between rehearsals for the World Premiere of Some Light Emerges at Houston Grand Opera.
"I grew up as a child of the Metropolitan Opera house, having family that had worked there in artistic administration and in the rehearsal department, and I just loved opera," she said. "It was not any kind of a form on a pedestal or any kind of a precious form. It was very much in hand and growing up as a first generation Italian, it was part of the language of my people."
Being raised in the theater meant the language of performance was just part of Guarino's vocabulary. A self-described autodidact, she spent her formative years learning by doing, studying languages, traveling and working alongside the great – and very different – opera directors Robert Wilson and Jean-Pierre Ponnelle.
"Ponnelle is a Renaissance European man who spoke every possible language, the concert pianist who also designed, and he was very famous for all the Mozart productions that he did and for his linguistic specificity," Guarino recalls. "Robert Wilson was completely on the other side of the spectrum, a visual artist, not very verbal but gave me a really strong visual grounding. So I had both; I had words from Ponnelle and the visual from Robert Wilson."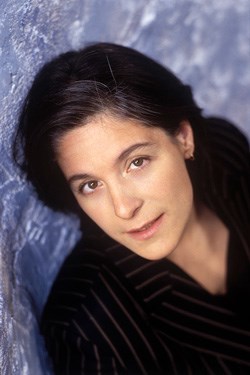 A third mentor, postmodern dancer and filmmaker Yvonne Rainer, provided a window into dance, movement, and film. Guarino was making films when, in the early 1990s, she landed an assistant job at the Metropolitan Opera. As luck would have it, the weekend before her interview, her film Crossing the Atlantic aired on PBS, and she headed to the Met with a copy of that week's TV Guide, featuring her film on the front page.
"It's really good to come into a job interview with something in hand like that," she said. (We'd certainly say so!) "I did not realize at that point that having languages was going to be such a huge boon to my career, but I had a background in music and I spoke fluent German and Italian and I just took to it. Within a year, actually, I was given the opportunity to direct a revival of The Magic Flute."
From there, Guarino began racking up opportunities to direct, working with James Levine on many a Mozart performance and collaborating with composers like Ricky Ian Gordon, Mark Adamo, John Corgliano, and Phillip Glass. Working with Jonathan Sheffer's Eos Orchestra and Leon Botstein, among many others, in the 1990s, Guarino became known as the performance art opera director for working with singers with strong acting and movement skills. She's since worked with Glimmerglass Opera, Seattle Opera, Wolf Trap Opera, Houston Grand Opera, San Francisco Opera and Canadian Opera Company, among many others. 
Throughout her career, Guarino has made a point to work with living composers and develop new works, whether that be from the director's chair, from the faculty of University of Cincinnati College-Conservatory of Music, or as founder of Opera Fusion: New Works, a partnership between Cincinnati Opera and the UCCCM dedicated to the development of new American operas. She's committed to new works and to helping others develop their talents because she knows firsthand the hard work it requires, especially for women in a male-dominated field.
"So many things have happened over the past 20 years…But as a woman, I have to say, we always had to work hard and we always had to be the best," Guarino said. "You have to go in there and know every language and know the libretto by heart and the music by heart and that is the starting place. And then you walk into the room."
"I was told you can't raise kids if you want to work and have a career. My partner and I have a child who is now 17. I was told that, listen, if you work at a big house like the Met, you'll never have an independent career. Well, I have an independent career and I worked at the Met. And oh, don't teach because those that teach cannot do – and that's crazy. I love teaching. I love being a teaching artist. It is totally fulfilling, deep, and challenging."
Luckily, Guarino said, she does see the industry changing. More and more programs are opening up the pipelines for all types of directors-in-training. One thing that hasn't changed? The multidisciplinary rigor required to do the work, something that suits Guarino's personality perfectly.
"In the beginning, people want you to focus on one thing because it's so complicated to get good at one thing," she said. "But frankly, the great thing about opera is that there are so many parts you need to be good at. You need to have keyboarding skills and you need to know music and you need to know language and you need to be able to do research and think dramaturgically and know history. So for a multitasking brain like mine it was fantastic. But there are no fixed rules about the kind of career you can have. 
"You forge ahead and if you meet every challenge with excellence and an open mind and kindness and generosity, that's a good life."
Some Light Emerges makes its World Premiere at Houston Grand Opera March 16 and 17, 2017. War Stories debuts at the Philadelphia Museum of Art during O17, September 16-23, 2017, starring Craig Verm and Cecelia Hall. 
Leave your comment below.
Top