×
Support great opera
Give today to help us unlock $2.5 million with the Artistry Now Matching Fund.
Donate
An opera family: Daniela Mack and Alek Shrader talk life on the road
Festival O19's Semele starred Daniela Mack and Alek Shrader as queen and king of the gods, Juno and Jupiter. Mack and Shrader are married in real life, too, and try to perform together as much as possible, often traveling with their young daughter. During the Festival, they talked to us about what it is like to be on the road, to travel as a family, and how they try to make each city feel like home.
Q: How many productions do you perform in every year, and how much time do you spend on the road?
Daniela Mack: In a busy season, I perform between 6-8 full productions a year, and add a handful of concerts into that mix. The operas take me away for about a month at a time, and the concerts anywhere from a week to 10 days. That can mean I'm on the road up to 10 months out of the year.
Alek Shrader: The specifics are super complicated but I think I'm in roughly 5-6 productions a year typically. That adds up to too much time on the road.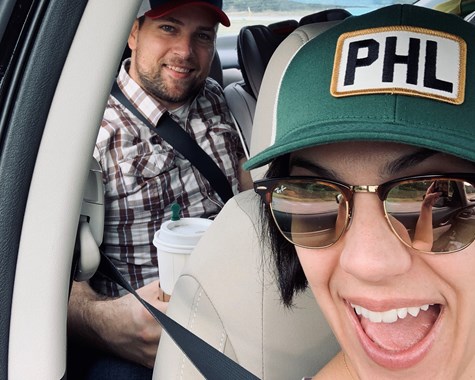 What do you love – and hate – about traveling for work?
DM: I have visited places, thanks to my job, that I never imagined I would have a chance to explore. I love the growing list of countries that I have spent time in. I love experiencing local food wherever I go. I love associating basically any period in my adult life with a different city or country (and now seeing my daughter do the same). Making memories in that way has been so special. BUT I hate packing! Inevitably, the thought of doing it, especially for long stretches of time away, makes me incredibly anxious and it takes me forever. I hate being away from my family when we cannot travel together. I hate having to worry about exposing my immune system to germs on airplanes. This job depends on staying healthy!
AS: I love buying new books for my kindle because I'll be gone a while. But I hate airports and airplanes. I'd much rather drive. 
What do you do to make each place feel like home? Do you have any special items you bring, or certain rituals you maintain?
DM: Since we travel mostly as a family these days, we bring along a rotation of toys/books that make places feel more familiar (and also completely take over the living room lol). But what keeps places feeling like home is our routine. Breakfast, for example, is usually when we spend time together and we make a habit of having the same things each day. When I'm away from my family, I still try to keep a similar routine so that I feel like my life on the road still shares commonalities with their life at home. 
AS: If Daniela and our daughter aren't there, it isn't home. I always bring a notebook for "great ideas" but I have learned the very hard way to pack light. My daily ritual always begins with desperately trying to stay asleep and ends with desperately trying to fall asleep. 
It was exciting to have you both here together for Semele. How often do you two get to perform and travel together, and what is your favorite thing about it?
DM: We have been very lucky these past few years to travel and work together quite a bit. It goes without saying that I love the luxury of spending time together every day. Beyond that, we know each other so well that there is no wall between us onstage. When we have intense scenes that require trust between colleagues, tapping into that connection is second nature. When we do comedy, the freedom to really play in rehearsal together makes everything more fun. Another nice perk is going home with someone who knows exactly what you went through on any given day, and who can empathize fully without the other person having to explain anything in detail. 
AS: We work together quite a bit. My favorite thing is being around my two ladies, even when I have to go to work. Performing artists are usually faced with a sacrifice of family life and we are defying that choice.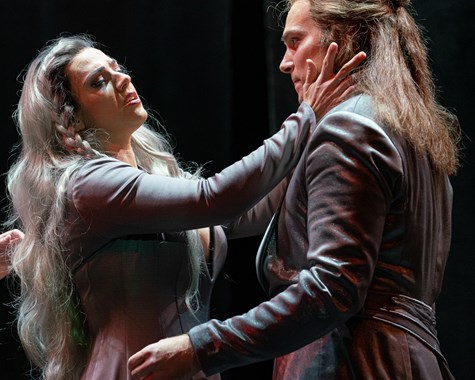 When you travel as a family, what do you like to do in your free time?
DM: When our schedule permits, we hunt for different play spaces for our daughter, from playgrounds, to museums, to zoos. Philadelphia has been great fun in that respect! We love to explore!
AS: We like to go outside. We like to run and play. We like to slow time down.
Learn how you can support artists at operaphila.org/support
Photo 1: Courtesy of Daniela Mack
Photo 2: Semele production photo by Steven Pisano
Leave your comment below.
Top