×
Support great opera
Give today to help us unlock $2.5 million with the Artistry Now Matching Fund.
Donate
He Clicked on a Story in His Newsfeed. You Won't Believe What Happened Next!
The event that inspired Denis & Katya played out in real time before going viral, eventually reaching scores of strangers around the world who watched the pixelated images of two teenagers in their final hours.
That this played out online is no surprise. Social media is where we all live our lives these days, sharing our every move – at least the ones we want people to see.
What the masses didn't see was the quiet Russian town where the teens grew up; the fight that led them to run away together and end up in a standoff with Russian Special Forces; the friends and family also watching along, not knowing it would end in tragedy.
"This virtual world is a huge part of our lives," said Denis & Katya co-creator Ksenia Ravvina. "We often don't know where reality ends."
How do you tell the story of something that happened on the internet? Something that is at once very real, yet divorced from reality?
Librettist and director Ted Huffman first learned of Denis Muravyov and Katya Vlasova from an article that appeared in his Facebook newsfeed. He sent the article to his frequent collaborator, composer Philip Venables. They messaged about it on What's App, shocked and captivated by the story of these teens, the graphic images from inside their hideout, the cultish fascination on message boards.
There was no doubt in their minds this was a story for opera. But how would they tell it?
"Our very first question was, there's this video that exists," Huffman said, "Should we make a piece that responds to the video in a very direct way?"
As Huffman and Venables discussed it with Ravvina and projection designer Pierre Martin, they all decided that the direct approach of showing the videos wouldn't be right.
"It would be too obvious, too simple to show the video," Martin said.
Instead, the opera became about perspective.
Rather than portraying Denis and Katya themselves, a mezzo-soprano and baritone embody the people around them, switching seamlessly between several characters as they relive the events and the aftermath.
There are those who were close to them, such as their friends and teachers. Outsiders, such as the journalist who covered the story. And, finally, those on the fringes: the online audience who never knew them at all. People like Venables and Huffman. Like you and me.
"How far does empathy go when you're that far from a real event?" Huffman asked. "We now take in so much of the world through our computers and phones, and I think it's attempting to ask that question – what is it like now for all of these experiences to be filtered through this technology? I think it's a big and dangerous question."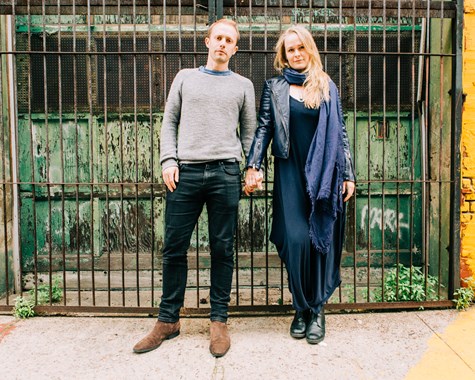 The setting for the opera is abstract, the "locus of a conversation," as Huffman described it, a convergence of the vantage points of the teacher, the friend, the reporter, the ambulance medic.
"We want to push this question of, where are we meeting to speak about this subject," Huffman said. "Is that a good place? What is the conversation like?"
Fast-moving and quick-changing, the piece demands the audience's attention and – more of a rarity in our over-saturated society – their imagination.
"The way we cut quickly between different music, different characters, different stories, in a way is a little more related to the modern media world." Venables said.
The two singers perform onstage within a stark white square, surrounded by projections that help to tell the story, with a cellist stationed at each corner playing into the space. This staging isolates the artists from the outside world while creating unity among them.
"It's all about, for me, this idea of these things being in a kind of closed space where they all exist together," Huffman said, "and you could say that is the internet."
Leave your comment below.
Top