Meet Opera Philadelphia
Meet opera – specifically, meet the staff of Opera Philadelphia. We asked our colleagues across departments to share what they do and what they love about their jobs. From Artistic to Community Initiatives to Development, learn more about our people and how they work together to produce the art you see onstage. 
Sarah Williams
How long have you been with Opera Philadelphia?
Just about six years.
What is your title? 
New Works Administrator.
What does that mean?
I oversee the New Works at Opera Philadelphia, which means I commission and develop the New Works that you see on our stages. I'm also responsible for the Composer in Residence Program. 
I spend my days researching, listening, and reading through creative artists' materials and music to consider for commission as well as studying the librettos and scores of the various works we have in development and deciphering next steps. I'm constantly meeting with or speaking to varied artists and producers that we are in collaboration with or are getting to know. I travel to see and hear artists and works, not only in opera, as it's very important for me to have my ear to the ground. If I'm not in my office meeting with my colleagues in various departments, I'm in a workshop for a New Work in development. One day doesn't quite look like the next but each day is filled with creativity and imagination.
What makes your role so unique?
As far as I know, my position doesn't exist in any other opera company. I do hope that changes, though! But we can discuss that another time…
Veronica Chapman-Smith
How long have you been with Opera Philadelphia?
Seventeen years as a rostered Chorus member and three years as an Arts Administrator.

What is your title? 
Manager of Out of School Time Initiatives.
What does that mean?
My job is to manage the afterschool and weekend programs of T-VOCE and Backstage Pass, as well as Career Day. Backstage Pass and Career Day are important programs because they show students career paths that they may not otherwise consider. Several teachers from vocational schools have called in the last few weeks inquiring about Career Day and Backstage Pass. The teachers talk about the necessity of programming like Career Day and Backstage Pass. For example, their students are interested in disciplines like hair or makeup and see their only career option as working in a salon. The teachers feel it is important to open students' eyes to the technical theater world and its many career possibilities.
My other out-of-school time program is Teen Voices of the City Ensemble (T-VOCE). T-VOCE is an inclusive space where teens come together to learn about the choral tradition. Through traditional choral music, spoken word/poetry and readings, teens are supported on their journeys of self-expression. The choral community can be very segregated and gendered, creating has many challenges for self-expression and for feeling a sense of belonging. The hope with T-VOCE is to create a space where teens from all demographic backgrounds can come together to make music and community. 
I love my job because I get to create space where community matters! Both T-VOCE and Backstage Pass use the arts to help teens feel valued and empowered. The younger generation is too often dismissed, and it is crucial to create space where everyone feels valued and heard. I have learned though over two decades of teaching and interactions with young people that they are more than ready to share their views and they long to be given a space where their opinions will be valued. Whether it is writing a poem, creating their own cento, or writing the script for last year's T-VOCE concert, the teens in both programs felt supported and free to share their experiences. I think that this kind of work is the only way that our society will ever heal from some of its historical wounds.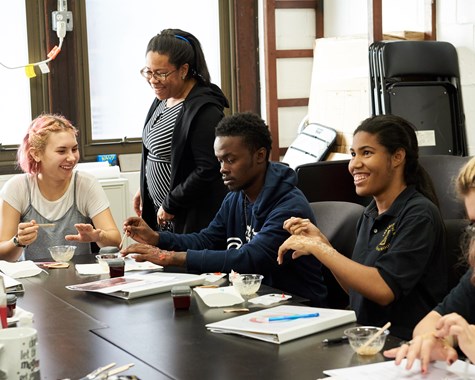 You also often perform with Opera Philadelphia. What is it like to work on both sides of the company?
I think being an artist has absolutely informed my work in the office. Being a female artist of color with learning differences, I have experienced the feeling of being unwelcome and undervalued on multiple occasions. The desire to create space where teens, especially marginalized voices, can feel empowered is what drives me in my office work. Yes, I manage a program that teaches choral music to anyone who would like to join, but my larger personal goal is to ensure that the teens feel "heard" and that their racial, ethnic, and gender identity are valued and not dismissed, where all abilities and learning styles are supported; that they know that their differing experiences are validated and worthy of understanding.
Michael Knight
How long have you been with Opera Philadelphia?
I started my 17th year in January.
What is your title? 
Director of Guest Services.
What does that mean?
I oversee a full-time staff of two, and a seasonal staff of up to eight people.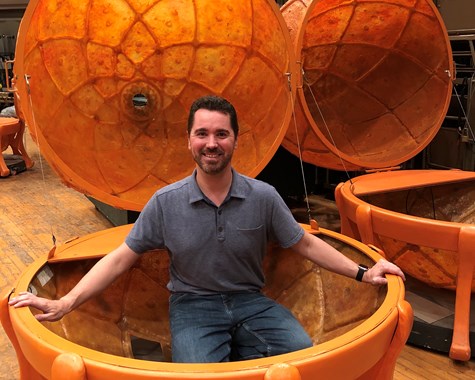 We are responsible for helping guests via phone, email, chat, and in-person with questions and ticket orders.  We are on-site at all performances making sure all our guests have an amazing experience.
What are some of your favorite memories from Opera Philadelphia?
One of my favorite productions was the Cinderella we did in 2006, it had an Andy Warhol, pop art kind of feel to it. The fairy was a vacuum cleaner that was remote controlled, like a little car. I recently got reminded of it at Oranges because someone came out and they were upset that the rat didn't get a curtain call, even though the little vacuum cleaner did in Cinderella. It was a great production with Lawrence Brownlee and Ruxandra Donose; it was one of the first times Larry sang with us.
What do you like best about your job?
The people. The people I work with and the people that come to the opera.
Meggie Scache Eltz
How long have you been with Opera Philadelphia?
Five years this November.
What is your title? 
Production Manager.
What does that mean? 
My main focuses are advance scheduling, logistics (the movement of things from pianos to large set pieces), hiring and training seasonal staff, venue coordination, communication, and general admin work. 
I work with Artistic staff to determine the perfect venue for a production, develop the schedule, and work with our staff to help the production come to life. I also cast our supernumeraries and dancers. 
At Opera Philadelphia, we have a Director of Production and a Production Manager, so together, we help the departments keep everything moving forward and keep an eye on the big picture. We have individual departments (props, lighting, projections, costumes, etc.), but production managers strive to learn everything about the production so that we can recognize trouble spots. 
What is the best thing about your job? 
I love that my job is never the same, and it never ceases to keep me on my toes and test my knowledge. I may have the same set of basic duties for each production, but each one poses new challenges that require creative solutions. I feel like I learn something new every single day. 
Derren Mangum
How long have you been with Opera Philadelphia?
Ten and a half years.
What is your title? 
Director of Institutional Giving.
What does that mean?
My responsibility is seeking out funding for artistic, community initiatives, and strategic initiatives from institutional sources, primarily foundations – especially competitive foundations that have an application process – corporate foundations and corporate sponsorships, and government funding.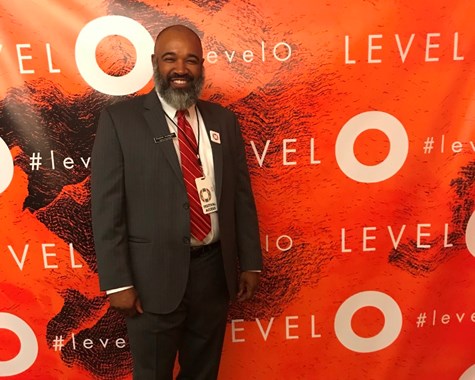 A lot of what I do is researching and finding opportunities, networking, and getting all of the pieces of information we need to create successful proposals and to report to funders on the impact of our programs. I also do a lot of writing. It does give me the opportunity to touch a lot of different areas in the company. It's a lot of writing. In my ten years here it's gone from going to the post office and getting things postmarked by deadline, to things being submitted primarily online.
Institutional funding makes up a significant chunk of overall contributed revenue, and it's often what gives you the capacity to experiment with new objectives, such as the Composer in Residence Program, and to offer robust educational programming.
What is the best thing about your job?
I enjoy the challenge and craft of writing, especially within the constraints of tight word count limits. Curiosity is a strong trait of mine, and I learn a lot about the many aspects of the organization through my work across departments to gather information. I often get in early on our projects, so it's always great to be at the inception of a new work and see it nurtured over years into a world premiere. It's also great to support our community engagement work, especially the work in Philly Schools, which resonates deeply with me. Our overall organization is the best team I've worked with.
Rachel McCausland
How long have you been with Opera Philadelphia? 
I just celebrated my 8-year anniversary with the Opera. In that time, I've held six different roles within the development department.
What is your title? 
Vice President of Development.
What does that mean? 
In addition to serving as a member of the company's executive team, I oversee the fundraising department at the Opera. Our team is responsible for bringing in more than 80 percent of the company's revenue each year, which means that contributions of all sizes are what make everything we do on stage and behind the curtain, as well as in the community and in our schools, possible.  I feel so fortunate to work with such an incredibly talented, supportive, and brilliant group of colleagues. It is incredibly gratifying and meaningful to know that the work that we do every day directly contributes to the company's artistic success.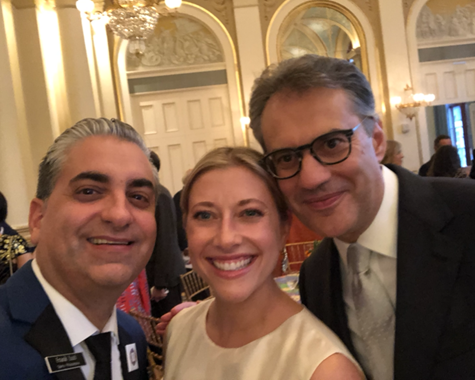 What is your favorite memory from Opera Philadelphia?
The closing performance of our inaugural festival, O17 – David Hertzberg's The Wake World at The Barnes Foundation – will always be one of my most treasured artistic and professional experiences. The Opera Philadelphia team worked exhaustively to plan that first festival for nearly four years, and for me, all those years of hard work and intensive planning really culminated in that final performance. I will never forget looking around the room during the show, seeing how moved many of the audience members were, and knowing that in Festival O, we had built something truly extraordinary. It was a very proud moment.
Bethany Sellers

 
How long have you been with Opera Philadelphia? 
Five years.
What is your title? 
Director of HR & Operations
What does that mean? As an HR department of one, I drive HR strategy, policy, and procedure, and perform the routine HR operations.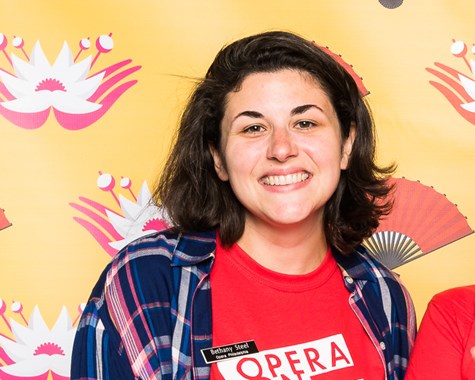 This includes everything from creating company-wide policies and implementing new HR procedures, to onboarding new employees and administering benefits. I also manage our office facilities, IT services, and volunteer administration. My day-to-day varies wildly depending on the needs of the company and staff and the time of year.    
What are your favorite things about working here?
I love wearing many different hats, it ensures that each day will be different. I love the people I work with, so having a role that interacts with all staff is amazing. And I appreciate that I am able, and encouraged, to learn and grow here.
Siddhartha Misra
How long have you been with Opera Philadelphia?
I first became involved with Opera Philadelphia as a member of the chorus in the 2008-09 season. My first two productions were the Jun Kaneko production of Fidelio and our revival of L'Italiana in Algeri with Ruxandra Donose and Lawrence Brownlee. I then joined the administrative staff in 2015. 
What is your title? 
Lead Guest Services Associate.
What does that mean?
My responsibilities can shift significantly throughout the year. When we have an upcoming production – or, in the case of our Festival, multiple upcoming productions – I'm typically managing day-to-day issues and training within our seasonal ticketing staff, or handling tickets for a number of internal sources – cast, orchestra, crew, press, etc. At other times in the year, I'll look for insights that blend our sales data with experiences with our customers or in the theater.  
You started out performing with Opera Philadelphia. What is it like to experience both sides of the company?
Working in multiple facets of the company has provided much perspective on how an opera gets onstage. For example, we had never brought so many artists to Philadelphia prior to O17, and we rightly expected many would want to see one another's work.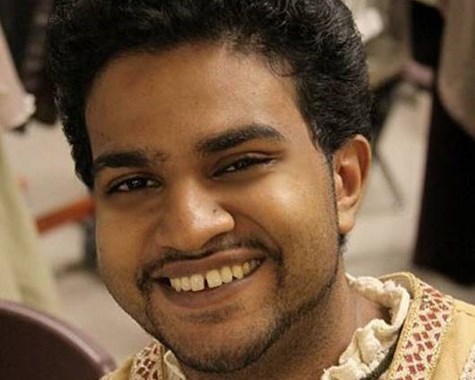 However, we were accustomed to accommodating one show at a time, and now we had four times the personnel trying to come to the Academy of Music or The Barnes Foundation – and we were selling out multiple performances! Seeing this and other challenges from multiple angles has helped create solutions.
What is the best thing about your job?
I enjoy working for an opera house that is defining the future of the art form. Following the 2008 financial crisis, I had several experiences performing with companies that saw the need to innovate but were afraid of the associated risk. Frankly, that was discouraging for a young singer looking for new opportunities. It's inspiring to work for a company that pushes the boundaries of what an opera house can be.
Leave your comment below.
Top