Giving voice to the youth of Philadelphia
Every Saturday morning, 32 weeks out of the year, a group of young singers gathers in Center City to participate in the Teen Voices of the City Ensemble, or T-VOCE, a free, regional, choral program that builds community and strengthens teens' self-identity through music.

 
The acronym T-VOCE comes from the Italian word " voce," meaning voice. T-VOCE celebrates singing and music, but also celebrates and empowers the voices of Philadelphia youth.   
The initiative came out of the Opera's high school arts immersion program, Hip H'opera, a collaboration with one of Philadelphia's premiere black arts institutes, Art Sanctuary, that used the power of art and creation to build self-awareness and self-worth.  
The 2013 city school district's budget crisis resulted in the layoff of more than 2,000 employees, including many music teachers. South Philadelphia High School, which boasts Marian Anderson, Frankie Avalon, Chubby Checker, and Mario Lanza among its alumni, suddenly had no music program. The creation of T-VOCE in March 2015 was partly in response to this crisis. A small but determined group of teens gathered for the three-month pilot program, culminating in a sold-out performance in the 900-seat Zellerbach Theater at Annenberg Center for the Performing Arts.  
T-VOCE would provide a music education opportunity, free of any participation barriers: no fees, no dues, no auditions. Yes, singing abilities would be assessed, but even if you couldn't carry a tune, a place would be found for you in T-VOCE.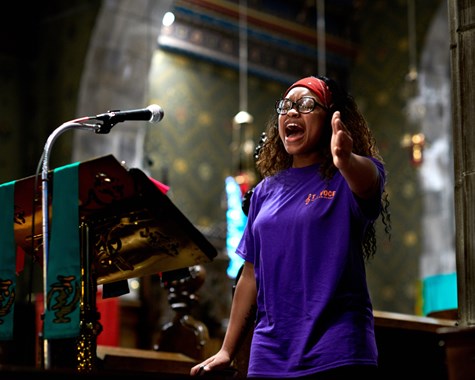 T-VOCE was a safe space where members could be themselves away from their peers' frequently judgmental eyes, a place where they were accepted, celebrated, welcomed, and valued, regardless of their skin color, religious beliefs, sexuality, or gender identity.  
"We started to see community being developed around the art," said Valerie Gay, former Executive Director of Art Sanctuary. "On top of that, students from completely different backgrounds were also breaking down their own prejudices and misconceptions about each other. They got to know their classmates in very honest ways, not how they were perceived to be."  
Since the early days of T-VOCE, the family of collaborators expanded to include Singing City, Philadelphia's premier avocational chorus, and Play On, Philly!, the El Sistema-based youth orchestral education and social initiative, which provided unique educational and performance opportunities.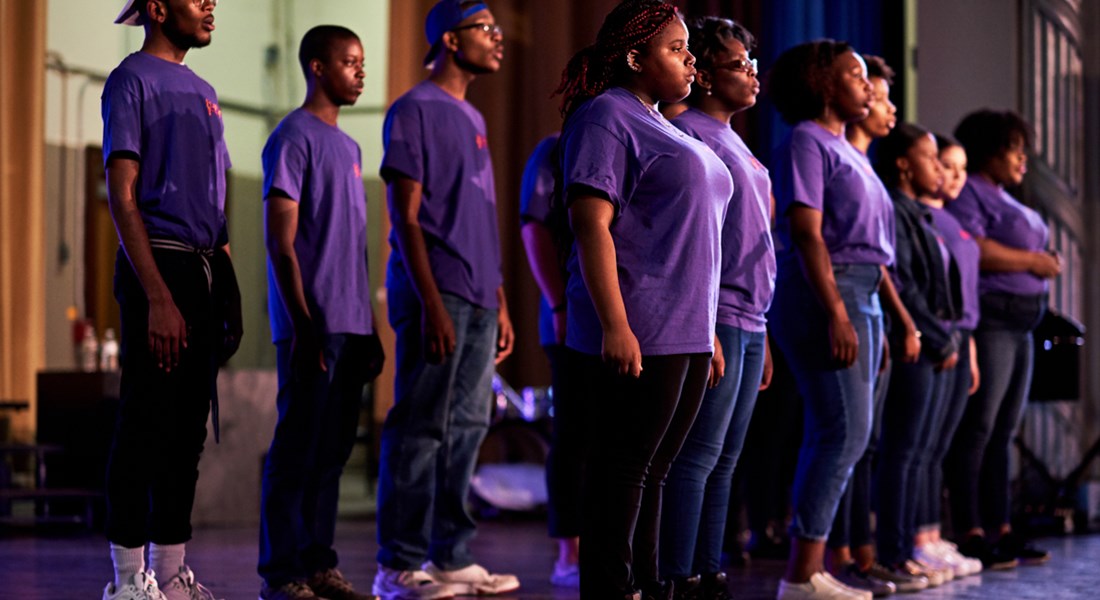 In September 2018, Rosemary Schneider joined T-VOCE as its conductor. With 15 years' experience as a high school choral director, she had a wealth of experience working with young voices at a crucial time of development. She nourished and inspired the singers, giving them a newfound confidence, which led to the best-prepared and most-varied repertoire the ensemble had yet performed.   
"For many of them," Schneider said of T-VOCE, "this may be their first formal choral experience. It was extremely refreshing and rewarding as a teacher to see their pure love of music and to watch them grow over the course of our first season together."   
As it enters its 2019-2020 season, T-VOCE will return for a full season of concerts including working with Dr. J. Donald Dumpson and Dr. Rollo Dilworth on the Kimmel Center's A Soulful Christmas, and Singing City's December and February concerts. The singers will also participate in POP's Identity Power and Music class and collaborate with its instrumentalists. Esperanza Academy Charter School's multi-award-winning dance ensemble under the direction of Tania Y Ramos Otón, will join as a full-fledged partner, joining the combined ensembles from T-VOCE and Play On, Philly! for a season-ending celebration at the new Teatro Esperanza in Spring 2020.   
Still, a new opportunity for T-VOCE is on the horizon: private voice lessons! Offered in partnership with ArtSmart, a program founded by tenor Michael Fabiano, baritone John Viscardi, and percussionist Brian Levor, to offer free voice lessons to students in need and with limited access to music programs, select T-VOCE students will receive weekly private voice lessons and the opportunity to earn $1,500 in scholarship money.    
It's an exciting year for T-VOCE. Please join us in celebrating these talented young singers and come hear what they have to say.   
Leave your comment below.
Top