×
Support great opera
Give today to help us unlock $2.5 million with the Artistry Now Matching Fund.
Donate
"Great choruses, great sets, great costumes, and through it all, great friends"
As the Opera Philadelphia Chorus prepares to take center stage in Verdi's Requiem, we asked several longtime members to reflect on their decades with the company. Christine Nass, A. Edward "Doc" Maddison, and Robert Phillips have all been performing with Opera Philadelphia for more than 20 years. Gregory Cantwell – who performed in the 1986 Requiem with Luciano Pavarotti at the Spectrum – and Chris Hodges have been with the Chorus for more than 30 years. 
Here are some of their favorite memories: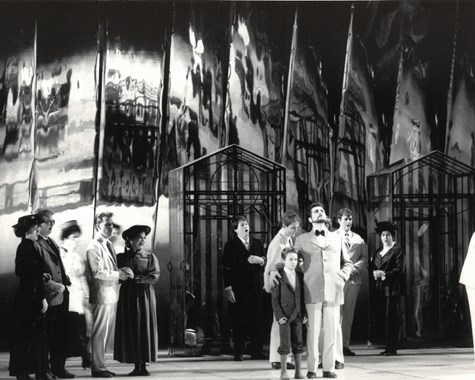 Chris Hodges
Bass
"I joined in 1986, so this is currently my 33rd season with the company. My first production was Britten's Death in Venice.
The staging for my first opera (Death in Venice) was originally to have only a few choristers on stage (with the remainder singing from the proscenium boxes). However, as rehearsals proceeded, more and more stage chorus was added, until finally only me and three other people (one from each section) were still singing from the boxes. We called ourselves the "Excludee Quartet," and I was determined to be the first chorister off-book for the next opera (the daunting Boris Godunov); I continue that practice today."
A production photo from Death in Venice. Photo by Trudy Lee Cohen, 1986.

Christine Nass
Soprano
"My first season was 1998–99 and my first production was La bohème, fall of '98 (four bohèmes ago!). It was in that production that I met my future husband, Rob Phillips, who was the Customs Sergeant! It took nine years, but we were married in 2007, with groomsmen as well as a choir of our wonderful friends from Opera Philadelphia. Our 9-year-old daughter, Sophia, is in the Philadelphia Girls Choir and is looking forward to the first time she can perform with them in an Opera Philadelphia production.  
In almost 50 productions now with the company, some of the most memorable were: Margaret Garner with director Kenny Leon, and sharing the stage with Toni Morrison for bows; singing a highly emotional National Anthem together in front of the curtain each night before L'elisir d'amore just after 9/11; the wonderful production of Macbeth with Eric Owens (my college classmate) and Lauren Flanigan – some of the women were witches, Verdi wrote it for nine rather than three, and we played an integral part in the production; being a 'duchette' to Stephanie Blythe's Grand Duchess of Gerolstein. But the best part of being with Opera Philadelphia for so many years is being able to work and make art with people who are truly our best friends and who have become like family to us!"
Photo courtesy of Christine Nass.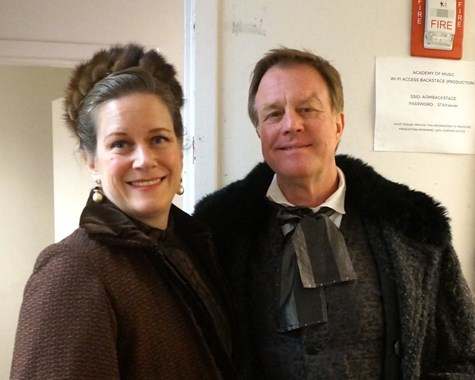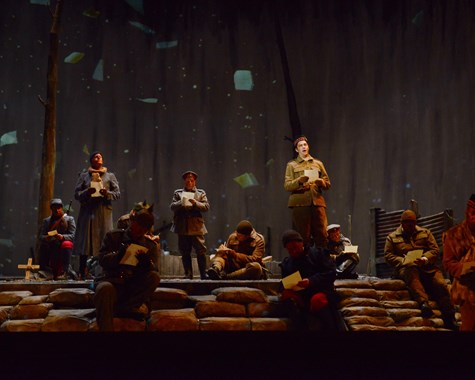 Robert Phillips
Bass
"In one of my first productions I was in the chorus for the Luciano Pavarotti International Voice Competition the Opera Company of Philadelphia presented. I will never forget standing in the wings watching the great Maestro Pavarotti prepare himself to sing Rodolfo on stage. What a ritual he went through right before he went on. Ultimately for me to be near him on stage and experience the shear brilliance and power of his voice is something I will never forget. The greatest voice I have ever heard in person.
Another great honor was to have worked with my great colleague and former chorus master at Opera Philadelphia, Donald Nally. A continuing source of inspiration and artistry, Donald gave some much to us as artists and as a growing company. One of my most fun memories was during his last performance as chorus master at Opera Philadelphia. We were singing the church chorus in Susannah when all of a sudden Donald appeared on stage and joined us in the pews for a tearful and fitting final time on stage in The Academy. Unforgettable!
Definitely my most rewarding experience at Opera Philadelphia was my involvement in our production of Silent Night, in my opinion one of the finest operatic works composed by a U.S. composer. I will never forget how I was moved to tears during every performance of the funeral scene that the allied soldiers celebrated on Christmas Eve. I will forever have a much greater respect for all of the sacrifice that the soldiers of World War I gave for mankind."
Robert Phillips (left) in Silent Night. Photo by Kelly & Massa.
Gregory Cantwell
Bass
"Hard to believe that I have sung under four General Directors: Ed Korn, Margaret Everett, Robert Driver, and David Devan. I made my debut in the early '80s as the Commissario in Madame Butterfly. As a chorister I remember an early production of Oedipus Rex, which was the American debut of the late Jessye Norman. Of the later shows, Silent Night stands out. My greatest thrill was a production of Menotti's The Medium in which I sang the role of Mr. Gobineau to the great French soprano Regine Crespin."
Gregory Cantwell (left) in The Medium with Regine Crespin in 1986. Photo by Trudy Lee Cohen.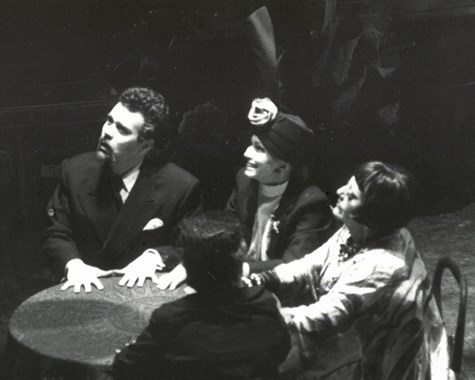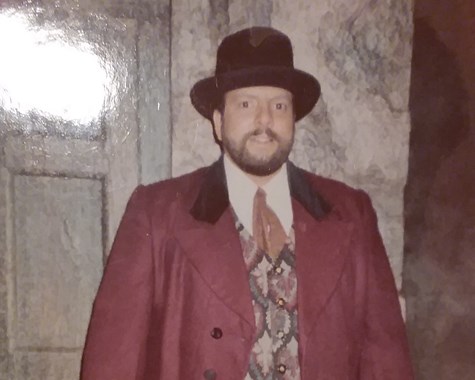 A. Edward "Doc" Maddison
Tenor
"This is my 27th year with the Opera Chorus. I could not pick a favorite production. There have been great choruses, great sets, great costumes, and through it all, great friends. I am, currently, the tenor that has been with the chorus the longest. I miss those that have gone before, I enjoy mentoring the newbies, and will always be honored to make beautiful music/art with people I admire, appreciate, and love."
Doc Maddison in Pagliacci in 1993. Photo courtesy of Doc Maddison. 
Leave your comment below.
Top