Remembering Jack Mulroney
It is so very appropriate that Opera Philadelphia is honoring the memory of its past President and Chairman, Jack Mulroney, during this production of Verdi's Requiem, that great musical hymn in honor of the deceased. It was thirty years ago, in the spring of 1991, that Jack described to me how "an angel appeared before him." It was a time of great crisis for the opera company, the demise of which appeared inevitable due to a high deficit and drastically reduced ticket sales.
Jack's angel was not a grand baroque opera "deus ex machina" figure descending from a theatrical heaven to suddenly make all right in Philadelphia's operatic world; the angel appeared to him across his backyard fence in the form of his neighbor Mel Lashner, a well-known bankruptcy lawyer, who fortified Jack with the knowledge and confidence necessary to embark on the great crusade to save the opera company. Now, thirty years later, we are all witnesses to the magnificent result of Jack's courageous leadership.
I first met Jack at my final interview in December 1990; he ended the interview with a crisp "I think I can work with you." When I got home and reported on my meeting with Jack to my wife, Monica, she said, "He is going to hire you." Fortunately, she was right. It was the beginning of a wonderful 13-year partnership. From the very outset of our working together I was always comfortable in discussing any business or artistic matter with Jack.
Before the 1999–2000 season, I heard that Jack was approaching retirement. I requested a meeting with Jack, who confirmed his imminent retirement from Rohm and Haas. My opening greeting was something to the effect of "Congratulations, Jack, but I do not see you on a golf course."
He agreed, so I went on to propose that he come to the Opera to oversee the company's business administration. He immediately accepted with pleasure and I added the caveat that, of course, I would not insult him with a financial offer, saying "you won't be lowering your contribution, will you?"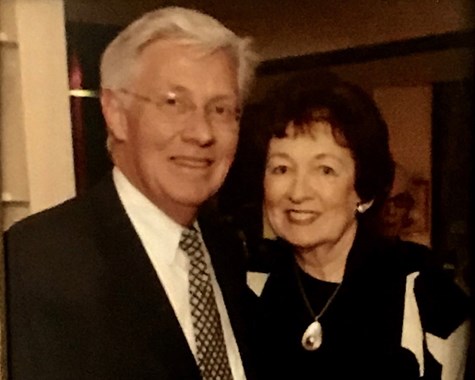 He laughed and said no, he would be doubling it! Thus, Jack became our Executive Director, happily turning the tables and reporting to me. Shortly thereafter I decided we should share responsibility equally. His new position as President gave me the ability to spend more time on artistic matters, but as always, we worked closely together on budgeting and fundraising.
One of Jack's first missions in his new position was to negotiate the move from our Walnut Street offices to Academy House. It was such a thrill to be able to go through a door on our office level to the rehearsal hall of the Academy of Music. We were really home now! In our joint "Letter from the Directors" in the April 2004 program for Bizet's The Pearl Fishers, starring Bill Burden as Nadir, Nathan Gunn as Zurga, and Mary Dunleavy as Leila, Jack and I announced the appointment of Maestro Corrado Rovaris as our first Music Director, beginning the coming fall season.
Sadly, Jack would be taken from us on a Friday evening that September, but not before he had sealed the deal with Maestro Rovaris by telling him "You come and take care of our opera company and we will take care of you and your family." Opera Philadelphia is so fortunate that Agnes Mulroney immediately stepped forward by joining the Board and securing Jack's pledge to Maestro Rovaris. I am eternally grateful that my last business meeting with Jack on that fateful Friday afternoon ended with our joking about how Jack's operatic fantasy was to be Nathan Gunn in Pearl Fishers, to which I replied "then I must be your best operatic friend Bill Burden as Nadir!" We had a good laugh, secure in the knowledge that neither of us would be appearing anywhere shirtless and singing. 
The sudden loss of Jack came as a terrible shock to his family and to the entire Philadelphia community where he was an important presence. Here again
the greater Philadelphia community and Board of Directors came to the rescue. Stephen Madva stepped in as Chairman of the Board, a position he would hold for the next eight years, and the William Penn Foundation funded the search for Jack's replacement. That intense nationwide search ended with the appointment of David Devan as Executive Director. Today Opera Philadelphia is in the excellent hands of General Director & President David Devan, Jack Mulroney Music Director Corrado Rovaris, and Board Chairman Peter Leone. The angels are smiling!
Photo: Jack and Agnes Mulroney.
Robert B. Driver is the former General & Artistic Director at Opera Philadelphia, 1991–2012.
Principal support for Verdi's Requiem has been provided by Agnes Mulroney, in loving memory of Jack Mulroney and his 19 years of service to Opera Philadelphia.
This note appears in the performance program for Verdi's Requiem, January 31 & February 2, 2020.

Leave your comment below.
Top