×
Support great opera
Give today to help us unlock $2.5 million with the Artistry Now Matching Fund.
Donate
A Day in the Life of Chorus Master Elizabeth Braden
Elizabeth Braden has been Chorus Master at Opera Philadelphia since 2005, and during that time has prepared the chorus for over 40 productions, ranging from traditional favorites like La bohéme and Carmen, to new works and world premieres including Kevin Puts' Silent Night, Jennifer Higdon's Cold Mountain, and Missy Mazzoli's Breaking the Waves. In 2017 she made her Opera Philadelphia conducting debut with the world premiere of David Hertzberg's The Wake World. She is also the conductor of the Penn Chorale at the University of Pennsylvania, a student ensemble specializing in 21st and later 20th century choral music. This August, she leads the Opera Philadelphia Chorus in "An Evening of Vocal Fireworks: Amici e Rivali."
When preparing for a production, what is your typical day like?
Most mornings start like everyone else's: doing normal people things. I make coffee (the most important thing!), make breakfast for myself and my son, feed the cat, check the garden or the plants (I need a little nature to get me through the day), then rush out the door to get him to school and me to work. 
Many days during tech week, there are orchestra reads (rehearsals) from 10-1, so I hop on the PATCO to get to rehearsal at the Rehearsal Hall at the Academy (or more recently, drive to rehearsals at the Mann Center for the Performing Arts). After that, sometimes I spend the afternoon between rehearsals in the office answering emails, planning the next chorus rehearsals, drinking more coffee, and even working on the next project that's coming along, either for Opera Philadelphia or for Penn Chorale, the choir I conduct at the University of Pennsylvania. Other days I need to take off my Chorus Master/Music Administrator hat off and put my Mom hat back on so I can go back home to Collingswood, and take care of after school activities – snacks, homework, cello lessons, maybe a quick episode of Bob's Burgers if we need some laughs before heading back for an evening rehearsal. 
Either way, at some point I spend some time quietly focusing on what the evening's rehearsal will bring, and what I need to do to prep for it: review music, or compile notes from a staging rehearsal. During tech week, the chorus rehearsals start with a "warm-up" – a short rehearsal with just the chorus and me. We review music, check memory, discuss any issues that may have come up, and occasionally we even work out some staging issues (don't tell the directors that though!).  After the warm-up, we head downstairs to the theater where we start to put all the pieces together: music, staging, scenery, costumes, wigs – everything that makes opera so special. 
After the late evening rehearsal ends, sometimes there is a chance to have a cocktail with colleagues to decompress after a long day of rehearsals, talk about the music or our lives, and just have a moment of quiet before it's time to run to catch the train and head back home before doing it all again the next day. 
How has this changed since the pandemic?
The pandemic created so many challenges for us, especially because things like singing and playing wind instruments could be so dangerous. We had to do things like weekly COVID-19 testing, constant mask wearing (even when singing and filming sometimes!), being distanced from each other – all things that can seem antithetical to music making. But the upside was the experiences we had were so special, a reminder that what we do is so important to all of us, the artists, and so important to everyone who hears our music or sees our productions. Another great opportunity was to experience many new venues. I miss the Rehearsal Hall and the Academy of Music – I haven't been in that space since we did the Verdi Requiem in early 2020. But this past year I got to experience rehearsals, filming sessions, and performances in such diverse venues as the Mann, a beautiful farm that was part of the Brandywine Conservancy, Dilworth Plaza at Philadelphia City Hall, and three wonderful churches that welcomed the Opera Philadelphia Chorus into their spaces to sing and record 'Organ Stops.'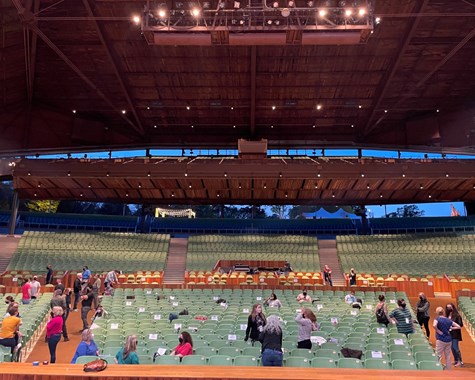 "I'm about to start my 18th season as Chorus Master, and every single year there is a moment when I stand in the theater, look up at the amazing chandelier, and think, 'I can't believe this is where I work.'"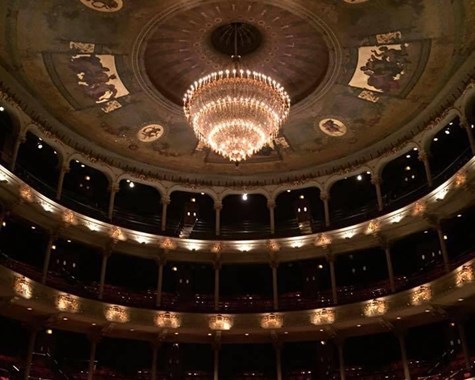 What are some of your favorite things about your job?
I am so lucky that I have so many favorite things about my job. I love making music – conducting the chorus, listening to the orchestra play, watching a stage full of people join together in song and sometimes dance, watching a director coax brilliant performances out of singers.  I love the spaces we get to work in, particularly the Academy of Music. I'm about to start my 18th season as Chorus Master, and every single year there is a moment when I stand in the theater, look up at the amazing chandelier, and think, 'I can't believe this is where I work.' The history of that theater, thinking of all the people who have sung and made music there, it's really remarkable. But perhaps most of all, I love the community I get to work with, laugh with, sometimes cry with, and make beautiful music with. I am surrounded by amazingly caring colleagues and wonderfully talented chorus, and I can't imagine a better place to be. 
What is the craziest thing that happened on stage or in rehearsal?
I have a few to share:
In one production, the chorus was dancing and one of the women realized her skirt ripped and she was probably showing the whole audience her undergarments, so she had to dance her way offstage for some repairs.
In another production, the way the chorus had to enter the stage, it was impossible for them to see the conductor in the pit, so a colleague and I had to stand on top of 6-foot-high ladders (but hidden from the audience) clapping the beat as loud as possible so the chorus could sing in tempo. 
One time at a tech rehearsal I was sitting in the house (in the audience) watching, but also feeling really down about things because nothing was going well at that rehearsal.  All of a sudden, I realized everyone onstage was singing 'Happy Birthday' – for me because it was my birthday.  I guess that isn't really crazy, but it's pretty special to have a stage full of opera singers serenade you on your birthday!
Leave your comment below.
Top