George Walker & Lilacs
In 1996, George Walker became the first African American composer to receive the Pulitzer Prize for Music for Lilacs. Written to honor renowned Black tenor Roland Hayes, Walker's work utilizes several stanzas from Walt Whitman's poem, When Lilacs Last in the Dooryard Bloom'd, which reflects on the assassination of Abraham Lincoln. A meditation on grief and remembrance, Lilacs introduces multiple symbols —a lilac, bird, and star— to recreate the power of Whitman's verse, "Lilac and star and bird twined with a chant, my soul."     
Walker was born in Washington, DC in 1922 and began playing the piano at the age of five. At the young age of 14, Walker was already an accomplished musician; he was presented in his first public recital at Howard University before graduating from Dunbar High School. He went on to study the piano at Oberlin College, received the highest honors, and continued to do so at the Curtis Institute of Music as the first Black graduate of the prestigious Philadelphia conservatory.  
After graduation, Walker won the Philadelphia Youth Auditions and played with the Philadelphia Orchestra, becoming the first Black instrumentalist to appear with the orchestra.  He was also the first Black instrumentalist to be signed under National Concert Artists, a major management firm. In 1945 he began a classical tour across Europe, spanning Sweden, Denmark, Holland, Switzerland, Italy, Germany, and England.  In 1946, he composed Lyric for Strings, which later became his most performed orchestral piece. After his European tour, he taught as a professor at Dillard University for a year and becoming the first Black student to earn a doctoral degree from the Eastman School of Music in 1955.
George Walker as a student at the Curtis Institute of Music in Philadelphia.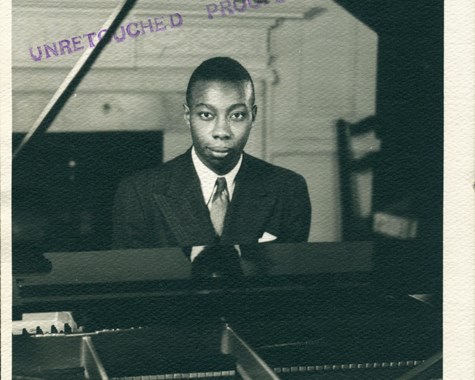 His stunning accomplishments followed with a Fulbright Fellowship, a John Hay Whitney Fellowship, and faculty appointments at top-tier universities. Walker married pianist Helen Hill in 1960 and they had two sons, Gregory and Ian Walker. Following in his father's footsteps, Gregory Walker became a violinist and composer, while Ian Walker pursued playwrighting.   
It comes as no surprise that every major orchestra in the United States and other countries have performed Walker's pieces. His works cannot be categorized into a single musical style like jazz, folk, or even classical. In fact, he strived to create a style he could call his own. Reluctant to conform to a certain genre, he created works that pushed the bounds of songwriting and embedded challenges, such as altering meters and syncopation, and composed more than 90 works. Walker's awards include the Harvey Gaul Prize, two Koussevitzky Awards, an American Academy of Arts and Letters Award, the Mason Gross Memorial Award, and many more. In spite of his countless accomplishments, Walker faced racism and discrimination. His own management company warned that obtaining concerts for him would be an "uphill battle" and discussed their inability to sell him as a Black composer. However, he proved National Concert Artists wrong and recovered even stronger than before with his Pulitzer win. Walker passed away in 2018 at the age of 96 and is survived by his two sons today.
Pulitzer Prize-winning composer George Walker's Lilacs, a meditation on grief and remembrance, will be performed January 21 & 23 as part of Opera Philadelphia's Oedipus Rex & Lilacs.
Abigail So was the summer 2021 Marketing & Communications intern, and is a sophomore at the University of Pennsylvania.
Leave your comment below.
Top