×
Support great opera
Give today to help us unlock $2.5 million with the Artistry Now Matching Fund.
Donate
Otello Synopsis
ACT I
Otello, a Moorish captain, returns victorious to Venice, acclaimed by nearly everyone. As thanks, the Doge grants him Venetian citizenship. Otello is happy but nonetheless confesses that only true love will fulfill him. Otello is admired by some but also sparks jealousy with two men: Iago and Rodrigo, the Doge's son. Iago is jealous as Otello over looked him for a promotion, while Rodrigo realizes Otello is his rival, both being in love with Desdemona, the daughter of Elmiro. Sensing Desdemona is sad, Rodrigo asks her father if he knows why, but Elmiro has no idea. Iago hears everything and, seeing a perfect opportunity to deny Otello's ascension, joins forces with Rodrigo.
At the palace, Desdemona is fraught with worry, as her father had found a love letter with a lock of hair which she had written to Otello, and she has had no news from the man she loves. Did the letter fall into the wrong hands? Does Otello have doubts regarding her love? Emilia, her confidante, tried in vain to calm her down.
The two women wander away as Iago arrives. In the past Iago had also once secretly hoped to marry Desdemona. Rodrigo and Elmiro appear and Desdemona's father promises her daughter's hand to Rodrigo. Desdemona arrives and her father announces that soon she will no longer be sad, but offers no details. Desdemona move from hope to apprehension.
Elmiro organizes a celebration and all the guests heartily welcome Desdemona and Rodrigo. Desdemona suddenly understands that she is accompanied by her future husband. She is distraught, Rodrigo realizes his love is unrequited, and Elmiro is angry his daughter will not obey. There is a heated discussion going on when Otello arrives. The latter, unaware of the situation, unwittingly throws fuel on the fire by claiming Desdemona's hand. Elmiro becomes a ball of rage when he hears Desdemona agree with Otello. Otello and Rodrigo begin to argue in front of a sea of bewildered faces.
Dates are Sep - Oct 2022.
| | |
| --- | --- |
| Fri, Sep 23 | 8:00 p.m. |
| Sun, Sep 25 | 2:00 p.m. |
| Fri, Sep 30 | 8:00 p.m. |
| Sun, Oct 2 | 2:00 p.m. |
Approximately 3 hours including one 20-minute intermission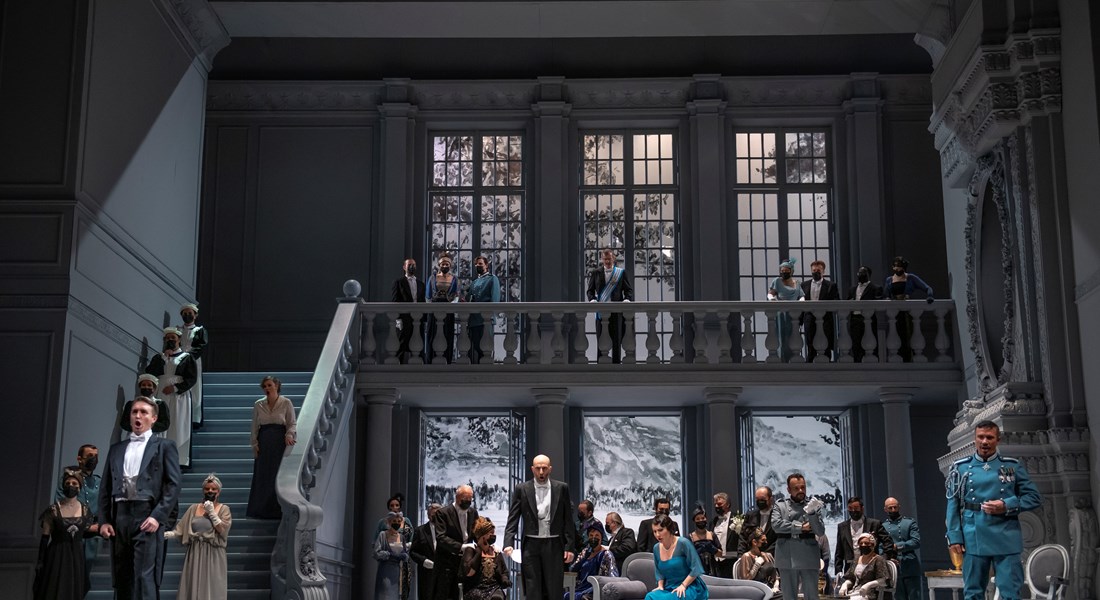 ACT 
II
While Rodrigo desperately attempts to prove his love to Desdemona, she confesses she has already married Otello. Rodrigo swears he will not let this pass. Desdemona is profoundly troubled and tells Emilia that she let her secret slip out to Rodrigo. She leaves to find her true love. She wants to forewarn him of a potential danger which lies in store.
Otello is alone and wallows in doubt – what if Desdemona prefers Rodrigo? And what if by confessing his love, he were to lose his glory and honor? But he remains wholly besotted and refuses to accept his cherished love to remain in the hands of his rival. Iago appears, fully determined to pursue his evil scheming by misleading Otello. He slowly but surely manages to transform Otello's suspicions into certainty by showing him the letter with the strand of hair. Otello is dismayed when he reads the compelling proof of Desdemona's infidelity and is quickly consumed by jealously. Iago revels in his successful ploy and leaves.
Otello is alone when Rodrigo appears, clueless as to what just happened, having come to offer his friendship. But Otello is scornful and refuses. A dual is decided just as Desdemona appears and tries to intervene, but the men are determined. Otello and Rodrigo leave. Desdemona faints.
Emilia comes to her rescue and slowly Desdemona regains her senses, praying to save Otello, but also imploring God to let her die if ever she is separated from him. Desdemona is relieved to learn Otello is alive, but this respite is short-lived as her father, still livid, decides to punish her.
ACT 

III
Otello is condemned to exile and Desdemona seeks refuge in her room, turning to Emilia for solace and comfort. In the distance she hears a song which awakens sad memories for her. A raging storm breaks and a violent gust of wind makes the windows shatter. Could this be the harbinger of bad news? Desdemona wants to be alone and asks Emilia to leave. Before going to sleep, she says one last imploring prayer.
Otello enters through a hidden doorway armed with a dagger and sneaks into Desdemona's room. He contemplates her beauty as she lies in her bed, momentarily reconsidering his intentions. Desdemona murmurs endearing words in her sleep which immediately rekindle Otello's jealousy, as he assumes they are intended for Rodrigo. A clap of thunder awakens the unfortunate Desdemona and as she opens her eyes and sees Otello, she understands he is the verge of taking her life. She tries to explain but it falls on deaf ears as his jealousy overtakes him and he deals the fatal blow. The storm begins to rage once again.
As the storm quietens, gun shots are heard. Someone knocks at the door. It's Lucio, an officer, who informs Otello that Rodrigo, thought to be dead, is actually alive. But Iago is mortally wounded, after having revealed his deceitful lies. Otello is aghast. The Doge, Elmiro, and Rodrigo appear. Elmiro has changed his mind and grants his daughter's hand Otello. Otello is horrified to the extent his jealousy has blinded him. He uncovers Desdemona's lifeless body and kills himself.
Courtesy of Opéra Royal de Wallonie - Liège (Belgium)
Top