×
Support great opera
Give today to help us unlock $2.5 million with the Artistry Now Matching Fund.
Donate
Female Composers Shaking Up the Opera World
Throughout March, the Opera Philadelphia blog and social media channels will host a celebration of Women's History Month, shining the spotlight on the women creating opera today with guest posts and takeovers, beginning with an interview with War Stories director Robin Guarino. Next up: Breaking the Waves composer Missy Mazzoli highlights the contemporary composers who inspire her.
I'm thrilled that Opera Philadelphia has given me the opportunity to recognize some of the many inspiring female composers working in opera today. I freely admit that this list is totally biased, personal, and based on my own interests and tastes. Another name for this list could be "Female Opera Composers Who Inspire Missy, Most Of Whom You Probably Don't Know Yet, But You Will… Oh, You Will." Full disclosure: I run an organization, Luna Composition Lab, with Ellen Reid (read more on Luna below). Frances Pollock works as my assistant. I had Chinese food with Rene Orth last time I was in Philadelphia. Du Yun and I share a passion for mah jongg and secretly covet each other's shoe collection. I once toured Belgium and France with Shara Nova. The opera world is small and the community of women working in opera is VERY VERY small. So yeah, these are my friends.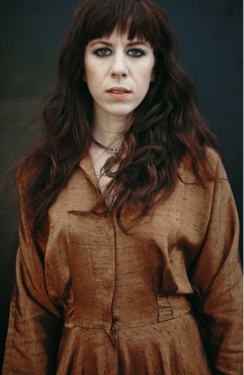 This list is by no means exhaustive, and there are many other women who have had a huge impact on me and on the operatic world at large. Established composers like Jennifer Higdon, Laura Kaminsky, Julia Wolfe, Paola Prestini and Libby Larsen have gained well-deserved mainstream recognition for their operatic and theatrical work. Kristin Kuster, Anna Clyne, Julia Adolphe and Sarah Kirkland Snider are currently working on operas that I am psyched about hearing for the first time. Directors Garry Hynes and Francesca Zambello are making some of the most inspiring work I've seen on the stage in recent years. Powerhouse producer Beth Morrison is solely responsible for bringing dozens, if not hundreds, of brilliant operatic productions to life. I've decided to focus this post on up-and-coming female opera composers because it is very hard, especially as a woman, to gain a foothold in the opera world. As Sheryl Sandberg points out in Lean In, opportunities for women are often based on proof of past success, whereas men are given opportunities based on their potential. Women often confront a dead end because opportunities in opera are always based on potential; each opera is it's own terrifying new universe for both the composer and the commissioning organization. If it's proof that's required - all of the women I've highlighted have already had at least one opera produced professionally. They're not just writing opera, they're writing REALLY GOOD opera. I'm confident that all of them will soon become leaders in the field. So let the commissioning begin.
Second moment of full disclosure: I actually detest lists of female composers. These lists are often presented with no context or curation, and amount to a list of names united by a shared gender. I often see, after some article about the dismal lack of gender equality in the music world, a well-meaning comment like, "There are lots of great female composers! Hildegard! Amy Beach! Joan Tower! Laurie Anderson! " Which is nice, but tantamount to writing "There are lots of great female writers! Sappho! Virginia Woolf! Danielle Steel!" Sweet, but ultimately uninformative. I sometimes see my own name there, next to women I generally respect mightily but to whom I may feel a tenuous artistic connection. I'm left with a mix of ego-boosting joy in being recognized and the feeling that what makes me unique as an artist has been glossed over in the name of my gender. To counteract these generalizations I've tried to give a little bit of music-nerd information about what makes these women special and inspiring.
Leave your comment below.
Top