The Best of 2018
By Opera Philadelphia Staff
It was a year of reimagined classics, world premieres, and innovative educational programs. Opera Philadelphia debuted a song cycle starring Lawrence Brownlee, supported young composers with Double Exposure, created three new productions on the Academy of Music stage, launched Opera on Trial with a Philadelphia high school, and held the second annual Festival O. 
As 2018 draws to a close, the Opera Philadelphians behind the scenes revisit some of their favorite moments of the year.
"My favorite moment was the artists' welcome party for O18.  To be in community with 200 artists coming together in the spirit of voyage discovery was uplifting, joyous, and foreshadowed the work of O18 with warmth and care. A truly special moment."
- David B. Devan, General Director & President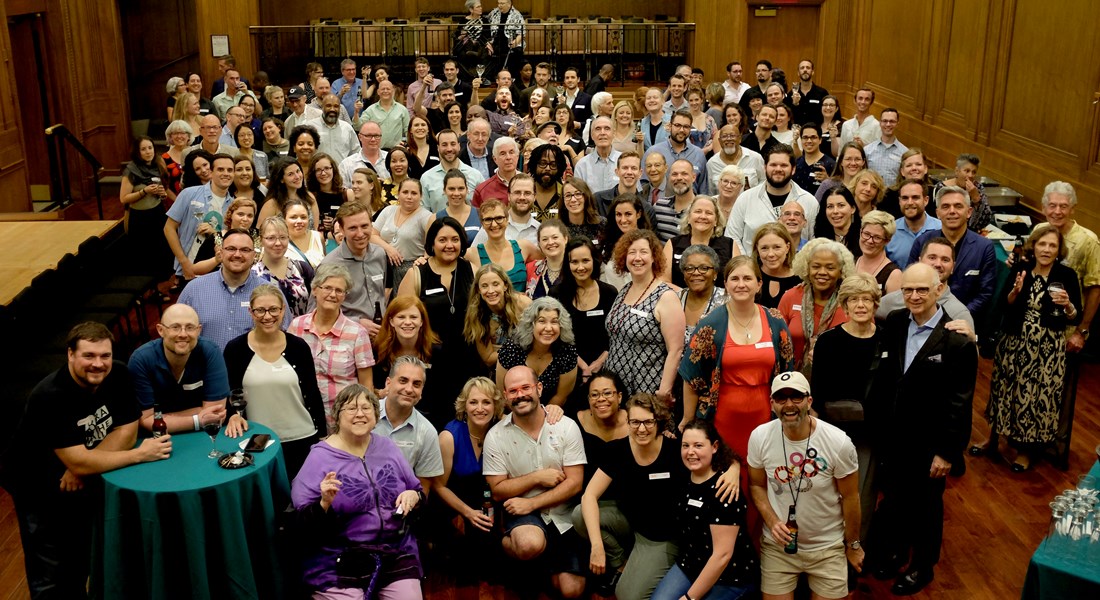 "I managed the lobby and front-of-house for all Glass Handel performances and dress rehearsals. Since the project came together so quickly, we only had a superficial understanding of what the final product would look like. I remember that our first audience was for the final dress rehearsal and, just before the performance started, all of the 'people movers' lined up in the lobby wearing the same uniform, as if they were the wait staff for a bizarre cocktail party. Then Anthony appeared, wearing a red outfit that I still cannot describe. There were a half-dozen costume crewmembers with lint rollers adjusting each person's costume, particularly Anthony's, and then the performance started. I sent a member of my staff into the performance space to watch the performance while I sat out in the lobby wondering, 'What the heck are we doing?'
The next night, we went through the same routine, only I attended this performance. For all the anxiety, uncertainty, and questions leading up to this production, I couldn't believe we had put together such a unique, wonderful experience."
- Siddhartha Misra, Lead Guest Services Associate
"For the first time in my career, being in a rehearsal with all Lady Bosses. A female conductor, composer, director, stage manager, accompanist, and ASM – and a great soprano."
(The team behind Double Exposure's Ten Days in a Madhouse: Daniela Candillari, Rene Orth, Alison Moritz, Lisa Anderson, Annie Brooks, Jen Shaw, Ashley Robillard, Kendra Broom).
- Lisa Anderson, Production Stage Manager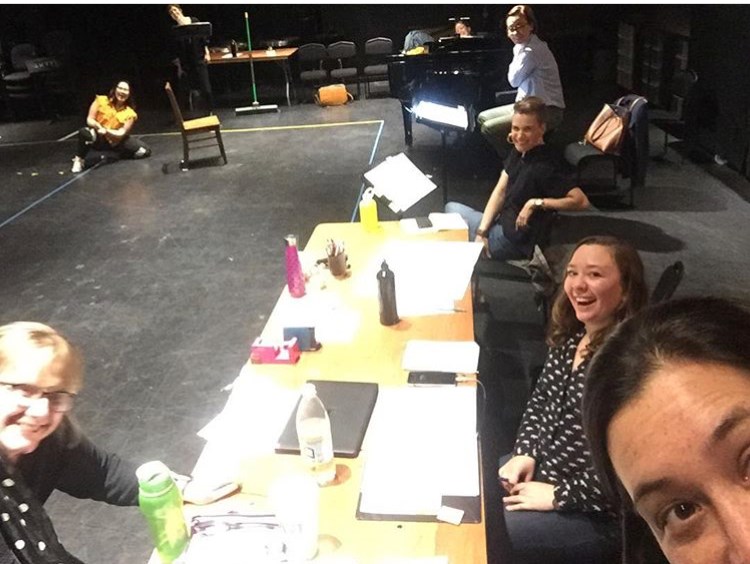 "Many of us at Opera Philadelphia (especially music director Corrado Rovaris) are huge NBA fans, so we were all very excited when the Philadelphia 76ers ended their long playoff drought in April. On the heels of the Eagles' Super Bowl season – when it seemed like EVERY cultural institution in town was recording a rendition of "Fly Eagles Fly" – I had the idea to do an operatic rendition of the Sixers' 1970s-era victory song, "Here Come the Sixers." In one crazy week, I brought the idea to chorus master Liz Braden, who quickly asked Corey Axler to arrange the song for the Opera Philadelphia chorus. On a break from Carmen rehearsals, 19 singers performed the song, and two days later we had a joyful video that we released before Game 1 of the team's first-round matchup with the Miami Heat. There are so many amazing moments in this video, especially Liz conducting with a foam "No. 1" finger and a cameo by an Allen Iverson bobblehead. The video was picked up by ESPN, USA Today, and dozens of national media outlets, we performed the song live on "Good Day Philadelphia," and the Sixers won a playoff series for the first time since 2012. TRUST THE PROCESS!"
- Frank Luzi, Vice President of Communications
"2018 saw the arrival of an all new education program, Opera on Trial. What started as an idea on the back of a napkin by Michael Bolton (VP of Community Initiatives) has ended up being a truly groundbreaking program. High school students across Philadelphia have begun to learn and appreciate opera through the legal lens. The final mock trials have been as gripping, if not more so, than the operas themselves. While Enrico Ashton ran free from a conviction of felony murder, Don José was found guilty of murder. Opera on Trial has been such an exciting program to work on. It's even brought about several meaningful partnerships like the one we now have with the Philadelphia Police Department. Next up in 2019, Commonwealth of PA vs. Robin Goodfellow. Look out, Puck!"
- Steven Humes, Education Manager
"I loved previewing David Hertzberg's new opera The Rose Elf this year during our Double Exposure program before the full opera premiered in New York. The Wake World was definitely my favorite opera coming out of O17, so having the opportunity to experience excerpts of David's newest work, as staged by two separate creative teams, was amazing. My favorite interpretation involved white hazmat suits and colorful paint, which worked well with David's playful score and libretto."
- Rachel Mancini, Development Special Projects Manager
Leave your comment below.
Top