×
Support great opera
Give today to help us unlock $2.5 million with the Artistry Now Matching Fund.
Donate
Audio Description: Bringing the colors of opera to life for the visually impaired
When you first walk into an opera house, you may be astounded by the grandeur of the theater and overwhelmed by the baroque art covering the ceiling. As the red curtains draw open, you notice a woman glistening in her indigo gown wrapped with a crystal belt as she sings a haunting tune. Her blue and silver necklace reflects a rainbow in the spotlight below twelve chandeliers and a bold red lipstick amplifies her voice across the theater. All part of the La traviata experience, the sparkling visuals are provided through our sight—a gift viewers often take for granted. For people who are blind, have low vision or are visually impaired, audio description uses words to describe the visual elements of the opera performance.
For audio describer Nicole Sardella, La traviata stands out as her most complex project yet in her career. It was her first time describing a show in which the primary language was not English. Looking meticulously at rounds and rounds of supertitles of each number, she familiarized herself with the Italian opera, understanding which actions were essential to move the plot forward. Sardella took the time to receive outside help from her two mentors, Steve and Mimi, both of whom are experts and pioneers in this field. She also consulted two blind viewers, improving each description with constructive feedback every step of the way. 
"It is part of my job to actually get that information from people who are blind and make sure that the description meets their needs and expectations," Sardella said "It's an undertaking but I love doing it."  
Sardella combines her pre-show notes, playbills, books, research, and synopsis not only for a deeper understanding, but also respect for the show and her target audience. She records her audio live, delivering translations, noting costume changes, announcing character appearances, and describing the sets. If the recording is not specific enough or does not suffice the expectations of her audience, she re-records. There were so many recording trials of La traviata that even a good estimate cannot be given. The best recording is sent to Opera Philadelphia's staff and several rounds of revision transform the description into what it is now on the Opera Philadelphia Channel. 
Sardella always follows these three rules while audio describing:
Say what you see. Each show, piece, and artwork are different, and it is vital to speak with specifics (even with uncomfortable topics).

 

Never talk over the actors. Sardella prefers not to speak over singing. She tries to get as much as possible in breaks between singing and dialogue. Only a few seconds are allotted to say a lot, so she speaks as tightly as possible.

 

Lead with empathy. It is important to describe from a place of care, compassion, and love. She is the eyes for someone who is blind, and it is her job to provide a comparable experience. The show will never be exactly the same as one with vision, but those with disabilities cannot be left out.

 
The term "audio describer" is self-explanatory, but each individual has their own experience and perspective. As someone who works to enhance accessibility in the arts, Sardella checks herself every step of the way, ensuring that she accurately depicts a performance in a way that makes sense to others besides just her. A few years back, Sardella observed an art installation made up of dodgeballs connected by a string in groups of 10 and one wrapped around the columns of the museum. Raised in a Catholic family, Sardella interpreted the piece as a rosary due to her Catholic background, but this memory would not be as potent to non-Catholics. She explained it as a challenge and feat to audio describe from an unbiased, neutral standpoint.  To simply say what you see is to provide the best experience for someone else.    
"Being able to combine art and accessibility is such an incredible privilege to be able to do this work," Sardella said "Just to play a small role in all of it is such a great gift."
Meet Nicole! 
Nicole Sardella has been an audio describer in the Philadelphia area for 10 years. Interning at Art-Reach her freshman year of college, she discovered her passion for AD and provided her services. She has described a range of performances including operas, musicals, and flower shows. Sardella highly encourages others to do their part in expanding accessibility in small ways, such as adding image descriptions on social media posts.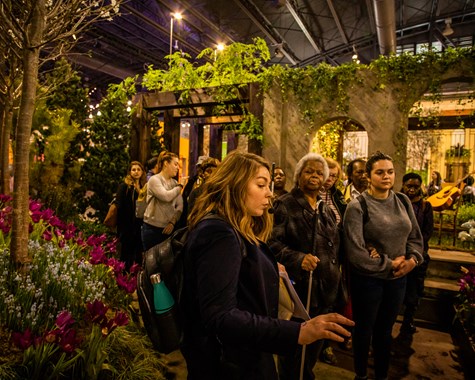 An Evening of Vocal Fireworks
Leave your comment below.
Top