×
Support great opera
Give today to help us unlock $2.5 million with the Artistry Now Matching Fund.
Donate
Reflection & Re-Vision: Margaret Bonds' Credo Roundtable
Join us for a one-hour panel discussion and Q&A session to learn more about Margaret Bonds' Credo, and how the prose poem by W.E.B. Du Bois, an affirmation of racial justice, peace, and Black pride, resonates in our current time.
Panelists: Lina González-Granados, Brandie Sutton, and Ifetayo Flannery, Ph. D
Moderator: Veronica Chapman-Smith, Opera Philadelphia Vice President of Community Initiatives
Part of Reflection & Re-Vision and Sounds of America: Price and Bonds
Registration is encouraged but not required to attend. This is not a ticketed event.
Free and open to the public.
Academy of Music Ballroom

Approximately one hour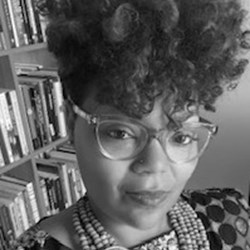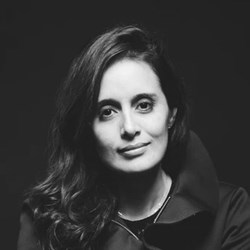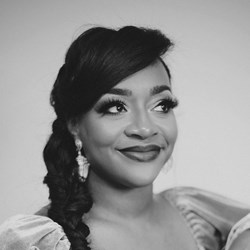 Ifetayo M. Flannery is Assistant Professor in Africology and African American Studies at Temple University. She earned her PhD in African American Studies. In 2018, she was awarded the W.E.B DuBois Research Fellowship and became a visiting scholar with the University of Massachusetts, Amherst until 2019. Dr. Flannery is a 2020 recipient of the prestigious Presidential Award from San Francisco State University for innovative scholarly research. She currently serves as the Undergraduate Chair for Africology at Temple. Dr. Flannery also serves on the Board for NCBS (National Council for Black Studies). Her book is titled, "An Introduction to Black Psychology". Dr. Flannery's research bridges cultural theory and psychology to interpret cultural patterns in African American psychology and African tradition. Her work explains the relationships between race, culture, and group personalities across national borders. She has spent time in Nigeria specifically to research the impact of Yoruba culture and cosmology on the shaping of practices among African Americans. 
Lina Gonzàlez-Granados, conductor of Carmina Burana & Credo, has distinguished herself nationally and internationally as a singularly-talented young conductor. Her powerful interpretations of the symphonic and operatic repertoire, as well as her dedication to highlighting new and unknown works by Latin-American composers, have earned her international recognition, most recently as the recipient of the 2021 Sphinx Medal of Excellence, the Third Prize and ECHO Special Award (European Concert Hall Organization) of La Maestra Competition, as well as the 2020 and 2021 Solti Foundation US Career Assistance Award. After winning the Fourth Chicago Symphony Orchestra Sir Georg Solti International Conducting Competition, Lina was named the new Solti Conducting Apprentice under the guidance of Maestro Riccardo Muti, from February 2020 and continuing through June 2023. Last season, she was also appointed Resident Conductor by the LA Opera, a post she will hold thru June 2025, opening this season with a production of Lucia de Lammermoor. She has also held positions as Conducting Fellow of the Philadelphia Orchestra and Seattle Symphony.

Brandie Sutton, soprano soloist in Carmina Burana & Credo, was born and raised in Huntsville, Alabama, where she attended Oakwood University, then completed a Master of Arts in Vocal Performance from Catholic University of America in Washington, D.C. During this time, Sutton sang in internationally renowned competitions and was also engaged for stage productions in the U.S. and abroad. She made her solo recital debut at the John F. Kennedy Center for the Performing Arts in Washington, D.C.; appeared at Merkin Concert Hall in Lincoln Center; and made her concert debut at Carnegie Hall. After graduation, the young soprano headed to the arts center of New York City to pursue her career. She was soon accepted into the Martina Arroyo Foundation's six-week intensive program for young artists, called Prelude to Performance. While a cover at The Met, she was also able to pursue other performance opportunities. She has been blessed to perform with the National Symphony Orchestra, Royal Danish Symphony Orchestra, the Radio Orpheus Symphony Orchestra in Moscow and the Krasnoyarsk Philharmonic Symphony Orchestra, and has appeared on opera stages such as Semperoper Dresden, Palacio de Bellas Artes, Hamburgische Staatsoper, Grand Théâtre de Genève and Alter Oper Frankfurt. Along the way, Sutton has deepened her repertoire and expanded her audiences, also performing folk, jazz, pop, and classical material from established and contemporary composers. She made her Metropolitan Opera debut as Clara in Porgy and Bess. Dedicated to social justice, Sutton has participated in several events with the Equal Justice Initiative. During the April 2018 opening weekend for the National Memorial for Peace and Justice (formerly the National Lynching Memorial) in Montgomery, Alabama, Sutton performed in a concert that also featured John Legend, Andra Day, and BeBe Winans. Even more significantly, a hologram of Sutton is a permanent part of the memorial's Legacy Museum: From Slavery to Mass Incarceration. Portraying an enslaved person, Sutton sings the spiritual "Lord, How Come Me Here" in a museum exhibit. The Equal Justice Initiative also invited Sutton to perform during their 30th- anniversary festivities, held in New York City in 2019.
Top