×
Support great opera
Give today to help us unlock $2.5 million with the Artistry Now Matching Fund.
Donate
Opera Philadelphia Presents Anthony Roth Costanzo in World Premiere of Glass Handel, Highlighting O18 Festival (Sep 22–30)
Glass Handel is one of two innovative and thought-provoking world premiere productions that highlight O18, the second edition of Opera Philadelphia's annual season-opening festival. Staged on September 22, 23 and 30 in the expansive Annenberg Court of Philadelphia's Barnes Foundation, home to O17's The Wake World, the new work is an immersive, multidisciplinary operatic installation headlined and created by American countertenor Anthony Roth Costanzo – "a bona-fide star" (New Yorker) – in collaboration with producer Cath Brittan and avant-garde fashion/art company Visionaire. Under their curation, music by Baroque master George Frederic Handel and living legend Philip Glass meets the worlds of art, fashion, dance, and film through collaboration with a host of luminaries: fine artist George Condo; fashion house Calvin Klein and designer Raf Simons; choreographer Justin Peck; ballet dancers David Hallberg and Patricia Delgado; performance artist Ryan McNamara; and filmmakers including James Ivory, Maurizio Cattelan, Mickalene Thomas and Mark Romanek. Opera Philadelphia's world premiere production also marks the official launch of ARC, Costanzo's solo album debut, a collection of Glass and Handel arias that is due for September 21 release on Decca Gold.
David B. Devan, Opera Philadelphia's General Director & President, says:
"Anthony Roth Costanzo and Opera Philadelphia stand united in our respective missions to grow the audience of opera by presenting compelling new works and collaborating with some of the leading lights of our time. Festival O18 gives a stage to artists like Anthony to push the boundaries and unleash their creative genius, and we couldn't be more thrilled to be premiering this project in Philadelphia during our second annual festival.
Anthony Roth Costanzo returns to Opera Philadelphia after his star turn in the company's Philadelphia premiere of Written on Skin earlier this year. Glass Handel's integration of the contemporary with the Baroque epitomizes his iconoclastic approach to the countertenor repertoire. "Handel defined me. Glass changed me," he explains. Despite living centuries and an ocean apart, the two composers both draw on repetition in their quest to probe the depths of human psychology. Moreover, they have both figured prominently in the countertenor's career. Besides singing Handel arias to win the Metropolitan Opera's 2009 National Council Auditions and Operalia 2012, Costanzo undertook his first title role in Handel's Tolomeo at Glimmerglass and made his Met debut as Unulfo in the composer's Rodelinda. More recently, it was the title role of the mystical pharaoh in Glass's Akhnaten at English National Opera and LA Opera that provided a personal breakthrough for the singer as an artist. He recalls:
"I had to reach a new level of artistic depth in myself. Once I had done that with Philip Glass, I could take that modality and apply it to the Baroque music I had been singing for 15 or 20 years."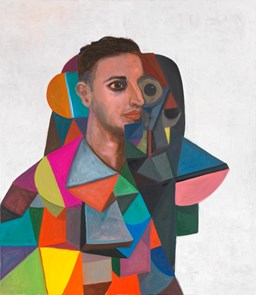 In Glass Handel, Costanzo wanted to try something new. Fusing music with art, fashion, dance, film, and technology, the immersive multimedia event will offer each member of its audience a unique theater experience, the traditional concert setting quickly deconstructing as audience members are taken on different paths through the space. Designed by acclaimed performance artist Ryan McNamara, this innovative format will allow each person to encounter visuals from a variety of disciplines alongside the music.
Costanzo's performance will be supported by the Opera Philadelphia Orchestra and Jack Mulroney Music Director Corrado Rovaris. There will also be live painting on a giant canvas by George Condo, "one of the most influential living American artists" (Vanity Fair), and new work by the prolific Justin Peck, 2018 Tony Award-winning choreographer-in-residence of New York City Ballet, as performed by Patricia Delgado,formerly of Miami City Ballet, and David Hallberg, principal dancer of the American Ballet Theatre and former principal of the Bolshoi Ballet. Together with those of the dancers, extras, and orchestra members, Costanzo's costumes will be designed by Raf Simons, Chief Creative Officer of Calvin Klein. 
This live event will be complemented by a number of operatic "music videos," which will be incorporated into the installation and made shareable online. The videos will be directed, respectively, by 2018 Academy Award-winning filmmaker James Ivory,of Merchant Ivory fame, in collaboration with Pix Talarico,who has won multiple Grammy nominations for his 200-plus music videos; Italian art collaborators Maurizio Cattelan and Pierpaolo Ferrari, the duo behind Toiletpaper magazine; filmmaker Mark Romanek, best-known for his music videos for Beyoncé, Michael Jackson, Jay-Z, Taylor Swift, and Madonna; filmmaker Daniel Askill, who directed Sia's Chandelier video, now viewed more than 1.8 billion times; British filmmaker Rupert Sanders, whose work includes Snow White and the Huntsman and Ghost in the Shell; New York-based painter Mickalene Thomas, known for her celebrations of black femininity; Russian multi-disciplinary art collective AES+F, which recently represented its homeland at the Venice Biennale; and Chinese multimedia artist Tianzhou Chen.
Opera Philadelphia's world premiere production also serves as the international launch for ARC, the first recording of Costanzo's new exclusive contract with Decca Gold, the U.S.-based classical label of Universal Music Group. Recorded with Les Violons du Roy under the leadership of Jonathan Cohen, the new album pairs arias by Handel, including "Ombra mai fu" from Serse and "Lascia ch'io pianga" from Rinaldo, with new arrangements from Glass's catalogue, including the "Hymn to the Sun" from Akhnaten. 
Glass Handel will continue on to New York and beyond after the Philadelphia premiere, with a first New York appearance produced with National Sawdust at the Cathedral of St. John the Divine, which co-presents four performances on November 26 and 27.
About Opera Philadelphia and O18
Opera Philadelphia is committed to embracing innovation and developing opera for the 21st century. O17, its first annual season-opening festival, was welcomed as "one of the most enjoyable additions to the fall calendar in years" (Washington Post). Now the 2018-19 season kicks off with O18, comprising five operatic happenings – two world premieres, two new productions, and a three-part cabaret event – at multiple venues across Philadelphia. In addition to Glass Handel, the festival sees Lembit Beecher and Hannah Moscovitch, the team behind O17's I Have No Stories to Tell You, return for the world premiere of Sky on Swings, a chamber opera exploring the impermanence of memory, starring Frederica von Stade and Marietta Simpson. Brenda Rae sings the title role in Laurent Pelly's new mainstage production of Donizetti's Lucia di Lammermoor, and Edward Nelson partners Patricia Racette in Ne Quittez Pas, which offers a wider context for Poulenc's La voix humaine in the cabaret setting of the Theatre of Living Arts. The venue also hosts Queens of the Night, a three-night cabaret takeover starring Opera News Award-winner Stephanie Blythe and self-described "drag queen king" Dito van Reigersberg. Described as "the very model of a modern opera company" (Washington Post), Opera Philadelphia was the only American finalist for the 2016 International Opera Award for Best Opera Company. For more information, visit operaphila.org.
 To download high-resolution photos, click here.
Opera Philadelphia presents world premiere of Glass Handel at O18
September 22, 23, 30, 2018
The Barnes Foundation, Philadelphia
Music by Philip Glass and George Frideric Handel
Produced by Anthony Roth Costanzo, Visionaire, and Cath Brittan
Co-produced by Opera Philadelphia and National Sawdust
Co-presented by The Barnes Foundation and The Cathedral of St. John the Divine
Countertenor: Anthony Roth Costanzo
Opera Philadelphia Orchestra
Conductor: Corrado Rovaris
Choreography: Justin Peck
Dancers: Patricia Delgado and David Hallberg
Live painting: George Condo
Costume design: Calvin Klein, designed by Chief Creative Officer Raf Simons
Production format: Ryan McNamara
Videos:
James Ivory and Pix Talarico
Maurizio Cattelan and Pierpaolo Ferrari
Mark Romanek
Daniel Askill
Rupert Sanders
Mickalene Thomas
AES+F
Tianzhou Chen
Principal production support is provided by Dr. David G. Knott and Ms. Françoise Girard, and by Mr. Robert L. Turner. 
Top