×
Support great opera
Give today to help us unlock $2.5 million with the Artistry Now Matching Fund.
Donate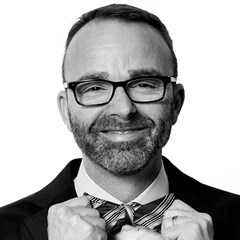 David B. Devan
General Director & President
215.893.5917
devan@operaphila.org
David B. Devan joined Opera Philadelphia in January 2006 and was appointed General Director of the company in 2011. Since his arrival, David has worked closely with board and administration on strategic planning initiatives and building partnerships within the community and the opera world.
David guided the company through a transformative period of innovation that led Opera News to describe it as "one of the leading instigators of new work in the country" and the New York Times to describe Opera Philadelphia as "a hotbed of operatic innovation." Under his leadership and artistic vision, Opera Philadelphia has grown to become a company of international stature and a favorite co-producing partner with companies all over the globe, developing fresh productions of classic works as well as premieres written by today's leading composers. The company has engaged and energized both established and emerging artists, providing opportunities for important role debuts for singers like Lawrence Brownlee, Eric Owens, Nathan Gunn, Stephanie Blythe, Christine Goerke, Leah Crocetto, and Lisette Oropesa. As The Daily Beast recently commented, "Opera Philadelphia has been at the forefront of commissioning new operas with contemporary subject matter and an innovative, genre-blending sensibility to snare a younger audience and revitalize opera for the 21st century."
Key achievements include the establishment of the Aurora Series for Chamber Opera at the Perelman Theater, an extremely popular and highly-subscribed opera series at the Kimmel Center's intimate 550-seat Perelman Theater; the establishment of the nation's first ever collaborative Composer in Residence Program with New York partner Music-Theatre Group, a comprehensive program supported by The Andrew W. Mellon Foundation, designed to foster the growth of tomorrow's great operatic composers; the creation of the American Repertoire Program in 2011, solidifying Opera Philadelphia's role as a national leader in the creation of new works; and the creation of the site-specific Opera in the City series. Under David's leadership, the company established the annual Festival O in 2017, launching each season with an immersive, 12-day festival featuring multiple operatic happenings in venues throughout the city. Opera Philadelphia also presents additional productions each spring, making it the first U.S. opera company to open a year-round season with a dynamic festival.
Under David's leadership, Opera Philadelphia has commissioned or co-commissioned eight new operas, including Charlie Parker's YARDBIRD by Daniel Schnyder and Bridgette Wimberly, and starring Lawrence Brownlee, which has since been staged at The Apollo Theater in New York and Hackney Empire in London; Cold Mountain, based on the best-selling novel by Charles Frazier and written by Jennifer Higdon and Gene Scheer, and co-commissioned with The Santa Fe Opera; and Breaking the Waves by Missy Mazzoli and Royce Vavrek, based on the film by Lars von Trier, which has since been staged at Beth Morrison Projects' PROTOTYPE Festival and was named Best New Opera of 2016 by the Music Critics Association of North America.
As immediate past Chair of the Board of Directors for the Greater Philadelphia Cultural Alliance and a member of the Opera America board, David is privileged to serve in a city with rich and diverse cultural roots. He continues to work tirelessly to make opera as an important part of our community.