×
Support great opera
Give today to help us unlock $2.5 million with the Artistry Now Matching Fund.
Donate
Contralto Marian Anderson (1897-1993) found her voice in Philadelphia. Anderson rose from humble beginnings, singing hymns at the age of six for her congregation at the Union Baptist Church, to being the first African-American singer to perform with the Metropolitan Opera in 1955. 
Born in South Philadelphia, Anderson was the oldest of three sisters to John Anderson, who sold ice and coal at Reading Terminal Market and Annie Rucker, an employee at Wanamaker's department store. Her family was active in their church, especially Marian's Aunt Mary, who encouraged Marian to join the choir and would bring her to local churches to perform for up to 50 cents. At ten, Marian became a member of The People's Chorus of Philadelphia, an African-American vocal ensemble. She was nicknamed "The Baby Contralto" for her rich and powerful voice by her community who remained her biggest supporters, especially after her father passed away and her mother struggled financially. They were instrumental in supporting Marian's dreams to become a performer, as her church raised money for Marian to study music privately. 
Marian attended William Penn High School for three years then transferred to South Philadelphia High School where she found more opportunities and support for performing. Her earliest teachers were Mary Saunders Patterson and Agnes Reifsnyder. She continued her studies with acclaimed voice teacher Giuseppe Boghetti, made her Carnegie Hall debut in 1928, and toured Europe after receiving a Julius Rosenwald scholarship. 
By the 1930's, Anderson's voice was recognizable in Europe and the United States. In 1939, she was invited by President Franklin D. Roosevelt and Eleanor Roosevelt to perform at the White House. Anderson was also scheduled to perform at Constitution Hall in Washington D.C., but was soon halted by the Daughters of the American Revolution saying that no dates were available. This was a lie by the DAR who owned the building and wanted to keep only white performers in this space. Word got out to the public and an uproar ensued. In response, Eleanor Roosevelt invited Anderson to perform a historic concert on the steps of the Lincoln Memorial for over 75,000 people and was broadcasted nationwide. 
Anderson retired and moved to Connecticut in 1965. In her last few years she lived in Portland, Oregon with her nephew, conductor James DePreist, until her death in 1993.  
Many thanks to biographical sources National Marian Anderson Museum & Historical Society, Wikipedia, and pbs.org.  
National Marian Anderson Museum 
The National Marian Anderson Museum & Historical Society is dedicated to uplifting the legacy of Marian Anderson. The museum established her residence as a national landmark, offers educational tours, and performances through their Scholar Arts Program. 
Learn more about the Marian Anderson Historical Society.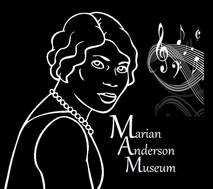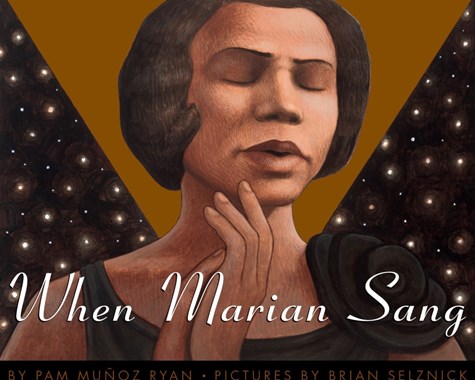 When Marian Sang: The True Recital of Marian Anderson
A harmonious introduction to one of our country's most important singers and role models--as envisioned by Newbery Honoree Pam Muñoz Ryan and Caldecott Medalist Brian Selznick.

Marian Anderson is best known for her historic concert at the Lincoln Memorial in 1939, which drew an integrated crowd of 75,000 people in pre-Civil Rights America. While this momentous event showcased the uniqueness of her voice, the strength of her character, and the struggles of the times in which she lived, it is only part of her story. Like the operatic arias Marian would come to sing, Ryan's text is as moving as a libretto, and Selznick's pictures as exquisitely detailed and elaborately designed as a stage set. What emerges most profoundly from their shared vision is a role model of courage.

Hear a dramatic reading and performance of When Marian Sang at our upcoming Opera on the Go performances. 
Discover where Marian Anderson lived, learned, and performed throughout her hometown of Philadelphia. 
National Marian Anderson Museum and Historical Society, the Anderson's home in South Philadelphia, now a museum that displays artifacts from Marian's life. 
Academy of Music, where Marian performed and location where a statue in her honor will be placed. 
Philadelphia Museum of Art, has a Carl Van Vechten photograph of Anderson in their collection. 
Marian Anderson Recreation Center & Pool
Kislak Center for Special Collections, the University of Pennsylvania's library for rare books and manuscripts owns a collection of materials on Marian Anderson. 
Union Baptist Church, where the Andersons attended church during Marian's childhood. 
Reading Terminal Market, where Marian's father, John Anderson, worked. 
Wanamakers Department Store, where Marian's mother worked (Now Macy's).  
Stanton Elementary, Marian's elementary school. 
William Penn High School, where Marian attended for the first three years of high school.  
South Philadelphia High School, where Marian transferred for her senior year of high school. 
Top