My OperaPhila
Now available on the App Store and Google Play, the free My OperaPhila app is your guide to Festival O18.
Create an unforgettable opera experience with the official app for Opera Philadelphia's 2018-2019 Season, including Festival O18. Check out the full lineup of opera productions, festival schedule, and special events to create your customizable daily schedule. Find event venues and explore Philadelphia using interactive maps. Discover places to play, stay, park, and eat. Stay plugged in and up to date, share your experiences, and access behind-the-scenes features in the comprehensive News & Social section. Access your tickets and chat with our friendly, reliable Guest Services team. The app contains everything you need to enjoy Opera and Philadelphia to the fullest.
Built by Aloompa, My OperaPhila is available to both iPhone and Android users. Download today!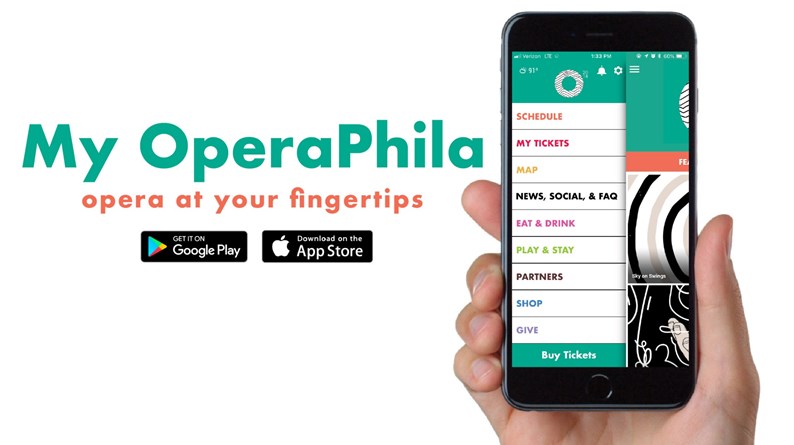 Create Your Own Schedule
Want to attend parties, panels, and performances, but don't know how to fit it all in? Use the Schedule feature to add events to your own personal itinerary, or explore the lineup by day, venue, or type of event.
Find Your Tickets
Not only can you purchase tickets to the season's events and performances through My OperaPhila, but you can access electronic tickets, too. Simply log in, queue up your tickets, and let the fun begin!
Discover Philadelphia
Our handy interactive map shows you where each performance venue is located, plus the best spots for eating, drinking, parking, sleeping, and exploring in the City of Brotherly Love. Learn more about these destinations in the Eat & Drink and Play & Stay sections.
Get Social
Follow the #O18 tag and check out the News and FAQ sections for additional information. Don't forget to follow us on Twitter, Facebook, and Instagram for more sneak peeks.