×
Support great opera
Give today to help us unlock $2.5 million with the Artistry Now Matching Fund.
Donate
La bohème Program Note
La bohème is the most frequently performed work in Opera Philadelphia's repertoire. The same is true of many other opera companies, both in America and abroad.
Adapted from a collection of short stories by Henri Murger, and adapted in turn into the hit musical Rent, La bohème feels evergreen. Why does it continue to feel relevant year after year? Why do we continually return to this opera, this music, these characters?
La bohème is a story that includes multitudes. Yes, it is a story of tragic love, but it is also a story about how people band together and survive the world as best they can, with the help of art, humor, and friendship. Although the opera takes place in 19th-century Paris, it could take place anytime and anywhere, because these themes are common to the human experience.
Puccini's music intensifies the emotional power of the story of Mimì and Rodolfo, Marcello and Musetta, Colline and Schaunard. Musical motives recur throughout the opera, tying together different scenes and layering meanings. For example, the first few notes of Mimì's aria "Mi chiamano Mimì," recurs several times throughout the opera, becoming Mimì's calling card. It reminds the audience of how the character views herself: as a seamstress who lives a lonely and humble life, but who is transported by the beauty of sunlight in spring and the scent of flowers. The text also has a circular quality; for instance, Acts I and Act IV take place in the same setting. The libretto, written by Luigi Illica and Giuseppe Giacosa, references this circularity through poetic imagery as well. For example, in Act IV, Rodolfo says Mimì is "beautiful like the dawn." The dying Mimì corrects him: "You wanted to say: 'beautiful like the sunset."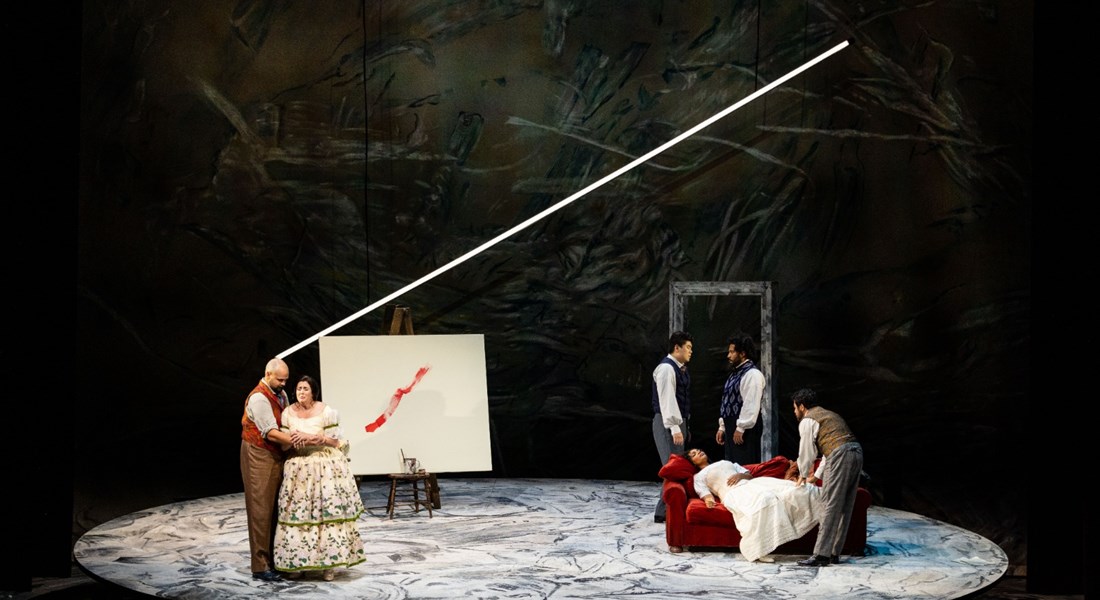 Yuval Sharon's production revisits this perennially popular opera, but it takes unique advantage of the tapestry of musical memories that Puccini weaves through his score by flipping the dramatic action on its head and framing it in flashback. We see Mimì die in Rodolfo's arms, then we see the lovers decide to part in the spring, then enjoying Christmas Eve on the streets of Paris, and finally we see them meeting and falling in love. These scenes are packaged as memories, presented to us by a narrator who encourages the audience to ask whether every step of the story is inevitable. Does it all have to happen this way? What if a character had made a different choice?
The idea of making significant changes to a pre-existing opera to make a statement about the piece or to fit the evolving needs of opera audiences is by no means a new phenomenon. Regietheater productions, in which a director imposes a new framework or setting (La bohème on the moon? Lohengrin in a science laboratory?) on an old story, have been popular for decades. Since the very beginnings of opera, pre-existing works have been adapted and translated to meet the needs of new audiences.
In the 17th and 18th centuries, it was common for singers to switch out arias in an opera for ones they felt suited their voices better, even if they were by a completely different composer or changed the opera's plot. Pastiches, which created a patchwork of pieces culled from different operas and loosely tied together into a story, were also common in the 17th and 18th centuries. Sharon's La bohème fits squarely into this tradition, while also drawing influences from creative narrative structures in literature, film, and theater. (For example, Harold Pinter's 1978 play Betrayal and Steven Sondheim's 1981 musical Merrily We Roll Along both unfold in reverse chronological order.)
For those of us who have seen La bohème before, seeing it backwards may spark new insights into the characters' essential dispositions and fundamental motivations, even as we delight in the familiar music and text. For newcomers to the work, this La bohème will not disappoint. The tight construction of the score and libretto allows this creative retelling to function dramatically, while reinforcing one of the piece's core themes: Love persists, even in the face of death.
Dr. Lily Kass is an interdisciplinary scholar, educator, and artist, and serves as Opera Philadelphia's Scholar in Residence.
Leave your comment below.
Top